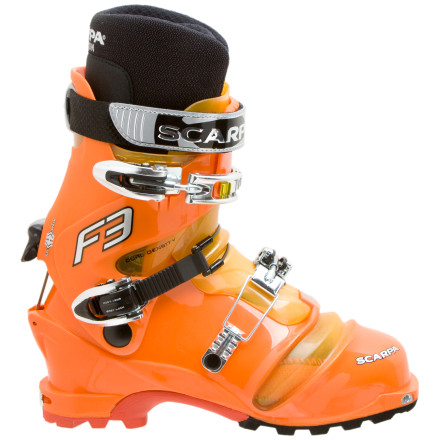 Detail Images
I'm a big scarpa fan. After a brief foray into Garmont boots, I'm sold. Warm, comfy and no blisters. Because the boot flexes at the bellows, there is very little friction force at the heel. I've mounted Dynafit Manaslu skis and Dynafit bindings. For me, it's all about the up. I can ski almost any ski down the hill and have fun.
Unanswered Question
Hi - I'm considering either the Spirit 3...
Hi - I'm considering either the Spirit 3 or F3 for a lightweight boot this season intended for touring. The only major difference I see in the boots are that the Spirit 3 is also DIN-releasable AT compatible whereas the F3 is Dynafit - only. The Spirit 3's also weigh a few more ounces....

Can anyone speak more to the differences in these two boots - specifically in terms of stiffness and downhill characteristics?
2 questions: Is the Scarpa shell better...
2 questions:
Is the Scarpa shell better for wide feet generally or narrow feet?
Is the f-3 on the stiffer side or softer side
Thanks, Phil in Vt
question #1 F3 shells are right in the middle (medium width). They also have a heat moldable liner so that does make it easy to customize to your foot.

Question #2 Stiff compared to what ? I would say much stiffer than the F1 yet less than the Spirit 4. I would put it at a 95 flex
I bought a pair this season. I would agree, medium width, however, I have skinny ankles and find it difficult to get a comfortable snug fit from the ankle up. As for the stiffness, my opinion is that these are more like a 110.
Unanswered Question
Would I regret buying these instead of F1s...
Would I regret buying these instead of F1s for rando racing? I have a pair of megarides I ski normally with...these would be mostly for racing and light skiing.
Unanswered Question
I previously had a pair of Denali TTs and...
I previously had a pair of Denali TTs and the fit was horrible and painful for me. These look like sweet, lightweight boots, but is the fit similar to the Denali TT?
Unanswered Question
I'm skiing scarpa magics right now, and...
I'm skiing scarpa magics right now, and looking to upgrade to the F3. Is the spacing on the toe pins the same? I'm hoping only the F1 would require to re-drill or set back the heel piece on my dynafits.
Great Lightweight Touring, though bellows have pros & cons
This boot has some excellent advantages if you're looking for a lightweight touring boot, but still want more skiing performance compared to a model like the Scarpa F1 or Dynafit TLT4 Evo/Lite.The cuff height is relatively high for a lightweight boot -- in fact, not really any lower than a heavyweight boot. But fore/aft range of motion in walk mode is outstanding.The bellows definitely help a bit for skiing and general tromping around (as shown in the attached pic). But they also complicated ski crampon use.I greatly enjoyed using them for late spring and early summer skiing. But since I was able to downsize in my Zzero4 (which together with the bellows shim issue pretty much negated any weight differential), and since I was kind of in between sizes on my F3, I sold the F3 to a friend who wanted something stiffer to complement his F1.
Will the bellows collapse the boot when...
Will the bellows collapse the boot when attempting to front point with them?
Does the small "bill" up front accept auto-crampons?
Best Answer
Step in crampons will work, but front pointing on firm neve/ice will be tiring with the boot flex. I have not cramponed in mine, but boot packing and scrambling was fine, just expect a little flex, just like tele boots.
I've used F3's with flexible crampons, and as much as anything, it depends what you are climbing. If you are front pointing up a steep slope, the bellows will flex, which causes you to lose a few degrees of front tooth bite and is more tiring on your calves. This isn't bad if it is just a short section, but you'd be bummed on a 5,000' couloir. For lower angle or moderate terrain (volcano skiing), crampons on an F3 would be great as the boot isn't flexing as much.
What's the Boot Sole Length on a 26.5...
What's the Boot Sole Length on a 26.5 Scarpa F3?301mm on a size 26.5 F1 and the Dynafit "tech fitting" is 6mm farther back on the F1.I'm trying to figure out how much different a position the heel piece of a Dynafit binding would have to be in for these two boots, in the same size.
Best Answer
Hi Elliott - I'm not sure what a 26.5 boot sole length is, but as I own F1's, F3's and Dynafit bindings, I suspect I know the answer to your underlying question of "Will these boots fit my TLT bindings, which were drilled for F1 boots?" The answer is "Kind of." The real problem/issue is that starting with the F3 (I think), Scarpa moved their Dynafit front pin holes back 2mm (4mm?) which makes them tour much than the old pin hole locations in the F1's as you don't have to lift your foot as high with each step and it is a more natural stride. This caused a situation where you can have a pair of F1's and a pair of F3's of the same size, and even of the same sole length, but they may not fit in a TLT binding as that binding only has 4mm of adjustment. If the binding was mounted properly, as in right in the center of the range, when you go to switch boots, there is barely enough adjustment to cover one of the boots.

There are two solutions to this. One is to buy/use the TLT Verticals, or one of the newer Dynafit bindings which have much more adjustment. The second option is, if you know you are going to be using two pairs of boots (F1 & F3) with the classic TLT binding, split the difference between the HEEL TO PIN HOLE length and drill them there.

I suspect that Scarpa will soon have all of their boots on the same program, but for right now, the F1's are older molds than the F3's. I can get my F3's to work in TLT's mounted for F1's, but there is barely any heel pin engagement, so I'm careful about what I ski with them.
Good for what they are meant for
Okay, don't be fooled by lots of glamorous reviews. Yes, they are light, super comfy, and tour better than any AT boot out there, BUT they fail to drive big stiff skis well, they should be paired up with softer smaller skis. Once I did that, I loved the system I found (Karhu Spire BC). If you are a good skier, or coming over from tele, you will find they have ample control, stiffness and ability to drive a ski. However, if you like to ski fast, GS turns, or in the steeps, go for a burlier boot. I definitely use the boot to do high vertical/mileage powder skiing days, NOT epic gnarly descents.

I guess we all have to have a gear quiver!
If I were to order these boots online who...
If I were to order these boots online who do I get the thermal fit liner molded?
Best Answer
Any top-flight ski shop in your area should have a boot guru to help dial in the fit of these. Call around, or better yet, ask the local shreds where their boots got worked on so that you can get them handled by the best guy/gal in your neighborhood. Don't forget to tip!Don't try it yourself, you would be surprised how many people try it in their toaster ovens and the burst into flames!It will be done best by a pro, but you can do it yourself, google lou dawson and boot fitting and he has a good article with some DIY guidelines.
Write your question here...How do I heat...
Write your question here...How do I heat fit my scarpa boots?
The Intuition liners that come with these boots are top flight. You'd be best served to have a ski/boot/tune shop help you get these set up just right. Any top shop in your area will have a coupl'a peeps that have done this dozens of times and can get you sorted out. They have the proper ovens and technique whereas if you baked them in your own oven you could easily mangle these things. A major bummer. I'm not saying you can't give it a try, but damn you've got some good boots. Have a skilled pro help you out for best results!
will these boots work with fritche...
will these boots work with fritche bindings?
No, the descriptions says Dynafit only. ____Even if you could make it work, I'm severely recommending the Dynafit.
the bellows flex, which shortens the sole length and therefore makes you boot very likely to release from the fritche bindings
Just converted over from Megarides and I am pleased. The ergonomic bellows allows a much more natural walking motion- which is why I made the move. The boots are lite and the liners are plush. So far, they seem to have plenty of stiffness.
Hello, I would like to know if you have...
Hello, I would like to know if you have Scarpa F 3 in 30.0 size.
, ☃bcs_badge_alumni_label☃
The "select options" pull down is a real time description of what is in the warehouse. Sorry, no 30.0.
I am just making the switch to AT from tele after 20+ years. Was skiing in T2s for the last ten years. For me this boot has been the perfect transition. Because of the bellows it tours like my old T2s, but lock it down and the control is stellar. They are incredibly light, feels like I have running shoes on; and they were comfortable starting on day one. I tend to ski steep terrain, especially tight couloirs, and I'm finding these boots are plenty of boot for my purposes. I'm skiing them with the Dynafit Vertical, on a pair of two year old Atomic Kongurs. I'm having some trouble adjusting to having my heel locked down, but in terms of performance these boots have far exceeded my expectations. If you ski steep terrain but also like to log 10,000+ days, these boots will get you there.
I've had a few pair of F1's- so the F3 seemed a natural choice. It has a soft flexing bellows- hopefully the F1 boot will change too. The upper is stiffer, more of a traditional shell. The top buckle has a funky catch for touring- took it off- didn't allow to use the teeth from the 3rd on. Have used the boot with and with out the tongue- tours better without. Haven't tried bringing the tongue for tougher conditions- usually know what to expect and plan accordingly. I'm not a fan of big stiff, heavy gear- so this boot with light performance skis (TRAB) fits my needs.
How do these boots work with back country...
How do these boots work with back country splitsnowboards in riding mode?
Best Answer
I never used it, but go at splitboard.com, there's a couple riders using the F3 and the voile plate as setup, and they seems pretty happy!!!
i'm currently working on some mods that could seriously improve the down. removing the tung, cutting away plastic on the side for more lateral flex while riding, and drilling out the metal plate that locks the forward lean into place... this way the forward lean would be locked forward but still allow further forward flexion. it would make it a lot closer to a snowboard boot with a highback binding. even with out the mods i'm impressed, and enjoy riding in them, but with them i'm sure i'll be very impressed....i do wish there were no bellows though, they suck on steep climbs
My boot of choice for most BC skiing
I Scarpa boot in general, and love the F3 in particular. For almost everything but the steepest of slopes, the F3 has ample control and can drive a mid-phat ski (95mm waist) in most conditions. The beauty of the F3 is that it is so light, reliable and tours so well that you can get many extra thousand feet of climbing (and thus, skiing) in per day. The bellows make it easy to walk in, the fit is legendary Scarpa (super-plush) and when combined with a Dynafit binding you can fly up hill.