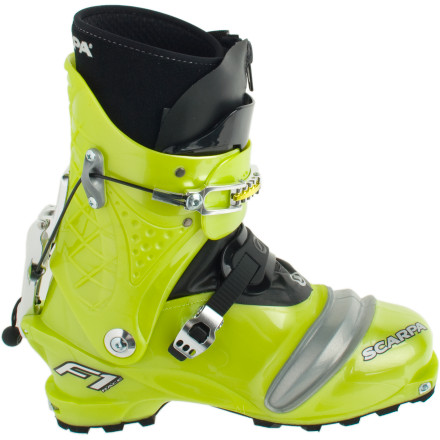 Detail Images
As seen on randonee race podiums around the world, the Scarpa F1 Race Alpine Touring Boot reigns supreme with ultimate uphill efficiency and the all the backbone you need to crush the downhill. Scapa kept this boot light, made it quick to switch from ski-to-walk mode for touring, and outfitted it with the all-day comfort of a thermomoldable liner. Uphill junkies and downhill addicts finally have the smooth-flexing, technical race boot they've been looking for.
Pebax shell material ensures consistent flex despite rapid changes in temperature (unlike standard alpine boot plastics which dramatically change flex with temperature)
Grippy, durable, and lightweight Vibram sole provides all the traction you need without adding unnecessary weight
102mm width gives your forefoot a little extra space to move about on the up or the down
Single rear latch flips this boot from walk-to-ski mode and at once frees the cuff for more relaxed forward lean for touring comfort
Asymmetric bellows and smooth, consistent flex maximize high-speed performance and all-day comfort
What do you think about this product?
Have questions about this product?
I'm not very experienced in the world of rando, but have been using this boot for the past two seasons.



They perform like true champions on the skin track, and the bellows make for a slightly longer and more natural feeling stride on the flats. The downside when compared to more modern boots is that they are kinda sloppy and soft on the way down.



This boot was the gold standard for a number of years- everyone who competed seriously had either this or the carbon upper version. However with the release of more modern boots like the Scarpa Aliens, Dynafit's TLT 5 performance and La Sportiva's Spitfire and Stratos boots amongst others, interest in these boots is waning.



The main difference between this "race" version and the regular F1 is that this doesn't have any sort of plastic tongue and also it lacks a power strap.
Are these waterproof? Want to use them for...
Are these waterproof? Want to use them for ski mountaineering, don't want wet feet.
To clarify - do you own these? Not all ski boots keep water out. See review on the Alien.

From Scarpa:

You'll want to seal the cuff rivets and as well as where the buckle attaches on the lower boot. They'll be water proof up to the base of the tongue, maybe a little higher as there is a gasket under the tongue.
Like Scarpa says, they're water proof up to the base of the tongue- if you slip into some ankle deep water you're gonna have soggy liners (especially once the lining material on the cuff starts wearing out).



I think for ski mountaineering with steeper descents you'd be better served with one of the more modern boots like the Alien or TLT5 performance... in the same weight category but much stiffer.
Thank you for repeating what I told you Scarpa said. Ankle deep water? Dude what are you talking about? Snow gets in and then melts.

Alien's aren't made in my size, plus I just said that they leak even more. You don't want wet liners/socks when ski mountaineering, it may be fine for racing on groomed runs where you ski to the car at the end and pop the boot off. When mountaineering you may be miles from a car in bad conditions and unless you've kept snow out of your boot you're going to have wet feet.