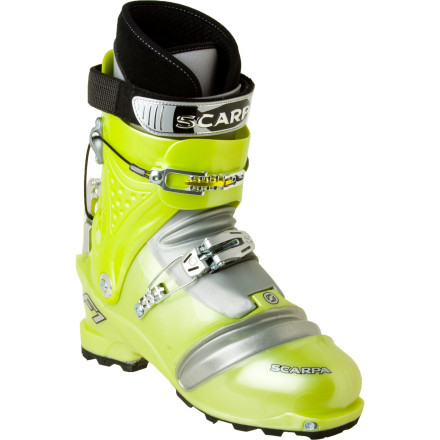 Detail Images
For long tours or races when comfort and light weight are paramount, buckle up the Scarpa Men's F1 Alpine Touring Boot and rack up the vertical. Scarpa gave these touring boots ergonomic bellows which allow incredible flex for efficient skinning and walking. When you get to the top of the skin track, a quick flip of the refined ski/walk mechanism switches the boot into ski mode, while two buckles and a power strap lock your foot into place for downhill performance. Scarpa shaved all unnecessary features from the F1 Touring Boot's PlusFit Race liners, achieving astounding warmth-to-weight ratio.
Because of the emphasis on low weight, the F1 AT boots fit only Dynafit AT bindings
Unanswered Question
can i use scarpa f1 in an expedition to...
can i use scarpa f1 in an expedition to huascaran?
Light
Gender:

Male

Familiarity:

I've used it several times
Even though this boot has been around for a while and newer technologies exist, I still think it's got a spot in the market. The obvious benefits of a flexible bellows, light weight, removable tongue, etc. are very nice.

They worked great for me in soft, non technical snow/terrain.

They didn't work well for me on windboard, zipped, crusted snowpacks because I couldn't get my narrow foot to feel secure in the forefoot area. I even tried a Sole Ed Visteurs footbed with a lot of volume. I coudn't have sized down any more as I previously used a size down Maestrale that I could no longer get my foot in because of running foot growth. So, I felt like my foot was swimming all over when I needed control.

If the size works for your foot, I'd recommend this boot for racking up lots of vertical in short amounts of time.
The F1's are a great boot for splitboarding. I removed the tongue on the back boot to soften them up. The bellows makes for smooth and comfortable uphill riding and even offers a bit of flex on the way down, which is a benefit to me as a snowboarder. I use Dynafit toe pieces for the up and have been using both Voile Mountain Plates and Burton Race Plates for the riding. The board I am rocking is a Rome Split Proto that is super light and fun.

I love the fact that I can DRIVE MY CAR safely in these boots! It is so nice to get to the trailhead and GO without having to change into boots. I am so stoked to find this boot and get back into hard boot splitboarding. I was over the challenges of splitting with a soft boot setup. Even though the Spark Fuse Soft Splitboard Binding is great it doesn't help much with traversing firm sidehills.

These boots are difficult to get in, to have my heel drop into the pocket, but I imagine this will get easier with time.

I have a fairly wide foot and once I baked the liners I had the room needed for comfort and warmth around the bellows. The cord holding the rubber ball to open and close the tour/ski latch broke the first time I used it. I drilled out the cord and threaded a simple cord through that is holding nicely for the time being.

I also used these boots hiking Glory Bowl on Teton Pass after doing a tour up West Mail Cabin on the West side of the pass. It is a pleasure to have a firm toe to use on the firm and snowy steps heading up to the top of Glory.

Bottom line: I think you will be seeing many more snowboarders using hard boots for splitboarding and backcountry riding in general and the F1's are the best I have found!

For more in depth reviews check out my website - www.stephenkoch.com' (HARD BOOTS VS. SOFT BOOTS FOR SNOWBOARD MOUNTAINEERING –)
Is the liner within this boot heat moldable,...
Is the liner within this boot heat moldable, or is that an extra item that you have to buy?
Yes the liner is heat moldable.
Efficient kick n glide n schuss
This is my fourth try at AT boots for Rando Rally Recreation Races. As a youth raised on diagonal stride classic kick n glide, this version of the F1 is the best for providing a trotting gait, that lopping fox trot of forward momentum due to the flex bellows.....there's a reason why all the Euros ski this boot. This is the only boot I've tried that gives metatarsals flex that prevents numbing due to still sole.
I ditched the powerstrap for now, using a thick rubber band for instead for holding the liner tight above the ankle. The liners are heat moldable but not Intuition brand. The entry and exit from this boot is fast and clean unlike the Dynafit TLT 5's I tried to love.
Downhill performance is what you'd expect...they're not a 4 buckle boot.....but your skills have to compensate for lack of full boot control on the descents. Ideal for Rando or long tour days.
Unanswered Question
this one is for kirk haskell: I thought...
this one is for kirk haskell: I thought the liners WERE heat moldable. second question I had the older f1 how are these better? I didn't love the throw down switch from up to downhill during rando race transitions...couldn't get the tightest feel....