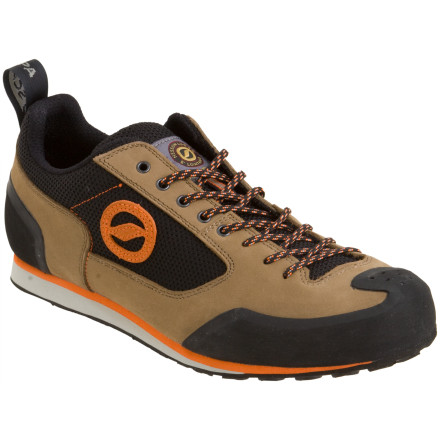 Detail Images
What do you think about this product?
Have questions about this product?
I was psyched to see this euro retro style shoe that was also technical. The sticky rubber is very sticky but it will mark on hard floors. The shoe climbs really well, I've done some easy bouldering problems and some scrambles it's very precise. The shoe is airy and breaths so well in keeping my feet cool. They do fit kind of high volume so if you got a skinny foot you will need to use a superfeet or custom insoles.
When I buy shoes, I like to think multipurpose. I got these for kicking around town as well as rock-hopping over the chossy talus up here in AK. Really an excellent all-around shoe. Supportive with good underfoot protection for hiking and approaches, but flexible enough to walk around in all day. I don't like a big restricting hiking boot or shoe, so this suits me really well. Pretty glad it has no water-proofing too, I never understood the point of a low top gore-tex shoe. The sticky rubber soles are sweet on the rocks, but will mark any hard surface with black streaks. I guess they weren't designed for traipsing around campus...
hey does this have a removable insole? I'd...
hey does this have a removable insole? I'd liek to use my orthotics with it if so..thanks
I am pretty sure they do...every shoe I have owned from scarpa has removable insoles