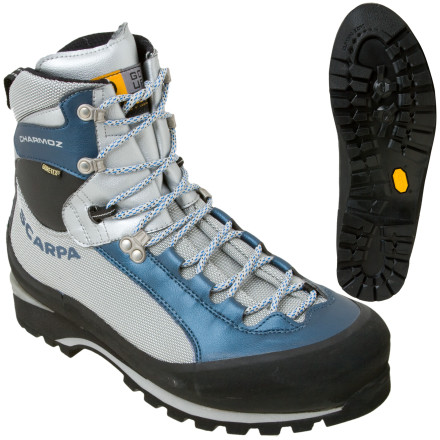 Detail Images
The Scarpa Men's Charmoz GTX Mountaineering Boots excel on varied alpine terrain where a pitch of snow is followed by a pitch of rock which precedes two pitches of ice. Waterproof breathable Gore-Tex inserts keep your feet dry as you posthole to the base of your route. The ¾-length shanks allow comfortable walking on the approach hike. Vibram Mulaz soles give the Charmoz GTX Boots great traction on both snow and the techy rock climbing that gets you up the first few hundred feet. Strap a pair of Newmatic (semi-automatic) crampons to these Scarpa boots, and their rigid soles and flexible uppers give you the support and precision you need for grade 5 ice and hard mixed climbing.
Hi, I'm going to order a pair, but don't...
Hi, I'm going to order a pair, but don't know my size, I can get up to REI and try some on. How long is the 209 price good for?

Thanks, Curt


Hey Curt, thanks for the question.

Our Semi Annual Sale is happening right now, but we don't have a termination date yet. Best not wait though! Since we only have the one pair of the 42.5 size remaining in stock, I would suggest chatting or calling in with one of our Gearheads. We can help you out with the return cost since you aren't sure on size.
Terrible boot for a Scarpa
Gender:

Male

Familiarity:

I've used it several times
Bought these for my son mostly because he is a new climber and I wanted to save a little $$. I use Scarpa boots for my climbing in the PNW (hard shell and leather) and they are awesome. These boots, however, are terrible and Scarpa should be ashamed for making them. One season and my sons feet are constantly drenched from them wetting through. The construction quality is high but don't think for an instant these are even remotely waterproof because of the "GTX" in the title. Spend a little more, get a good pair of leather boots and treat them with Sno-Seal. Otherwise the build quality and fit are Scarpa legendary and I will probably always climb in Scarpa boots. I gave them 2 stars just because of this but otherwise I would have given them a 1... or 0 if possible. I see these on new climbing students all the time and feel sorry for them. Thank goodness for outdoor retailers and their generous return policies.
Can I use these on Rainier Late May?
Can I use these on Rainier Late May?
If you are moving light and fast I think they would work. If you are in for the long slog and will be standing around a ton, I think your feet will get cold.
Thanks man, I'll get a pair of plastic boots for Rainier.
Hi, I am going to Patagonia for trekking...
Hi, I am going to Patagonia for trekking and some glacier travel and climbing. I need a boot that is suitable and comfortable for walking the trails as well as crampon compatible. I have extremely wide feet so need a brand with width. I live in melbourne australia and am looking to buy online as the choices here are very limited.

Any suggestions welcomed.

Thanks
I've got big fat (or phat?) feet too and the Scarpas fit like a dream. In my experience, Scarpas tend to run a little wider in the toe box and narrower in the heel. I've had these boots for about 6 months now and haven't had any issues with blisters or hot spots on my traditionally janky feet. In the words of Arnold Schwarzenegger, "Do it now! Get to da choppah!"
Hi I have a17 yr old son going on his first...
Hi I have a17 yr old son going on his first Outward Bound 15 day adventure in CO (with some rock climbing) I live in CT and no stores carry any of the recommend boots. Some on the list are La Sprotiva Trango AlpEVO, Glacier And Scarpa Triolet ProGTX and the Charmoz GTX. Any Advise Out There? I am hoping he will love this and continue but not sure what level boot will do for this trip.
Best Answer
Rita,
I can only speak to Scarpa as I am the rep. I would suggest charmoz as it is nice an light and for a first time user he will aprrciate the weight. The Troliet is nice and I would say more a bit more rugged as it is all leather but with that comes added weight.
What kind of hybrid crampons fits the...
What kind of hybrid crampons fits the scarpa sharmoz GTX best for moderate climbing (not for technical ice climbing)?
bd sabretoths or grivel g12's
Like Hayden said I have sabertooths and they fit really really well, no slop at all.
Just wondering how this boot fits compared...
Just wondering how this boot fits compared to the Lowa Vajolet GTX? (which one is wider, roomier toe box, etc). Thanks
Can't compare to the Vajolet but my E width foot fits great in the Charmoz
I have a 2E foot and I actually fit pretty nicely in the Charmoz. The synthetic mesh on the sides allow for a good bit of stretch. These are very high volume fit as compared to the Trangos.
Will these boots and the womens version...
Will these boots and the womens version work well for Mt Baker and Mt Rainier?

Thanks!
It will depend on when you intend to use them. The Charmoz is a non-insulated boot so it will work great in warmer temperatures but may not be warm enough if you go earlier in the season. If you want an insulated boot I'd check out the Mont Blanc.
So, I'm buying a new pair of Charmoz, and...
So, I'm buying a new pair of Charmoz, and because REI out here is useless, I can't try them on. I wear size 10.5 in Brooks Glycerin 8 running shoes, 11 in Vasque Breeze Hiking boots, and size 10 5.10 Prism climbing shoes fit me perfectly. Any size suggestions?
44 would be the size for you
I think a 44.5 would work, too, and it is in stock.
Are these as stiff as the La Sportiva...
Are these as stiff as the La Sportiva Trango S Evo's.
Yes, they are very similar boots.
Unanswered Question
anyone but me have the problem with their...
anyone but me have the problem with their foot becoming completly soaked from sweat so bad by the end of the day the bottom of my foot is white and wrinkled whats the deal im calling scarpa i used a pair of lasportiva nepals evo gtx didnt have this problem but wanted a lighter boot maybe ill get some monoliths from mammut
Do these have sticky soles like the L.S....
Do these have sticky soles like the L.S. Trango S Evo? Thanks.
No they are just standard rubber
I wore these for a day and returned them because they fit very narrow so be aware of that
they have the same rubber, i think they even have the same shape of imprint!
I have a pair of Scarpa Pursuit shoes (Size...
I have a pair of Scarpa Pursuit shoes (Size 42 EU - I'm a regular size 9 US) and they fit good. Just wondering if I should go with the same size for these - 42 EU or go for the 42.5? I'd obviously be wearing medium thick hiking socks so do want these to be too tight, but I'm guessing the leather might stretch a bit? Didn't know if the hiking boots fit a bit different then the shoes. My foot is normal width, I guess. Thanks.
Best Answer
With the heavier sock, size up to the 42.5 or even the 43.0. I'm a fairly devout Scarpa wearer, and that's always been what worked best for me. A little stretching (more like loosening up), but not enough to not get the right fit from the get go.
FINALLY CLIMBING RAINIER THIS AUGUST
I HAVE BEEN LOOKING FOR A SIZE 48 LA SPORTIVA EVO FOR ABOUT 6 MONTHS AND LIVING IN THE NYC AREA IT WAS REALLY TOUGH TO FIND MY SIZE THAT I COULD TRY ON. I FOUND A STORE IN LOWER MANHATTEN "TENT & TRAILS ( GREAT STORE) THAT HAD MY SIZE. AFTER TRYING ON THE SPORTIVAS THE SALES MEN SAID JUST TRY THESE ON AND SEE WHAT YOU THINK. I HAVE TO SAY THAT THE FIT WAS ALMOST THE SAME + THE ARE LIGHTER THAN THE SPORTIVAS. I THINK I WALKED AROUND AND COMPARED THE BOOTS FOR AT LEAST 3 HRS ( KICKING THE STAIRS AND DOING DIFFERENT DRILLS) THE SPORTIVAS HAVE THE ADDITIONAL TOUNGE THAT WOULD HELP KEEP YOUR TOE FROM GETTING CRUSHED BUT IF YOU TIE THE LACES ON THIS BOOT THE RIGHT WAY YOU DO NOT NEED THE EXTRA TOUNGE. I CHANGED THE INSOLE OF THE BOOT WITH A INSOLE THAT HAD MORE CUSHION AND I WAS SOLD! THE TREAD AND HEAL ARE ALMOST THE SAME AS THE SPORTIVA AND JUST AS STURDY.
These will rock climb and with the right crampon system do Rainier's lessor routes with ease. Light on the foot and warm enough if the snow or creeks aren't too deep. Try the Trango and this one and see which fits the best (these are a little wider)...and buy accordingly.
Took a pair of these to Nepal for Ice Climbing and was SUPER IMPRESSED. I feel like Scarpa is making the best mountain boots in the business right now.
I ended up choosing these boots over a pair of La Sportiva Trango's just because they were a little bit wider. I never thought of my foot as wide before, but these fit great. The soles showed some good wear early on, but have since to yield anything more regardless of what I put them through. I have had these for the past two seasons and go out a good amount and they are holding up great. I tend to really tie my laces tight and I am seeing some signs of wear on the lace loops, but dont foresee a problem occuring before I destroy them with the distance that I put on them. Overall they were a fantastic purchase, but I would definitely swap out the inserts that some with them for some Superfeet.
I wear 43.5Eur Scarpa Zen approach shoes....
I wear 43.5Eur Scarpa Zen approach shoes. They fit well but with no free space at all with medium thikness socks. What size size of Charmoz should I choose?
Thank you.
well u will probably be wearing thicker socks and ur feet will swell from hiking and climbing, I would get 44
I searched for the perfect fitting boot, and the Scarpa Charmoz took the cake! I have a wider foot and looked for a boot with a wide toe box. I tried the La Sportiva Trango, but they were far too narrow for my foot. I have used my Charmoz for a variety of trips including summer camping, alpine climbing, glacier climbing, and winter camping. When standing on snow, my feet get a little bit cold because the boot has not insulation, however wearing two pairs of socks helps. The boot is very durable and has many different options for lacing in order to get the most comfortable fit. I took these boots on Glacier Peak, which included 30 miles of hiking including the approach and had no blisters or discomfort afterwards. The Gore-Tex liner has been bomber and not once have my feet been wet from snow or river crossings. I have pair my boots with the green Superfeet insoles and this helped improve the fit even more.
Could i use these in the winter?
Could i use these in the winter?
For sure you can use these in the winter, they have a nice Gore-Tex insert so you'll be good to go.
They do have Goretex but these are not insulated .
I'll try em out thinks guys
after further testing I found them to be good for fall and spring but I don't like them for the winter, not very warm, but thats my preference
after further testing I found them to be good for fall and spring but I don't like them for the winter, not very warm, but thats my preference