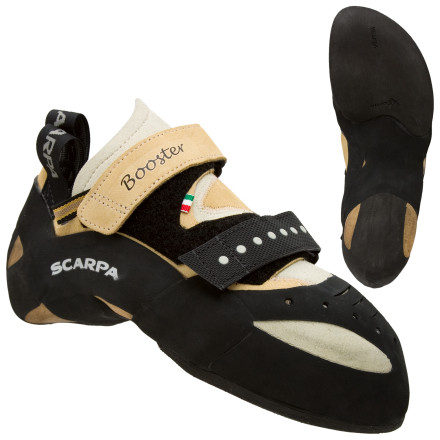 Detail Images

Community Images
The Scrapa Booster Climbing Shoes' highly asymmetrical curve and down-turned toe provides solid power and feel to your toes on the most technical sport routes and boulder problems. The hook-and-loop closures allow quick entry when you get psyched to pull down your project. Unlined suede uppers mold to your feet for a precise fit and equally precise footwork.
Aggressive shape and down-turned toe edges like crazy
Hook-and-loop closure for easy on and off
Discontinued Vibram XS Grip soles give you all the friction you need
Unlined suede upper will stretch about a half size
i've got a 6.5 anasazi, fits amazing. what...
i've got a 6.5 anasazi, fits amazing. what size booster you think? def worried about the heel cup...
Two very different shoes. A proper fit in these will be much tighter.
I have a solution 36 i have a 36...
I have a solution 36

i have a 36 katana

should buy some scarpa 36????
Best Answer
Generally no. You'll usually buy Scarpa's in a larger size than Sportiva's. Most people downsize .5 to 1.5 sizes from their street shoe size for Scarpa's
Can anyone help me decide between these...
Can anyone help me decide between these and the women's five ten blackwings? I'm looking for an aggressive shoe for mostly bouldering and overhang lead. And I'm a girl, if that's relevant.
They are both high performance, sensitive, aggressive shoes. The boosters are very nice for people with wide feet (me). I can wear the boosters for a long time comfortably, while for instance, I cannot get my feet into a pair of fiveten teams.
How good are these shoes for crack climbing...
How good are these shoes for crack climbing and friction climbing? has anyone used these at Indian Creek?
Best Answer
I've had two pairs of Boosters (and resoled em - I like these shoes a LOT) and would NOT recommend them for crack climbing. These get pretty tough on my feet on multi-pitch sport and I try not to wear them for that. Not an expert on crack, but I think these are best for bouldering and aggressive sport routes.
I never wear velcros for cracks. The metal buckels around the velcro end up biting into my feel. I always look for a laced shoe, ideally with flat laces.
Buy some 5.10 Moccasyms or Anasazis if you want crack shoes.


boosters
Gender:

Male

Familiarity:

I've used it several times
Bought a pair of these a couple weeks back when they were on sale. I guessed on the size as there is no where near me to try on scarpas to get an idea on the size. I wanted to really downsize to a tight fit for hard bouldering and sport. I normally wear a US 9.5 or 10 and got these in a size 8. Needless to say they are very small. I'm not sure if I'm breaking them in or if they are breaking me in. Despite that the I think the fit is pretty good; no airspace in the heel cup and a good curl to the toes. The toe box is set pretty wide which is fortunate for my wide set toes. Overall good fit and still breaking in.



The shoes feel pretty boxy right now and are not very sensitive, but I think that will change as they break in.



As for climbing, they are great. The rubber is super stick (tacky to the touch out of the box). They edge like a dream, and there is plenty of rubber for toe and heel hooks.



My only real con is how stiff the toe box is, but it will loosen up in time.



I would suggest a pair if you're not looking to spend the extra on the new boostics or sportiva solutions
I like them even better than my Vapor Vs
Gender:

Male

Familiarity:

I've used it several times
These shoes are great. I find Scarpa hug my feet like no other brand can. Snug, consistent foot contact all around, but never painful (except the first two sessions - can't do much about that). They perform very well and look pretty good too, if that matters.



Sizing: I wear a 10.5 street shoe, size 44 Scarpa Vapor V, and 44.5 Scarpa Booster. All fit beautifully. No need to cram your feet into something so small, you can't feel the holds.
I think there is better...
In my opinion I think there are much better shoes out there. I love Scarpa, but it seems like they were intentionally trying to make the heel cups on the Boosters 5 sizes too big... I still just don't get why the heels are so big! If you want to stick with Scarpa then I would suggest trying the Vapor Vs... But! again in my opinion, I am still in love with La Sportiva's Solutions.
just bought these and my toes feel like...
just bought these and my toes feel like they're going to die. is this normal or did i buy a size too small? i wear a 10.5 normally and i bought a 42.5
Best Answer
Generally with climbing shoes you want them mad snug to begin with, just wear them when you're chilling on the couch and they should stretch out with time. If the pain is too intense to stand, I say go up a half size. If you're into SUPER aggressive overhanging bouldering, tight shoes will serve you well, but if you're looking to climb for any period of time or just use these as your swiss army shoe, I would size to something I could stand. Just use your best judgement.
Climbing is supposed to be fun, if it hurts so much you are not having fun, get a bigger size!
it hurts when you want that shoe to stay tight for best performance. size up if your doing a recreational all day climb that might have you in the shoes for more than a few minutes at a time


How is te heel cup on these? I have a...
How is te heel cup on these? I have a pretty shallow heel, so most five tens just slide off when I crank too hard off a heel hook. Are these deep/shallow/good/bad for heel hooking?
these are also quite shallow - sportivas would be better in your case
Shallow? Are you kidding? I couldn't believe how deep these heels were- about a half inch longer than my heels, and most Sportiva stuff fits me pretty snugly.
Unanswered Question
How well do thees hold up to the Vapor V
How well do thees hold up to the Vapor V
Really aggressive shoes; great performance on steep rock. I struggle with finding shoes that don't leave dead space in the heels. These don't, so I love 'em!
I got them about a week ago and took them back with in the week.. one of the best shoes for the toeing in to anything and has a wide toe box which is nice if you have a wide foot like i do. The heel hook had a huge pocket and was very thin, making heel hooking hard and kind of painful. I wear size 10 street shoe and when down to a size 40 or 7 1/2 in them, but they still had the pocket in the heel.

all in all a pretty good shoe
ok, i know this is probably a lame question,...
ok, i know this is probably a lame question, but i'm interested in starting to climb. with the holliday season pressing in i asked my really good friend what a good starter shoe would be and he came back with these. anyone have verification to this, and if he's wrong what would be a better alternative?
Best Answer
I think your friend is playing a joke on you (or your playing a joke on me and I'm falling for it). The Booster is about as far as you can get from a beginner shoe. I would recommend your first shoe should be something flat lasted like the Thunder, Veloce or Force. Try on as many as you can and pick the one that fits the best.
These are super aggresive, if you're not into more technical stuff, then shy away. Don't get me wrong, this is an amazing shoe, but it may be more than what you're looking for.
try the la sportiva mythos if u havent already got a pair. they are uber comfy.
"red chilli lady spirits" rocked it
Unanswered Question
Would it be fair to assume these fit like...
Would it be fair to assume these fit like the Mago's in terms of toe box, heel, and length? I love my Magos but would like something easier on/off for bouldering and with a bit more rubber on the top of the toe.
Aggressive? yes and all the wonderful precision that goes with it, but since the 4mm rubber stops just below the ball of your foot, easy to open up and smear.

Comfortable!! Very snug tight fit, but good padding under the leather on the top of the shoe, so while responsive and tight, not pinching. even after a 4 pitch trad day my dogs weren't barking too bad.

As far as being technical, I prefer bouldering (though leading sport and trad is a blast also) and these crush.

Nothing bad to say, except I'm nervous on getting them re-soled do to the weird rubber configuration, but worth it to have such a comfortable, smearable super aggressive shoe.
The best sport shoe ive had in a long time. i climb at rifle and pump o rama felt like 12c after i strapped on the power of the boosters. THey also arn't too bad for smearing as some may suggest. Exotic headach on independence pass was no trouble for these shoes, smearing intended.
Whats better for overhanging bouldering...
Whats better for overhanging bouldering the Scarpa Booster or the La Sportiva Solution?
I don't have either of the shoes however have had several La Sportiva and absolutely love them. I was comparing the both and both seem like great shoes! Obviously I am bias but it looks like the solution has more rubber on the heel as well as on the toe, which means great "hooking" for overhangs. Also, I would imagine the leather would form to your foot better allowing for a more comfortable fit. Anyways, take what I say with a grain of salt; hope it helped!
I am looking at getting a pair of boosters...
I am looking at getting a pair of boosters for bouldering. No one has them to try on in South Australia so i have to buy them without trying them on. I wear like a size 42.5 - 43 street shoe and my evolv's are a 42.5 and fit tight. What booster size should i get, i want them to be tight but not unbarable
You'll want to downsize 1-2 sizes from your street shoe size.
Is there any Scarpa climbing shoes available for sizing in your area? I have found that many of the manufacturing use roughly the same sole size. I would think trying on a similar Scarpa would give you a rough estimate of where your foot would be as far as sizing for the booster. Hope that helped, and good luck!!
I wear 42 street shoes and my boosters are a 381/2. The break in period is painful but once you get them worked in a bit they're an amazing shoe. The heel is meant to stretch a TON so even if they seem small (I would recommend 39's for yourself) they will eventually break in (probably 2 weeks of solid climbing). They should feel like ballet shoes when you put them on and you should want to rip them off after every run on the wall.
i can try on a pair of thunders but they are pretty much a completely different shoe to the booster.

I reckon i will get a 40-41 nothing too small but not overly big either

cheers for the help people