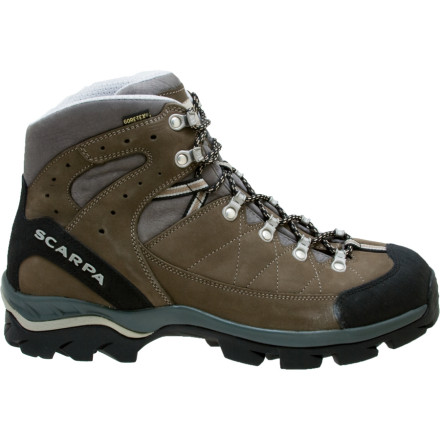 Detail Images
Mile after rugged mile, the Scarpa Men's Bhutan GTX Hiking Boot keeps your foot protected with durable leather and comfortably dry thanks to a waterproof breathable Gore-Tex Performance lining. Based on the popular Kailash hiking boot, this backpacking boot supports your ankles from the treacherous trail by controlling lateral ankle flex. Throughout muddy hill climbs or slippery descents, you can have confidence in the aggressive shanks and the grip of the Vibram sole. Load your bag, lace up the Bhutan, and set out on a trek, regardless of the conditions you'll find underfoot.
Great boots!
Familiarity:

I've put it through the wringer

Fit:

True to size
These are awesome boot! great for backpacking, or just walking around campus is not-so-great and wet winter weather. I have rather thin feet, and these fit well, not as much room for my foot to slip around as in some other brands that tend to make much wider shoes.



The leather is really great, looks good and develops a nice finish as you break them in. Can take a nice beating, and beads water well... anything that makes it through the leather is stopped by the goretex liner though. These things are hella' waterproof. I've submerged my foot in ice streams for up to a minute (for testing only luckily) and have had zero water come in. They protect pretty high up too, the water was completely running over the toe box.



They are great for backpacking in warmer climates and provide great support combined with pretty good ventilation, as good as you could expect from a full leather boot anyways. They are also for hiking and backpack in the wintertime. They don't have any insulation, however when coupled with a liner sock and an heavyweight wool sock I have been comfortable for overnights stays where I was hiking in close to, if not below, zero deg conditions.
Bought These Unsure If Correct Size
I love these boots but I bought an 8.5 US Mens and they appear a a little tight. The length is perfect but the width seems tight. Do these stretch out width wise at all or should I return them and size up a half size. I was able to try a 9 on at a store before I ordered these and they seemed a little too long. Any advise would be helpful.
Do these have the same sole as the...
Do these have the same sole as the Kailashs?
Yes, This is essentially the same boot as the Kailash but with an upgraded all leather upper
Almost two years and they are still awesome
I bought these because I saw a video on backpacker magazines website on a gear test. I have had them almost 2 years and have taken them on 20+ rugged hikes and snowshoeing adventures (mostly day trips) and I have liked them in just about every condition (winter requires nice wool socks). I have never had wet feet. The only complaint I have was I had to purchase new insoles because the scarpa soles slid and bunched up going down steep descents. The best shoes I have ever owned.
Does this boot really weight 1lb 9 oz per...
Does this boot really weight 1lb 9 oz per PAIR?
no. 3lbs 2oz per pair....from several sources.
State of the Art Hiking Boot
The Scarpa Bhutan GTX Hiking Boot is a comfortable boot for almost any terrain except for the really techinical stuff. The sole is grippy and appropriately flexilble. Size 11, the 45 euro size was just right especially with a Superfoot insole. The GTX keeps out the water and is reasonably breathable and warm. Awesome boots.
Good boots, but go for a stiffer boot for long treks or climbing
I have mixed feelings on these boots. While they have served me well on numerous hikes, for backpacking and light climbing trips as they have worn in I have started to wish for a slightly stiffer, heavier and more durable boot.

I would highly recommend them for day hiking and light backpacking trips, but the ankle support, wear in factor, and overall tough construction of the boots leaves something to be desired at altitude, on multi-night treks, and on snow or with crampons. If you're hiking on snow or in PNW rain like me they will need re-waterproofing after multiple uses.

The vibram soles do provide excellent traction on rock and mud, and the flip side to the above is these boots are much lighter than others I've used.
Best backpacking boots I've owned
These boots are the best I've owned. They were comfortable right out of the box. I wore them around the house for two days off and on for about two hours each day. After that, we left for a backpack trip to Cottonwood Lakes in the Easter Sierra that culminated with the summit of 14,046 ft Mt Langley. I returned home witout any blisters or sore spots. Really comfortable boots! I normally wear a size 8.5. I ordered two pair of boots. An 8.5 and a 8. The 8's fit perfect, so it seems like you might want to size down by a half size. Highly recommend these boots. Pack weight was 41lbs and the boots provided plenty of stability. We chose the 4th class approach to the summit since we are 5th class climbers, and the boots were sticking on granite boulders like rock climbing shoes. Very impressive.
I have very wide feet that require special...
I have very wide feet that require special orthopedic inserts. Do these boots run wide? If not, could anyone recommend a decent brand that runs wide?
I'd say the Bhutan runs average width, but it is also available in a wide version. I don't think Backcountry carries the wide though
Hi Benjamin,
Check out the range of footwear from Keen. They are wider than average with a very roomy toebox. Some folks absolutely love this brand! Good Luck.
As soon as I pulled these out of the box I saw how nice the leather was. I ordered .5 a size bigger and they fit perfectly with the added orange superfeet for for arch support.

The grip is so good on these boots that you can walk up steep snow covered muddy hills no problem. These are for people who like messing around through the rocky canyons, jumping across streams on slick rocks, all very cofortable and warm.
They may take a few weeks to break in. Better than other brands out there and made in Romania! Not Made in China for once.

Highly recommeded to outdoor lovers who like to play. A perfect snowshoe companion. Nice looking also. Can't say enough about these beautiful leather boots!
These boots met all of my wants and needs.. they are warm when out in the cold.. they give good ankle support and are comfotable.
My feet did not get wet out in the snow..
The only negative is that they get warm when wearing them indoors.. but I am sure thats to be expected.
Yes would be good they have goretex to keep your feet dry and they are relatively tall . They do not have insulation though.