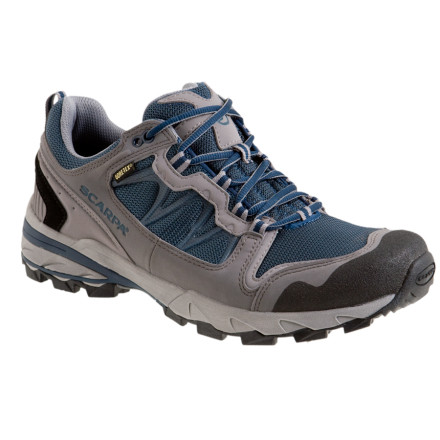 Detail Images
Owned a pair of Keens prior, which I liked a lot with their KeenDry technology. The Apex is lighter, more athletic, and stays dry unless you step in a puddle that comes up higher than your ankle. My out-of-box test was to dip my fit in the bathtub, and the GTX kept my socks completely dry.

I wouldn't buy these as trail runners because they are a little heavier than others on the market, and they don't breath as well as the meshy shoes out there.

However, I have been hiking in these all summer in Idaho and now fall/late fall in New England (which gets real wet and slushy) and have loved them. The Scarpa rubber is much better than any other day-hikers I've used, so I feel confident scrambling up slippery rocks. And they are significantly lighter feeling than the Keens.
Solid as a Rock Trailrunner
It took me a while to get comfortable in these things (wide footed guys stay away!) but once I managed to break them in they were worn to work and around town daily. Solid, low profile, gore-tex insert keeps the rain and snow at bay, understated styling was much appreciated.
Really great hiking shoe.
I live in Montana and hike on a daily basis. I've owned shoes made my Montrail, Solomon, you name it... These are the most well-made, comfortable shoes I've ever owned. I have eight months on them and they look almost new. I've had them caked in mud and they always come back good as new.

I can't say enough about these shoes. I've destroyed more than my fair share of hiking shoes, but I haven't been able to wreck these yet. Buy them.
I ordered these for hiking in Arizona. The first time I wore them I developed a small blister because they were a little stiff. Once I wore them a few times they loosened up. A good pair of shoes for the price.
where are the scarpa made
where are the scarpa made
, ☃bcs_badge_alumni_label☃
Best Answer
These are made in China.
Do these shoes run big or small or just...
Do these shoes run big or small or just right in terms of size? Trying to figure out if a 13US is a true 13 or a little smaller (or larger). I'm really looking for a 12.5US and am deciding between a 12 and a 13. Thanks!
Best Answer
I think they run a little big, but maybe not big enough to go down a half size. I usually wear an 8.5, and these feel a little roomy, but still comfortable. Good for running and wearing with thick socks.
Unanswered Question
I have narrow feet and have a pair of...
I have narrow feet and have a pair of Scarpa Kailash boots that fit fine, but does anyone know how these fit?
i have really wide feet would you recommend...
i have really wide feet would you recommend these
Best Answer
Jacob,
These are more of a Medium fit. if your really wide they are probaly going to be a little tight for you.