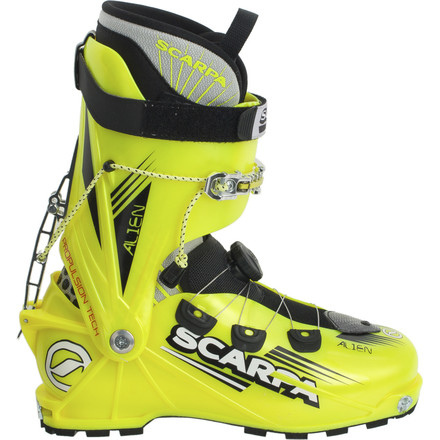 Detail Images

Community Images
Description
It must be alien technology.
Descended from the F1, the Scarpa Alien Alpine specializes in enabling traverses at record-breaking speeds. Polyamide offers a lightweight and stiff alternative to comparable boots, while a single-lever forward speed lock gives you ease of use matched only by your favorite gravity-propelled planks.
Forward lean fixed at 13 or 18 degrees depending on your need
Vibram UFO rubber sole comes in handy for hiking
BOA lower shell lacing closure offers a secure fit and added comfort
Share your thoughts
What do you think of the
Scarpa
Alien Alpine Touring Boot
? Share a...
Do these come in half sizes?
They do no come in half sizes. Half sizes do not change the actual boot just the liner. Since the liner is so light in this boot anyway you are essentially getting something like the half size. Pretty tough boot to fit, hit me up with your BSL and current boot.

You can call or email me directly. 801-736-6398, or bporreca@backcountry.com
Light, Fast, Skis, Climbs, and Drives
Familiarity:

I've used it several times
When you first hold the boot in your hands your have to admit you have hiking boots that are heavier. These are so light, they even make your wallet lighter! Skiing with them is different but, not bad. I Had to adjust the forward lean and that made them ski slightly better for me. They are stiff in the cuff however I feel they flex in the forfoot, it feels wierd but I Have not experienced anything that hurts my turn. I have not tried them on steep icy terrain making hop turns yet so I cannot speak for that. I am skiing a 95 underfoot 185cm ski and they drive it somewhat fine. I am waiting to get into my La Sportiva GT 89mm underfoot and 177 cm I am sure they will be able to drive that easier. My Garmont Radiums were a 26.5 I am a size 28 in this boot, so they definitely fit small. I do get some snow in the forefoot but, stay moving and you will stay warm, thats the nature of this boot and I like it. It really does deter you from standing around and walking slow. I also intend to ice climb in them. Today they did alright, I am sure a mountaineering boot would do better but I was still impressed that they climbed. My favorite part of the boot is the fact that I can put them on in my living room and just drive to the trail head with them on. No more switching from my Bogs to ski boot just hop in the car and drive, they have that much cuff rotation. I might try them with a booster strap to see if I can get a more progressive flex out of them, we will see.
Went to a boot fitter today and discover...
Went to a boot fitter today and discover that i fit into a size 27 - just need a high volume boot due to my high arch and wide feet. Are these Scarpa Aliens wider and would you say they are "high volume?" Thanks
Hey Peter,

With a 99mm last I would not call these a high volume boot. Not sure exactly the width you are looking for but when I think wide boot last 103mm is about where I would start.
Light, Fast, and Awesome
Familiarity:

I've put it through the wringer
I was a skeptic. I never imagined that lightweight "rando" boots would or could ever ski well. After last season this skeptic has become a believer! The Alien is an amazing little piece of technology. Of course it's crazy light, but it also skis really well, especially in nice spring corn snow, which was when I used it most. I took these out for most of April and May ski mountaineering in Colorado and loved them. Long days, steep couloirs, knife-ridges, it's like having a mountaineering boot that skis well.
I will say it took me a day or two to really dial in my technique with this boot- you have to be a bit careful about not over-flexing it- but once I found my perfect balance point it was game on. The cuff is amazingly supportive when your weight is back, like at the end of a fast turn. The BOA buckle system is brilliant, and the ski-walk mechanism is super easy to adjust and use.
I would recommend this boot to anyone who loves fitness touring or spring ski mountaineering. It's a game changer for me- light is right!
The new daily driver
Gender:

Female

Familiarity:

I've put it through the wringer
Why wouldn't you use this boot (and a Ski Trab set up) to hike and ski? It's so much lighter and it's durable - it truly defines today's lightweight touring set up. (Full disclosure: Verde PR, my agency, works for Scarpa and Ski Trab, and I am not the most bitchin' skier. I like to get out a lot, and I like to HIKE. I like lightweight gear that is reliable - this works.)
26 shell - 279mm
27 shell - 287mm
If you appreciate performance up and down, you love powder....this is the boot. Its the Porsche 911 of boots....not to be confused with its racier brother, the 911 GTS (Alien 1.0 lighter, Super stiff carbon version...and yes more expensive). I rage in the Alien 1.0 on race day but rally the Alien as my daily driver.

Both boots ski DH WAY better than the old F1, because of the lack of bellows on the Alien...it winds up skiing DH like a real (say 3 buckle) boot should...there by allowing you to ski with much greater confidence at greater speed. I don't miss the bellows on the way up, either.

The fit is more snug than the old F1 as well. The BOA lacing system rocks. I have a low volume foot and still end up with two foot beds in the boot, in order to run the correct length. I was a mondo 30 in the old F1 Carbon (lots of extra volume) and stayed a 30 in the Alien versions and love it.

Warmth has NEVER been a problem in any of the old F1 versions (even with the thin liner in the F1 Carbon) and I have had the same experience in the Aliens. (I live in the "colder" part of the CO Rockies.) I ski with the Spandex Liner it comes with and can say that it helps a ton to keep out the snow.

I've had a chance to ski the PDG's and Dynafit DyNA's and can say I love the fit & performance in the Aliens.

Get 'em!
Awesomely light and flexible, affordable for the pocketbook-
I bought this ski boot for the Elk Mountain Grand Traverse, a 42 mile ski mountaineering race in which light weight gear is a necessity. I also planned on skiing it this next year. A well built boot, my foot did get wet (from sweat and the open back) however, it stayed warm with my wool socks. Haven't skied this boot in extremely cold conditions but I did ski Star Pass and back into Aspen in them and they handle just as well as my Scarpa Geas. Super comfy, I am a 25.5 and ordered both the 25 and 26. There is no way I could fit the 25, had the 26 heat molded, threw in some red super feet, and was blister free (besides the ball of my foot) for the entire race.

Negatives: I did end up somehow popping off the upper strap before the race, couldn't get it re-anchored and lost it completely on the top of the ski van. But I am a girl and probably asking someone for help might have been a good idea.

Other thoughts: This boot is sizeably shorter than my Gia, I needed to change my bindings. Don't forget to do this before you try to ski on them ; )

Overall: I could have sent these boots back to Backcountry since I lost my strap, but I love them too much and will just order a new one from Scarpa (that is if BackCountry doesn't read my post and send me one instead!)
Aliens spotted on the Pfifferhorn
The Aliens may be full-on race boots, but I think they work pretty well for all around touring and even for moderate alpine climbs, like the Pfiefferhorn in the Wasatch.
It is hard to find any fault with these boots as they were built as 100% full-on racers. Saying that your feet get wet when using them is like complaining that a Formula 1 race car doesn't have drink holders. These boots are meant to rage, and they do it very well.

I use my Aliens as a touring boot for Wasatch skiing and love getting out on them as they tour so effortlessly. For upright skiing, they work fine as the back cuff is very stiff. For punchy, breakable snow, they are going to be pretty soft on the forward flex, but that can be solved by avoiding punchy, breakable snow.

The Boa toe tensioning system works pretty well, or at least well enough to hold your foot in while being almost weightless. The rear lock-down mechanism is fast, quick and secure - pop the lever and your are in 100% tour mode. Lock it down and it cranks down the cuff as well as the rear lean.

The soles of the Alien are roughly half the thickness of a normal sole, which means they don't retract a pair of ski brakes as much as a normal boot. Exactly... why would you use brakes with a boot like this?

The plastic shell of the boot is more like a thin exoskeleton for a lightweight set of Intuition lines. You can see the liners in several places through the shell, and yes, they do get wet if you are out for a long day, but if you keep moving your feet will stay warm. Bring a spare pair of dry socks for the car ride home.

One of the coolest things about these boots is that they can either make a normal day seem much easier, or with the same amount of effort, they can vastly boost the amount of skiing/vertical you can pump out. It's like flying uphill - very fun.