The 2013 Run Guide - From Winding Roads to Twisting Trails
Expertise In Motion
Minimalist vs. Traditional Running Shoes

Find out if minimalist or traditional running, is right for you.

Hydration

From water bottles to hydration packs, there are a myriad of options for carrying water. Learn how to pick the option that's best for your running style.

Minimalist Shoes

Minimalist shoes merge Spartan design with lightweight materials. Free your foot to move more naturally with a pair of these shoes.

Spring Layering

Spring weather is unpredictable, so it's important to be prepared and dress in layers. Learn the benefits of layering for your run.

Shoe Rotation

Get the most out of every run by alternating your shoes. Maximize the lifespan of your shoes and keep your body on its toes with shoe rotation.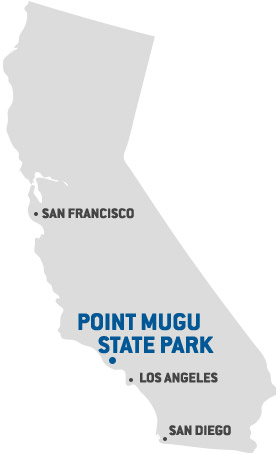 The Location
Point Mugu State Park
Malibu, California
Just south of Oxnard, California, picturesque Point Mugu State Park stretches out along the Pacific coast. Miles of sandy beaches and camp sites run along the shoreline while extensive inland terrain rises to the east, up and away from the Pacific Coast Highway. Rugged upland turns to rocky bluffs and jagged pinnacles before smoothing out into rolling grassland at higher elevation. Before terminating at the western edge of the park, the Santa Monica Mountain's legendary Backbone trail winds through the more than 70 miles of hiking trails and singletrack that cross Point Mugu.
Fresh ocean air and a seemingly endless system of unpopulated trails and steep roads make Point Mugu a must-visit location for trail runners who crave exploration or road runners who want to test their mettle amidst one of California's most picturesque parks.