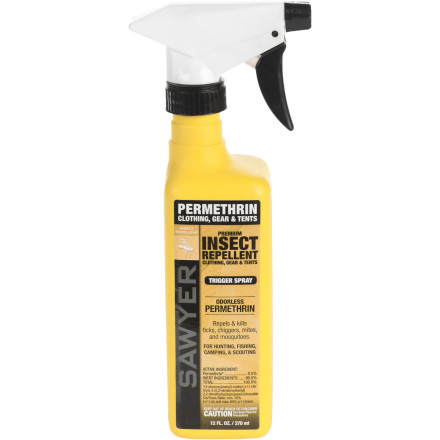 Rather than hosing yourself with noxious, stinky insect repellent, spray Sawyer's Permethrin Trigger Spray Insect Repellent on your clothing and outerwear and get the protection you need from biting insects. Apply this repellent before hiking or camping, and the active ingredient Permethrin (a synthetic molecule similar to pyrethrum which originates from the Chrysanthemum flower) will kill or repel up to 55 types of insects on contact. You can even wash your gear up to six times before losing the power of Permethrin repellency. Not too shabby, eh?

Permethrin repels and kills ticks, chiggers, mites, mosquitoes, and up to 55 other kinds of insects on contact
Permethrin will not stain or damage clothing, fabrics, plastics, or finished surfaces, and, once bound to your clothing, it eliminates the risk of over-exposure to the skin
Single application lasts up to six washes
Active ingredients include: 0.5% Permethrin, 99.5% inert ingredients
Note: this product is not for direct application to the skin. Only apply to clothing or outdoor gear
i didn't get malaria
Familiarity:

I've used it several times
used this on my garb that I took to Nicaragua. I think it worked, Deff get the bigger bottle. The spray works but isn't consistent pattern.
Awesome Stuff
Familiarity:

I've put it through the wringer
This permethrin spray does exactly what it claims. I was pretty impressed. At one point, I ventured to a water source to filter some water. Reaching the lakes edge, I had to breath through my nose to avoid inhaling the swarm of mosquitos and gnats. I squatted down to collect water and within a minute, almost all swarming insects left my personal space. It was like a force field. Really.

I have semi sensitive skin and didn't have any issues with the treated clothing and skin contact. As far as odor, can't tell the difference between treated and untreated clothing. I even treated my Buff and would breath through it when covering my mouth and nose.

I'll be buying more of this before my next trip to also treat my pack and shelter. More treated surface area = a larger "force field". No more racing to zip and unzip the tent to avoid letting a few insects in. No more worrying about throwing my pack into my tent only to wonder how many insects I may have just introduced to my shelter.

My only advice when actually treating your gear: wear some long dishwashing gloves. The yellow ones your mom used to wear. When spraying your gear, the spray nozzle drips onto your hand quite a bit. This happened to me with each bottle I've purchased so I think every bottle will behave the same. With all the warnings about the liquid permethrin and skin contact, its not a bad idea to protect your hands and not worry about it.
Great Spray!
Familiarity:

I've used it several times
This spray worked great at keeping the bugs off my backpack and tent while backpacking. However, be absolutely sure you have no skin sensitivity before you go on a long trek- Before you go on your trip, sample spray some clothing.(My travelling partner has sensitive skin and the clothing she treated with this Permetherin ended up giving her a slight rash. )
I too used this product for a trip to Nicaragua. I was told they have bugs, and they can be bad. I followed the instructions and did a few outfits. I came away from the trip with very minimal bites.

The only problem I have with it is the way it sprays. It wasn't an even mist, but more-so just large circles so it took awhile to get the entire surface of my clothes covered.

But the product itself worked great.
I had never heard of Permethrin until I visited a travel medical clinic prior to a trip to Nicaragua. The gal suggested I treat my clothing with Permethrin spray so I gave it a gander.

I used Adventure Medical Natruapel repellent spray along with my Permethrin treated clothing and came away with very few insect bites. Normally I am a mosquito's favorite flavor, so I was pretty pleased with these results. I like that this is a more natural alternative to soaking yourself down with the nasty chemicals contained in DEET-based repellents.

I would definitely recommend this to a friend.

The application was fairly easy and straightforward, there was also no smell once the clothing dried.
MUST HAVE
Gender:

Male

Familiarity:

I've put it through the wringer
great product. great price.
Went to the middle of Wyoming and followed the instructions to apply to clothing and let dry. It said on the bottle that the 24 oz would treat 4 sets of clothing, but actually went way beyond that with 7 with 1 bottle. We used in conjunction with Exoficio's Bugsaway bandana and had no problems with bugs.
A must have during insect season.
If you're always the center of attention... to bugs that is while everyone else in camp is fine get this! It does what it says, just make sure you have time to follow those instructions!!!
I've heard that DEET will chew through...
I've heard that DEET will chew through Goretex. Does this have any effect if exposed to any kind of garments?
100% Pure Deet will eat through most fabrics and lost of other things too. There are very few 100% deet products available. Even the most potent are rarely more than 15%.

This product is for the application to clothing and not skin, so I would say that it would be fine to try on you outerwear.
Best Answer
Permethrin is 100% safe on gear. I spray my whole tent and backpack to push the bugs back even further and so they stay out of my tent.