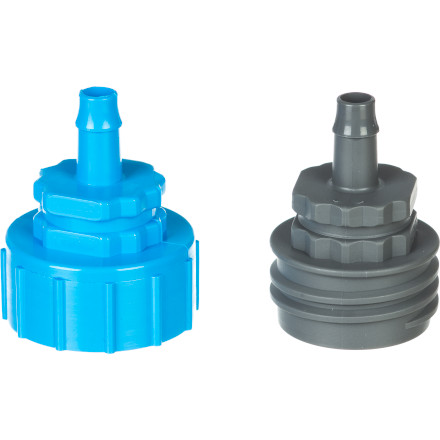 Community Images
With the Sawyer Inline Adapter Connections for Screw On Filters, you can fill your hydration pack with clean filtered water directly from the stream, river, or lake. The adapters allow you to easily remove the filter after filling so you can continue up the trail.

Adapter allows you to fill your hydration reservoir directly from a stream or lake (hydration reservoir not included)
Adapter can be quickly removed after filling for easy on-the-go thirst quenching
Compatible with the Sawyer Squeeze Filter and the Sawyer All in One Filter (filters sold separately)
What do you think about this product?
Have questions about this product?
I picked these up a while back to try using my Squeeze inline. These are pretty simple to use, and they work as expected. They create a nice tight fit so no water will leak out.
Using my inline adapters on the Squeeze
Looking to connect the filter to an MSR...
Looking to connect the filter to an MSR dromedary...do I need this adapter or the fast fill hydration pack adapter?
Best Answer
Shoot, you've got a mess.



Okay, so we're going to walk through this together. Sorry in advance if I miss part of it. With MSR and Sawyer, your tubing diameters don't match up...MSR is 1/4" and Sawyer is 3/8". You'll run into exactly the same problem with the fast fill adapter on this one, so it's no help, unless you want the quick connect fittings. How were you planning on getting the connection to the Dromedary's 3-in-1 cap? For that, you would need at least the MSR hydration kit that screws into the smaller of the two caps...but it uses 1/4" tubing. While this will fit on the outlet of your Sawyer filter, you have to make that transition in tubing diameters somehow, and the best way to do it is to go down to your local hardware store and ask them for a barbed nylon 3/8-1/4" reducer fitting. Screw the MSR hydration adapter on to the Dromedary, screw this cap on to your Sawyer filter, install the barbed reducer into where ever you like in the line, boom!, that should get you from one to the other. It's actually a lot simpler than I make it sound, it just requires some parts, patience and ingenuity. Hope this helps.