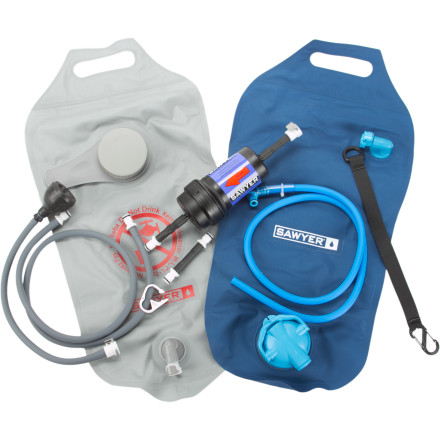 Gone are the days of pump-style water filters. The Sawyer 4-Liter Complete Water Purification System removes protozoa, bacteria, and viruses from your water, giving you up to four liters of clean water in 15 minutes ... without pumping. Simply fill the gray reservoir with unfiltered water, attach the filter and hose, and let gravity fill the blue reservoir. Once full, the blue reservoir can be used as your hydration bladder in your pack, or you can fill a water bottle from this reservoir and then pack everything away. Take this system on your next group backpacking trip or when you know that you're camping far away from potable water sources.
The Sawyer Point ZeroTWO Biological Filter has a removal rate of 0.02 Micron Absolute 5.5 log (99.9997%) removal rate, which exceeds EPA and NSF recommendations
Hollow fiber filtration was derived from kidney dialysis and Sawyer worked directly with fiber manufacturers in order to create fibers with pore sizes no larger than 0.02 microns
Filters can be reused hundreds of times, per Sawyer's 1 million gallon guarantee, and each filter can be backwashed to extend its life
System includes four-liter nylon dirty water dispenser, a four-liter nylon clean-water storage vessel with high flow dispensing cap, a 0.02 micron absolute inline water purifier, faucet adapter, drink Tube, cleaning and maintenance instructions
Any experience/suggestions for taking...
Any experience/suggestions for taking care of the filter in freezing conditions? Comments on other sites reported filter damage below 32F.
Best Answer
Mary,



To best answer questions about water purification / filtration, we'd need to know some more information about the location and conditions that you'll be in.



Damage below 32F is due to the expansion of water in the filter when it changes from a liquid to a solid state. When on trips, typically filters always have some residual water left over; this is the water that will cause problems as there is no way of removing 100% of the water.



Alternatives during freezing conditions are boiling water or chemical treatments (such as iodine tablets). But be aware that in some locations there are living organisms such as worms and bugs in snow so filtering may need to be done after that.



-Jared
Sawyer 4 Liter Filtration System (SP194)
Familiarity:

I've put it through the wringer
Sawyer has been around since 1984 and is one of the leading innovators in water filtration and purification systems on this planet. Their products are built to last and if any issues are found they have a good customer service network that will work hard to push you out a new working product quickly. This particular model is the only one the company makes that filters down to 0.02 microns. This capability gives the filter the ability to not only filter out bacteria, protozoa, but also viruses. There have been several case studies done around the United States testing anything from tap water to natural water sources in the country and there is a growing number of viruses found in our water supplies. This is caused primarily from fecal matter contaminating the supply via humans or animals. With this filter you have the best of all worlds and it is gravity fed requiring no effort other collecting water and hooking up the lines. I have read the reviews of people talking about the slow filtration rate. If you expect the world and only get one country in return then you will probably be disappointing. The purchaser has to understand this product was designed after technology derived from kidney dialysis. That being said, it is physically removing virus's through incredibly small membrane pores, as well as, a host of other harmful organisms. So the filtration itself will be slower than one with a larger pore size that only removes bacteria, and protozoa. To increase the rate of filtration you have to bleed the lines of air. This is simple just hook up the dirty bag without the filter attached and open it. This will cleanse the line, then hook up the filter insure water is flowing from it, lastly hook the filter into the clean bag. I would run this process several times using tap water from any kitchen sink to slightly stretch out the membrane pores and break the filter in. The end result is a flow rate of around .15 liter's a minute.
Is this Sawyer filtration SP194?
Is this Sawyer filtration SP194?
Yes sir, this is Sawyer Model Number SP194.
Perfect purifier
Familiarity:

I've put it through the wringer
I have used sawyer water filters for about 3 years now.

They are amazing. The filter is light simple and for the most part hands free.

I've used most water filters and treatment options on the market,chemical electric chemical, pump filters etc.

the sawyer leaves all other filters in the dust.

this particular model is actually a purifier. Its the only mechanical way to remove viruses from water that I'm aware of.

There is a slight learning curve. users can get very low flow rates if the filter is not primed correctly. Low flow rates can also happen if all the air isn't bled out of the hoses before starting.

Once you get the hang of these you'll never go back.

Being able to set 4 liters of water down come back after setting up camp and having all you water filtered is worth the weight in gold.

no pumping till your arms fall off.

no batteries to worry about.

no replacing filters every couple months.

bomb proof construction.



it is the perfect water filter