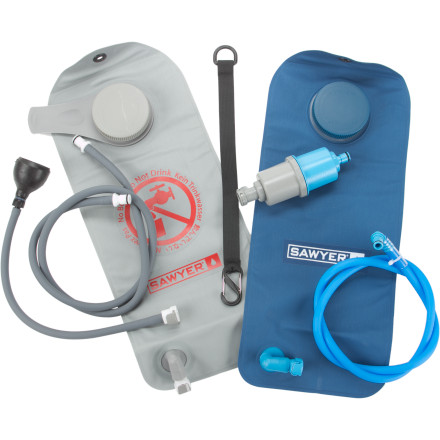 Two liters of clean water in just one minute and thirty seconds has to be some kind of record, but for the Sawyer 2 Liter Complete Water Treatment System, it's just another day of making your water safe on the trail. Sawyer's proprietary filtration system is easily packable, simple to use, and fast, and you can either use it to fill other water vessels or you can drink from the clean water reservoir just like it's your standard hydration pack. Take this system when you're backpacking by yourself or with a friend, or use it as a backup system for everyday camping just in case you run out of clean water.
The Sawyer PointONE Biological Filter has a removal rate of 0.10 Micron Absolute, at a 7 log (99.99999%) rate, which exceeds EPA and NSF recommendations
Hollow fiber filtration was derived from kidney dialysis, and Sawyer worked directly with fiber manufacturers in order to create fibers with pore sizes no larger than 0.10 microns
Filters can be reused hundreds of times, per Sawyer's 1 million gallon guarantee, and each filter can be backwashed to extend its life
System includes a two-liter nylon dirty water dispenser, a two-liter nylon clean water storage vessel, Sawyer PointONE 0.10 absolute micron water filter, faucet adapter, drink Tube, cleaning and maintenance instructions
Water reservoirs are completely BPA-free
over night hero
Familiarity:

I've used it once or twice and have initial impressions
used it on an over night trip, and I was the only one who brought a filter. needless to say this system was in use non stop the entire trip! it was fast, easy, and the water tasted great! needless to say this is the best piece of gear I have bought in a long time!
Are there any bite valves that will fit...
Are there any bite valves that will fit the drink tube so I can use this as a bladder?
Thanks. One of the review from another site said that its a bad idea to use the clean bag as a bladder because it does not have a secure connection to the drinking tube. Have you tried doing it before?
Multi-purpose lightweight water filter
Familiarity:

I've used it several times
This filtration system is amazing. I have used the carbon filters in the past and they always seemed to leave a weird taste in the water. With this filtration there is no added taste to the water. Its also relatively light weight and you can change the tubing around so you can use the filter inline with a mouth piece directly attached to the dirty water bag. This works great if you don't feel like pulling out both bags to refill up your bladder with clean water. Just fill up the dirty water bag and keep on moving.

Its also great for traveling when you don't trust the local water supply. Includes a faucet adapter.
Sawyer 2-Liter Complete Water Treatment
I personally like the 2 liter gravity system since it is so easy to setup and use. Its light weight and and can be converted to a mobile hydration bladder which makes it very versatile.. Sawyer did a great job with this system.

http://www.camping-water-filter.com
I'm looking at the Platypus 2 l vs the...
I'm looking at the Platypus 2 l vs the Sawyer complete water system 2 l.

Does anyone have an opinion whether one system is more durable than the other - specifically the reservoirs?
Best Answer
Platy bags are tough, but I've used other nylon water reservoirs like this and never had any kind of problem. All that worrying about durability aside, because you can return it to BC for life, for whatever reason [aka: 0 risk) when you take a filter life guarantee that's 1,000,000 liters and goes down to an amazing 0.10 microns (that's virus territory) and compare it to another system that has a 0.20 micron cartridge that only lasts for 1500 liters, costs $50 a pop, and only weighs a few ounces less, to me, you're making an awfully compelling case for the Sawyer. Hope this helps.



(for fun: 1,000,000/1500 = 667~ Platy filters @ $50 per= a mere $33,350.00)
Your math is right, but the numbers are wrong. Sawyer has a 1,000,000 GALLON guarantee, so it's actually roughly 4,000,000 liters. Therefore, 4M/1500 = 2667 cartridges. 2667 * $50= $133,350.



The biggest concern with Sawyer filters is that if they freeze when they have water in them, they are effectively destroyed. Backflush it when needed and keep it from freezing, and it is great.
Can anyone comment on the life of this...
Can anyone comment on the life of this filter in the real world. I'd be stunned if it was even good for 1/100 of the "1 million gallon guarantee"
Best Answer
Believe it, the filter has a surreal lifetime. Used it when there where 2 of us filtering water for over 3 months.Its still going. I'm just not a fan of the flow, its not bad but its not great. The platypus gravity filter has the best flow I have ever seen for this kind of system.
If there is air in the tubing it will slow down the flow. What I do is have water fill the whole tube/push out all the air, then snap on the filter to the tubing. I can get 2L in about 2min. after I do that. One reason platypus flows faster is it has a larger micron size.
Pump filters are on the way out! Why pack that heavy 3 liters of water in your hydration pack when your hiking along a stream or river? Just carry this kit (for less weight leave the clean bag at basecamp while out exploring) and fill up when you're thirsty and drink. (You'll need to buy a bite valve though).
Then when relaxing at basecamp just wait 2 mins have 2 liters of water. Leave time for the more important things when you're in the backcountry with your partner ;).