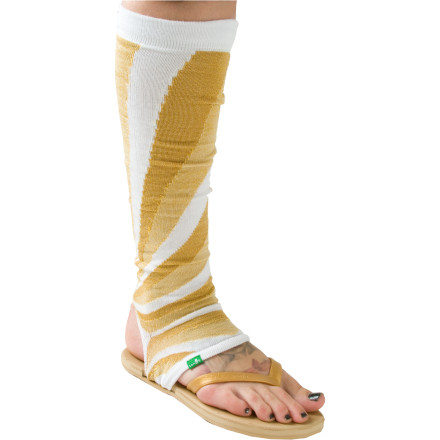 Community Images
Tube Flops - Don't knock 'em!
I got a pair because I love flip flops and thought these were pretty cool. When I received them (shipped to me at work) the girls in the office LOVED them so much that I had to order them some too! They're fun, flirty in a kind of "80's" way, and fun to wear. I have the gold stripe ones and absolutely love them. Besides, you can't go wrong with Sanuk!
To love them to love them?
I saw these and I was doubtful in how they would look and I read the reviews and I wasn't sure if I should buy them. I slept on it and bought them in the morning and they got here 3days later and I FREAKING LOVE THEM!!! I bought two pairs, and I can't wait for it to stop raining to wear them outside but they are great indoors and the weather is cold here. The socks are long and you can wear them slouchy or all the way up....now I want them in every color.
Looks good if you rep it with the right outfit. Definitly a must if you like going against the flow of things.
how the hell are you even supposed to wash these? yuk.
I only gave it 4 stars because it is winter and I haven't been able to wear them out yet. I took them to my Mom's house on Christmas and wore them around the house. Everyone thought they were weird but kinda cool. I like to have something that others do not or have not seen before. These are the perfect things. They are comfortable.
I thought these were really cool, my teenagers totally hated them, and promptly laughed at me and said, "Mom, these were in the yearbook as an example of What Not To Wear". Who knew...? Wouldn't recommend as a surprise gift, otherwise nice product.
for those of us who enjoy wearing flip flops ... year round ... problem solved! my legs stay mad warm, and with jeans on you cant even see the sock!

hate all you want, but sanuk just made my year-round wearing of flip flops totally ok!
These are just wrong, wrong, wrong. My grandmother wouldn't even wear this shiz to stop her varicose veins. BAD.
ahhh what are those things? Circulation stockings??