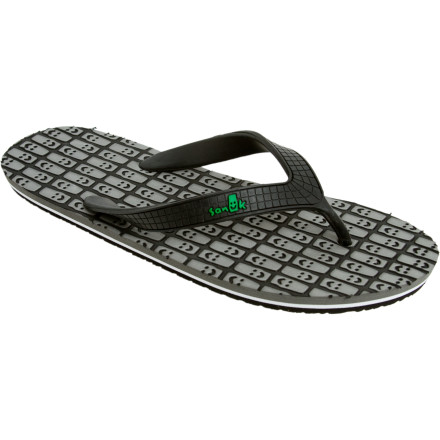 Detail Images
Mellow out with the Sanuk Tiki Sandal while you sit back in your favorite lawn chair with your favorite mixed drink and sip your worries away. You don't even have to be at the beach, putting your feet in a kiddie pool on your front lawn—Tiki and all—will suffice.
I bought these flip flops for my boyfriend. The rasta colors are cool and not too bright, and they were really comfortable after he broke them in - only took a few days. Great buy.
Simple and comfortable!!!
My son in law love it as a gift to wear those sandals in Hawaii
I love a nice wide front foot-bed on a flip flop. These things are wide as boats and have a great shape. They're light too, so they don't drag. They're soft enough to be comfy. And the bevelled edges make sure muck doesn't flip up with your flop. The only flip flop style sandals that I've found that are as perfect were side-of-the-road-specials in Thailand. These things are perfect.
Been wearing these for a month - just around town. So far, they've been durable, comfortable, and minimal, which is what I was looking for. The reason I give 4 stars instead of 5 is that the space for the toes is very long. So if you have really long toes, perfect. For the rest of us, the sole sticks out a bit too far in front of my toes, even though the heel fits great.