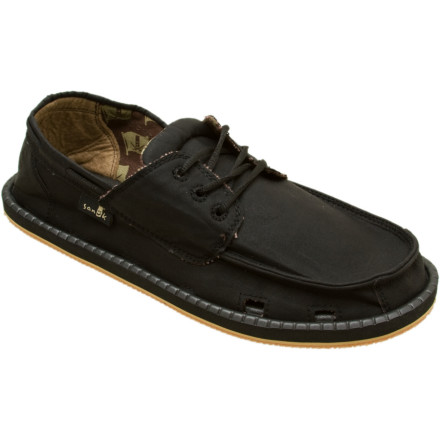 Detail Images
Share your thoughts
What do you think of the
Sanuk
Overboard Shoe - Men's
? Share a...
I love them. I got them because I needed a pair of decent looking shoes for my office job and these work great, nobody can tell they're Sanuk. Also I wore them the other day to Blacks beach in San Diego to surf and hiked down the canyon in them so they are durable. They are extremely comfy and have good traction for a Sanuk. I wouldnt actually use them for sailing but they play the part perfectly for a casual yet fancy looking shoe. Also they're fine after getting wet but the traction isn't the best in wet conditions
I bought them for my bf and he absolutely loves them! They look great and he says they are very comfy!
This shoes/sandals are great! Super comfortable and can wear them anywhere with anything. They do stretch a bit and run a size big. I wear an 11- 11.5 and I got these in the 10. At first I thought they were too small, but now they fit perfect. I do wear my shoes tight though. They are starting to get that funk smell that leather sandals can get sometimes. We'll see how bad it gets as summer goes on.
Do you provide footwear to Denmark in...
Do you provide footwear to Denmark in Europe
Yes, we can ship to Denmark.

https://sales.liveperson.net/hc/s-9551721/cmd/kbresource/kb-803472266232000612/view_question!PAGETYPE?sc=121&sp=97&sf=101133&documentid=239530&action=view&VisitorProfile=DogFunk&MESSAGEVAR!home=yes&MESSAGEVAR!cookie=no&MESSAGEVAR!docid=239530
Great service but sub par product
I recently purchased the Sanuk Overboard and was impressed with the price and quick shipment. I was even more impressed when the size I ordered was too small and I needed to return them and: #1 there was an easy to find phone number for the site #2 I actually talked to a live person right away #3 they actually knew what they were talking about #4 they paid for the return shipping and the ship out for the new size!! Very impressed.
The shoes are very comfortable and unique but built of cheap material. Within wearing them 4-5 times the the soft rubber near the toe ripped, didnt even become seperated or unglued it just ripped down the middle. So its a fix with super glue for now but it is too bad becasue everything else has been great.
Another Great Pair of Sandals
Another wonderful shoe..er.. sandal from Sanuk. The black ones look surprisingly dressy. perfect for the office or a evening out. they are the most non slip sanuk i have. (just got some boots tho, and looking forward to next winter) I plan on using these on the boat this summer. Cant wait.

As always they are very comfortable for everything, they offer a flat foot bed for your feet to spread out and be natural. You can walk around all day on any surface (incl cement) and be fine. Also these have laces that are definitely functional but it can still be warn as a slip on.
I wear a size 12, and was concerned about these shoes getting stretched out. I went with the 11, and they did exactly what i thought they would do. Stretched out to be PERFECT in about 3 hours. Highly recommend, but recommend going 1/2 or full size smaller.
Recently bought sanuk overboard shoes - green
So i got a pair of overboards. I love them, the feel, the idea! However, what i think some people should know about them is that I had to get the next size up from the usual size of shoes i wear. The insides is thin on material so dont expect warmth if you wear these in the winter or in cold temperatures ( i live in cleveland - lake effect snow all winter). The color scheme kinda fooled me when i first saw them. I was expecting a light green color, only to get a dark/green pair (a cross between dark leather & green). Lastly, I paid $45 for these on amazon. Hopefully the price will go down or if you can try on a pair at a store before buying online would be a smart move!
I really like Sanuk "sandals." These shoes are very lightweight and comfortable, and the (padded) footbed--with little arch support--really does make it feel like I'm almost barefoot. They fit true-to-size (or even slighlty on the wide side). These shoes have the look of the old topsiders, but are (obviously) much lighter and more comfortable. They would even look OK in the office. I have worn my pair extensively and haven't noticed any problems with the glue/rubber.
I have been buying sanuk sandals for awhile now and these are probally my favorite.
Very comfortable these shoes are perfect for chilling and boating and just chilling on the beach getting ready to surf !
I recently purchased(late July) the Sanuk Overboard sandel from Backcounty.com. I wore them a couple of times, just kickin' doing some boating and chilling. I was very upset when I discovered that on both of my brand new sandels the front rubber, that wraps around the toes and the entire sandel, had ripped right off. It seemed there was no glue on the part of the rubber that was ripped off. On both feet a inch of rubber had completed ripped off on the outside of the big toes.
Unanswered Question
I recently purchased(late July) the Sanuk...
I recently purchased(late July) the Sanuk Overboard sandel from Backcounty.com. I wore them a couple of times, just kickin' doing some boating and chilling. I was very upset when I discovered that on both of my brand new sandels the front rubber, that wraps around the toes and the entire sandel, had ripped right off. It seemed there was no glue on the part of the rubber that was ripped off. On both feet a inch of rubber had completed ripped off on the outside of the big toes. I hope that there is something that you guys can do for me. I am an outdoor type and have liked everything that Backcountry.com has to offer and would most likely use the website again if this incident could be cleared up. These sandels costed me $60 and being a college student I can't afford to have $60 sandels break on me. Thank you.Jim