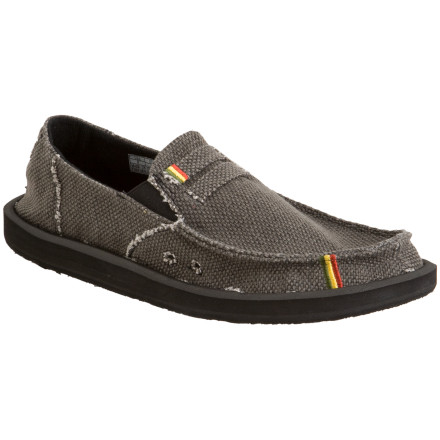 Slide into the irie Sanuk Men's Kingston Shoe and head to the river to meditate. A comfortable textured canvas upper helps you forget your trials and tribulations, and stashing your Lambsbread in the Kingston's hidden pocket doesn't hurt either. Sanuk's sandal bottom gives your foot a chance to loosen up and experience the freedom of a Sidewalk Surfer.
3rd pair of sanuks. top notch comfort
damn these are sweet, can't believe I took so long to give them a shot.

err no they're not, go away and get off my lawn...
i got into sanuks in 95 with my first pair of furreal sandals from a surf shop in va beach then foundem agin through this site bought the knigstons almost a year ago now an there holding up some part are starting to get loose but still a cool rasta shoe
Bob Marley would be proud
So. I picked up a pair of these dudes ...say...this past March or so, and I can't say negative things about them. Basically I wore 'em to school and everywhere else every single day since, and all I heard from there on out was something along the lines of "ill shoes man" or the girly "I like your shoeesss :-)" (No, they're sandals. Get it straight.) etc etc. Except of course for some of my punkass friends who were either too jealous or had no style of their own so all they could do was dismiss me as having clown shoes. No way mayne. Sanuk is all style and comfort, and they do both quite well I must say. Rad-looking, compliment-raking, relaxation-inducing shoes (sandals) with an everyday reminder to live the rasta. All said... Yah mon!
First pair of Sanuks and I absolutely love em. Super comfy footbed plus lightweight and breathable. The grey canvas looks dope with the rasta accents and the stash pockets are way discreet.
Highly recommended. These are awesome. never owned a pair before this. Most comfortable shoes i own. Feel like you are wearing slippers.
Another great sandal by Sanuk!
I bought the Sanuk's for camp shoes and occasional daily wear for summer days. They're incredibly comfortable for sure but it might depend on foot size. I'm a perfect size 12. I think the product might have worked better if I was a half size, either 11.5 or 12.5. The Sanuk size 12 was too short. I returned them for size 13. The 13 seem too big, my foot sloshes around a bit. As other's mentioned, I also didn't like the breathability of the Sanuk. They tended to be hot when the weather is mild which doesn't work well because my feet tend to perspire some anyway. So my experience in the Sanuk is frequently hot and mushy. Mix in a little sand or dirt and well ... you get the picture. If your feet are like mine, I wouldn't recommend a Sanuk.
How is the size? Do they run big or...
How is the size? Do they run big or small?
They ran just right for me. I'm an 11 (actually 10.75), I got an 11, and they work great.
agreed. very true to size.
If i where a size 12 should i size up or...
If i where a size 12 should i size up or down
I wouldn't worry about sizing either way. Sanuk has a good fit. I wear a 9 and I bought a 9, however they were a little snug. Wear them and they will most certainly stretch and give you a nice, custom fit.
if you wear a size 12, I would recommend gettin these in a size 12. What kind of a question is that???
Are you supposed to wear socks with these...
Are you supposed to wear socks with these shoes? Or is this sock-free?
, ☃bcs_badge_alumni_label☃
Rock'em sock-free for sure! These are essentially slippers.
Great. My first Sanuk pair lasted me well over a year (and are still fine). I just purchased the Kingstons and I love them just as much!