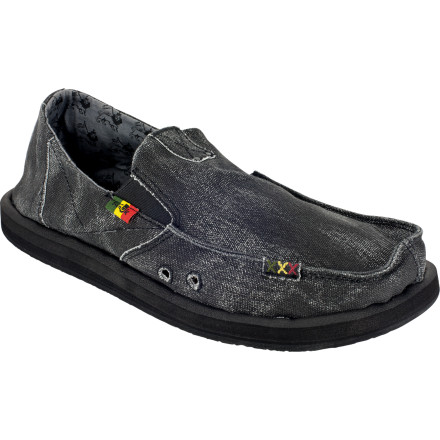 Sometimes, at night, when the lights are turned waaaaaaaaaaaaaay down low, the Sanuk Men's Kingston II Shoe likes to listen to smooth jazz...you know the kind. It just surfs the stations, finds a little something...something with buttery flow and then this comfy canvas shoe draws a warm bath and drifts away. Occasionally it sings along too, but not fast, it keeps things low and mellow. Yeah, that's the ticket.
EVA footbed provides supreme cushioning
Aegis antimicrobial additive fights funky odors and bacterial build up
Construction is vegan and vegetarian friendly
Closed Toe & Heel Flip Flops
If I'm not jamming my feet into plastic ski boots or climbing shoes that are 2-sizes too small, I am rocking flip flops 99% of the time. I just need to let my feet relax. Unfortunately, when I started working in the Distribution Center, I needed to wear closed toe and heel shoes.

Sanuks are the perfect alternative. Nice and light, and the foot bed molds to the shape of your foot just like flip flops. Love the all day comfort. I was concerned about foot funk with a canvas shoe because my old Vans Classic Slip-Ons used to wreak big time. I've been wearing these without socks 5-days a week, 10-hrs a day for the last month (a mega-hot July too), and the antimicrobial seems to be doing the trick. No death odors yet.

It's not noted in the description or seen in the pictures, but there is a small Velcro stash pocket on the interior side of both shoes. It's tiny, but big enough to fit a single key, a little bit of cash, or anything else you want to stash.

Based on other reviews, I ordered a half size down. This made the sole smaller and less clumsy. They were a little tight in the big toe the first couple weeks, but they've stretched out nicely and feel great now.

I do have to take away one star for price though. These are pretty simply made with some basic materials so the price is a bit high for what you get.
After blowing out webbing on 3 pairs of Chacos (always on the right foot, what's up with that?), I decided to try something different and bought these. Probably my best decision YTD. Love these sandals. I usually wear a 9.5 to 10 and I went with the 9 on these. They stretch a bit and break in. The footbed molds to your feet. Super light and mega comfy. You like this.