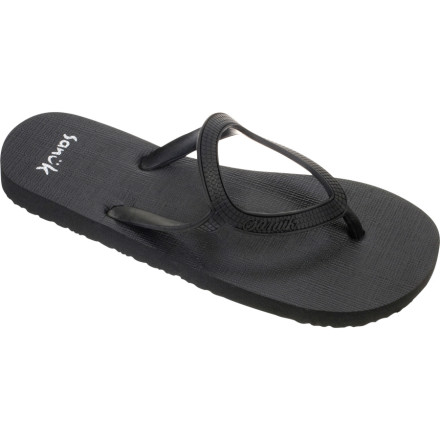 Detail Images

Videos
Sanuk made the Women's Ibiza Sandal because the streets in Spain are scorching-hot on summer days. No, you're not in Spain right now, but think about it--if the streets get hot there, and North America is at a similar latitude, the streets in your town could get hot too. And then you wouldn't want to go barefoot hippie-style, would you? Nope. So clad yourself in Sanuk's classic cushy rubber soles and soft straps. A funky strap design adds international flair.
Sanuk Ibiza Sandal - Women's
Best, most comfortable sandal i've had.
this is simply the best sandal i've ever owned- this is my second round of this shoe, I had the other pair for 2 years and wore a hole in the heel. Extremely comfortable, great flexibility- not stiff like other sandals. easy to break in, no blisters. BEST SANDALS EVER! Own them in white, black, brown, and the ibiza stitch version
these sandals are amazingly comfortable and i've gotten so many complements on them!
Very cute, but make sure you get the right size!
So I love the look of these sandals and they are super comfortable, but they definitely had drawbacks for me. I bought a size 8(normally a size 7.5) because they don't have 1/2 sizes. They are a bit big so when I walk, the front will sometimes flip over and scrape the ground when I walk, tripping me. Pretty annoying, but I think a 7 would be too small. If you wear a whole size regularly, then I am sure you will thoroughly enjoy these shoes:)
I have these in every different color, and LOVE them! I pretty much lived in them all summer last year and plan on doing the same this summer. Oh happy day for me when the sun started to come out again and I could bust out my Ibizas!
Love the way all these shoes look but they do not work great for me. I have very narrow feet and for some reason I roll my ankles while wearing these all of the time. Also the shoe is so flexible that the front tip of the shoe catches on the ground when I walk and I am constantly tripping due to this. These don't seem safe to wear to me but otherwise they are really cute and comfortable and I get tons of compliments on them.
These are the BEST flip flops ever! I work at a pool and stand on concrete all summer long, and these are like standing on pillows, all my co-workers try to steal them from me because they feel sooo good! They are kinda flimsy, in that sometimes the toe gets bent under when I'm walking and I kinda trip on them, but for the price and the comfort I can deal. These are the only flip flops I'll ever buy again.
are the straps cloth or plastic?
are the straps cloth or plastic?
ok if you can't find anything else
Cute design for flips, but not very sturdy. As other reviewers mentioned, they are very easy to "trip over" and are a bit flimsy, not as much bottom support that I wanted. Also, as I was walking across some wet grass in these, the water from the grass seeped into the bottom of the flip where my foot was - coming from the area where the plastic connects to the bottom of the flip flop (that little round thingy). I'd think again before I bought these, but they are really cute on.
These are awesome. I got the chocolate color so they hide the dirt really well. They did take a couple wears to break in and not give me blisters, but now they're super comfy. I will agree with the previous reviewer that they are pretty flimsy. I've tripped on them a couple times. Now i just remember to pick up my feet when i walk. :)
i love the look of these flip flops, however, they really are too flimsy. i will walk and they will trip me up. they also get pretty dirty pretty fast.
I love these flip flops. They are super stylish and cozy. they take a minute to break in but otherwise they are great. I get many compliments on them because they are different then your typical thong. I would like them even more if they were NOT made in China and I wouldn't hesitate to pay a few more bucks.
Love these shoes. Very cute. Have gotten lots of compliments. They took a few times of wearing to break in before they were totally comfortable.