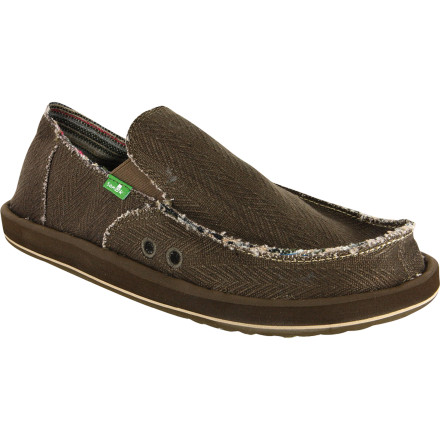 Community Images
Slip into the Sanuk Men's Hemp Shoe and elevate your mind. Sanuk built these comfy kicks with sustainable hemp uppers and rubberized EVA outsole for sandal-style comfort whether you're bummin' on the beach or heading to class. When you're feeling super lazy, fold down the heel of the Hemp and slide it on like a slipper.
Unanswered Question
How do these fit width wise compared to the Vagabond? I am looking for something a bit more narrow
These are amazing!
Familiarity:

I've put it through the wringer

Fit:

True to size
I bought these pair of Sanuks on a whim in high school. They were really weird shaped, but looked super comfortable, I wore them around a bit and got them to be pretty soft. My brother and I both got mixed reviews from the look but we swore by the comfort. Now they seem to be a much more popular choice by many and I still have the same pair from 4 years ago. They're slightly worn out, and have chew marks from the dog, but I still consider them to be my favorite footwear.



I'd say buy these if you need some comfy, warm weather footwear, but don't quite want to buy flip flops.



Can be warm with socks, but I find that my feet sweat less with them. If you don't wear socks with them often, I'd invest in some shoe spray like Odor Eaters, it helps with the smell if you wear shoes constantly and have smelly feet.
Comfy
Familiarity:

I gave it as a gift but have feedback to share

Fit:

True to size
These shoes are great for wearing around the house or out on the town. Very comfortable and great for summer!
Comfy Stylin
Gender:

Male

Familiarity:

I've put it through the wringer
Super comfortable, Awesome Style (IMO), and Light n Flexible.

I have to say I own 3 pairs of Sanuks I just love em so much. also suprisingly durable for what they are. The tread is the first thing to go, but I have put quite a few kilometres of mine.

Only negative comment I've got was while wearing shorts someone said I looked like daffy duck. Jeans and the Natural color sandal looks just stylish.


Nice Shoe for any type of wear
Very comfortable, very casual, I like these a lot. I have worn Sanuk for the past few years and like them for a day at the beach or just bumming around the house. This is very much a glorified sandle, but the simplicity is why they are so fun. I think they get a little warm in the summer time, but you can always just take them off. I usually wear a 10.5 in most shoes and felt I had to go up .5 in these to an 11. This is just my personal experience, I am sure others have had varied experiences with these, but I was giving advice I would say if you are a 10.5-11 person go up if you are a 10-10.5 I think the 10.5 will work for you
These are life changing! So comfy, and they cling to your feet. The style is great too!
great "sandal" that is perfect for lounging around on a summer day. or around the fire after a day of climbing. super comfortable with a barefoot feel. Go for a size down from your normal street shoe, as they break in and stretch.
For those of you with multiple pairs of...
For those of you with multiple pairs of Sanuks, any comments on how the hemp compares to the canvas in regards to odor prevention? I know they are both supposed to be antimicrobial, but is one better than the other at fighting foot funk?
IMO the hemp does not prevent odor as well as the Vagabond or Donny (I have all three). I don't know if that's the odor staying in the hemp or the fact that my feet tend to sweat a little more in the hemp and there isn't as much ventilation. Don't get me wrong, I love my hemp sandals but if odor is an issue go for the canvas.

Source: 7 years in the canvas and 4 years in the Hemp
I own the vagabond (~3 years) and the hemp (~4 years). Haven't noticed a difference in odor. I throw them both in the washer with a load of pants and then let them air dry. Have done that with all my non-dress shoes since childhood (even leather) without issue. Whichever model you pick, you will love them!
BTW - I have used mine for hiking, running XC, kayaking, mtn biking, travel (hemp packs smaller than vagabond, barely more than 2 rubber soles, much less space than my tevas), casual friday, and general out and about. Still look good, still holding up.
I love my Sanuks. They are the perfect shoe when I feel like having the comfort of flip-flops or slippers and cannot decide. These are always a go-to shoe and you can't go wrong with these.
These are a go-to shoe, super comfy & always cute. I've found that you typically want to go at least a 1/2 size down.
These sandals are amazing. It's like walking on air. Very comfortable. I've gotten them dirty several times already and have washed them in the washing machine. They come clean every time and don't fray or lose their shape/size. Very impressed with their durability. I wear these all over the place. They do get a little muggy if you wear them all day without socks. I don't care but your significant other may not like it. Hands down one of the best investments you can make for your feet.
This shoe changed my life
My first pair of Sanuks, I wore these until the bottom was completely void of tread and I slipped and slided around Pittsburgh's winter sidewalks. Now I have 3 pairs of Sanuks, and I hope they keep making them forever. Their footwear defines comfort.
I normally wear Reef Fannings and recently bought a pair to go to Vegas. Problem is I have really wide feet and need about 2-3 weeks to stretch the Fanning's out so the 2 days wasn't enough and after 6 hours of walking the strip my feet were raw and about another hour would have left me with blisters and a shitty birthday vacation experience. Enter the Sanuk's! As soon as I tried them on I was sold! It was the comfort I love on the bottom of a flip flop but it wasn't rubbing at all wear my feet were raw. Another plus is my work wont let me wear flip flops but I can wear these no problem. I hate socks so I'm hoping these wont get smelly but so far I'm super impressed and would recommend them to anyone!
Asked for the HEMP for Christmas and got the HOBO. Almost identical in design. They are my do everything in shoe. I typically where a 10.5 shoe, bought these in a 10 and they are a great fit.
I Really like these shoes. As a person who would rather not have anything on his feet, I find these "not-a-shoe"s to be extremely comfortable. I love walking around and feeling like my feet are actually a part of the process. The only problem I have with them is that while they claimed to be treated with a substance to prevent foot odor when worn without socks, I did not find that to be the case. Either they were not treated or my foot odor is just too powerful.

In general though, I really do enjoy them.
Kerouac? Or should I grab these bad boys...
Kerouac? Or should I grab these bad boys instead?
i'd go with these ones! but the kerouacs looks sweet too! i love my hemp ones! i want the black ones next!
Forgot about all my other shoes
Best thing I've ever wore on my foot period. I'm absolutely in love with my sanuks! Before I got them I would usually wear a different pair of shoes almost everyday of the week. I've only had these just over a week but it's the only thing I've put on my feet! They are so comfortable and functional! I just wish my girlfriend liked them.. But that will never stop me from wearing them! I even wore them up to the slopes! Best footwear ever! Sandal or shoe! I will be buying another pair in the near future!!!
Love how lightweight and comfortable these are. I wear them all the time and sometimes forget I even have them on.
These are the second pair I bought for my fiance. He wore the first pair all the time and after two years finally wore thru the bottom. He travels a lot and these make his airport security trips much easier.