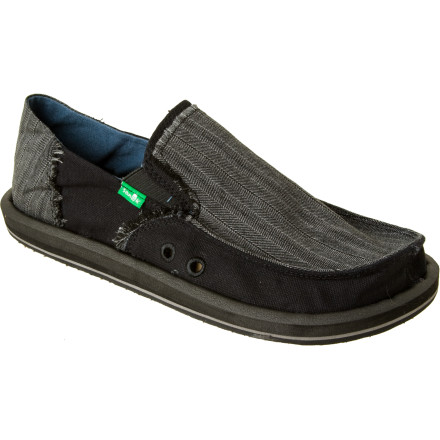 Detail Images
You may have your free verse depicting moral decay and urban suffering memorized, but you're not quite ready for the midnight open-mic poetry session—not yet. Slip your feet into the Sanuk Men's Grifter Shoes and you may just make the kind of connection with world you normally only dream of. No, there's nothing supernatural here, just the comfort of soft rubber soles and frayed canvas. So comfortable, in fact, you may just lose yourself in as you lasso the beating engines of your audience with words.
Great for the casual office or relaxing post hike.
I usually keep these tucked in my pack or leave them in my car for post hikes/runs. Nothing is better than pealing off your shoes to find a brand new blister on your heel and not having to tuck your feet into a pair of shoes that are only going to irritate your dogs further. Also, I can't tell you how many times I have just slipped these things on in the mornings and bummed around the office all afternoon.
Great casual shoe, comfy too!
I bought these as a gift for my boyfriend. He's pretty picky about what he'll wear, but these meet his expectations! They look good on him, too!
These replaced my Sanuk Dylans. The material is just a little stiffer or maybe just seems so because they are new. Same great fit, really light, and they look cool.
I find these to be my go to casual shoes nowadays. the comfort is unsurpassed, it feels like each pair was made specifically for your feet. Only after a few wears they mold to every nook and cranny of your foot, providing nice support while still keeping the barefoot feeling. The canvas wears in nicely too, giving it an awesome vintage, lived in look. The only problem? Your feet will most likely sweat in them. Kinda hard not to do with bare feet on a rubber sole.
I'd been hearing from several friends about how comfy Sanuks are, so I bought a pair of the grifters, and they lived up to the hype. I ordered a half size down from my street shoe -- I tried a pair on at REI. These are great because they mold to your foot after a few wears, the only downside of these guys is the swampiness that most people will mention. I also wore these on a day long romp around San Francisco and my feet were not happy by the end; my arch had some pain, and my heel was sick of smacking on sidewalks, which brings me to what I've found these shoes useful for. Going off the idea of running in shoes w/o support and w/o lots of cushion, I tried these out on a short run, and they were amazing in changing my technique. A couple of flat footed strides in these and my body immediately told me to change it up. These shoes changed my entire technique, and have relieved the patellar pain I used to have. I've been running in the same pair for five months with only normal wear to the sole; I own another pair of the same grifters that I use for casual wear and it'd be hard to tell them apart if not for the paint stains on the running pair, and I've used these shoes on city sidewalks, city park trails, desert sand roads, and off-trail mountain traverses -- they've held up to it all. I gave these four stars because I was rating them on casual wear, and they have the swamp. Caution, anyone using these for running can seriously injure themselves if they have improper running technique.
Will this shoe be ok with a wide foot and...
Will this shoe be ok with a wide foot and a high instep? The Vans slip-ons in a 14 I couldn't even get on my foot.
These are actually great for wide feet, because the material is so thin and will easily bend to fit your foot. Great choice for a comfortable shoe for people with wide feet.
I tried these on in a store the other day....
I tried these on in a store the other day. I normally wear a size 12, but when I tried on this size my toes were a little cramped. I tried 13, but these seemed too loose. Anyone else have this problem? Better to err on the side of too loose or tight for these shoes?
Hey, I had the same exact problem! I have a pair of the donny's and I went with the thirteens. They were a tad big, but I find it to be more comfortable with a little more toe room. Plus, you can wear wool sock with them if you feel lazy in winter like I'm apt to do. The shoes do stretch over time, so if the 13 was far too big, then it might be best to stick it out with the 12's and work them in really good. Hopefully some of this helped. Either way, sanuks are comfy as hell!
Just doesnt fit that well....
Gotta say I like the idea but the fit is way off, the upper is way too tight (and I have narrow feet/low volume feet), bought my wife and son some and they like them a lot. I had to go with some Simple's in similar style.
Most Comfortable Footwear
I have worn these now for about 6 months and they are honestly the most comfortable footwear option on the market. The reason for 4/5 is that I do try to wear them with socks so that they don't get really stinky and the soles are not super durable.
I finally gave in to all the ads and thought I'd try a pair of these. They are super comfortable and really do feel kind of like walking barefoot. I've been wearing them around the house, and they work well enough with socks to keep the feet warm on our cold winter floor. My only complaint would be that, like almost everything else these days, they are made in China. Wouldn't it be cool if we could get great gear like this made right here in the USA?
I don't have these exact Sanuks (have the "Chiba") but I feel thes are about the same as the ones I have. They are fantastic "sandals" fit for bumming around, wearing around town, or stashing in your pack for a lightweight camp shoe that takes up little space. I, like many people here, ordered a size up (usually a 10-10.5, got an 11) and it was a great call; they fit perfectly.

They would be a 5, but for two things:
1. A touch pricey, and I feel little "crumbs" inside my shoe when walking around that either kicks in from the outside, or comes from the shoe itself.

2. My feet have never smelled so bad. I usually have very stink-free feet, but man these things and their "anti-microbial footbed" make my feet smell terrible.

These things haven't stopped me from wearing the sandals non-stop (maybe that's why the smell.) They are insanely comfortable for such a simple design, and it feels as if you are wearing nothing at all.
Just got these on SAC for pretty cheap... Thought they'd be good for next summer. Fit true to size. pretty comfy squishy sole, nice lightweight and squish down to pretty much flat (to throw in your bag come beach season) meeeeee likey!
nice and comfy, usable anytime
These sandals will not disappoint. Best buy I have ever made. They even made my back stop hurting. I will buy another pair for sure.
Since buying these shoes I rarely wear anything else. I wear them with a wide variety of clothing styles and they always seem to work. Extremely comfortable and versatile. I bought these shoes in my normal size and they fit perfectly. Just bought the Sanuk Lumberjacks off SAC so I can continue the craze when it gets cold.
My boyfriend loved em!! excellent gift
I wear these all the time since i have gotton them, they have replaced my casual tennis shoes, They are ubber comfortable. I liked them so much i purchased others for Christmas gifts. When i initially purchased them i thought they were going to be too small. I commonly wear a 9.5 and bought a 9. When I got them they were a bit snug but they have stretched out.

Great Sandals!
Got these after reading Born to Run - I've been sucked into the less is more craze when it comes to shoes. These are very simple, comfortable, and stylish. My fist pair of Sanuk's will not be my last.
I was skeptical about the whole Sanuk idea for a while. My girlfriend had a pair, and she was really digging them so I finally broke down and got a pair.

The verdict? I really like em. Nice and light, with a casually stylish yet stylishly casual look. I thought they fit just a tiny bit small, but they'll probably break in a little bit, too. These will probably become my new shoe to wear on days I go rock climbing when the cliff is close to the parking, too. They're easy on, easy off, like sandals (which they are.)

The one thing to note is that the bottoms are a little slippery, so if you're making a lot of quick directional changes when you walk well then that is just weird so stop it because honestly you look ridiculous doing that.
These are my second pair of sanuks. they re super comfortable, easy to get on and off, and i personally love how flexible they are. There is just enough padding to block sharp things but still allow your foot to wrap around whatever you re steppin on. I dont know bout the rest who have reviewed these but mine start to smell pretty rank within a few weeks. I dont care all that much and will just throw them in the washer a couple times a year. great shoe