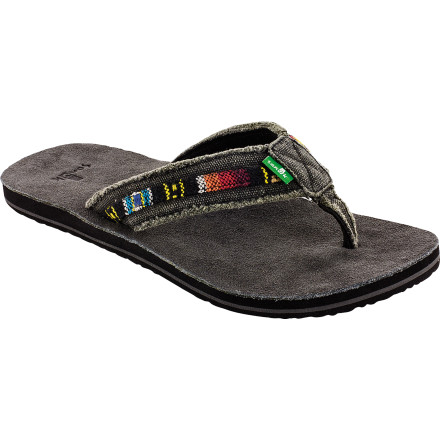 Detail Images
Is it time to ditch those manky flip flops you got at the dollar store and trick your dogs out with the ultra-comfortable Sanuk Men's Fraid So Sandal? The name says it all. This comfy suede and canvas sandal is an essential part of a relaxing summer day.
only flip flops for me!
Familiarity:

I've put it through the wringer
I have picky feet. these were the most comfortable flip flops I've ever tried. closest runner-up for comfort: rainbows. didn't like tevas (tight strap), chacos' soles don't fit my feet. I've gone through 4 pairs of these over the last 4 years. great sandal!
I purchased these for my guy, and he loves them. He's gone through a ton of Oneil and Quicksilver flip flops over the years, and finally settled on trying a pair of Sanuks. He says they're super soft and comfortable, and in my personal opinion, they look good too. In regards to sizing, he is a street size 10.5, but in flips he bumps up to a size 12.0. Worked perfect for these.
I was looking for an inexpensive, but comfortable and stylish flip-flop. These sandals were definitely the ones for me. The suede under foot is super nice. I love em!
Very comfortable and stylish, but poor quality. I ordered them in February, began wearing them in May and by July, they were all worn out. My foot now aches from the sole being uneven. Three months is all it took to wear them out!
These sandals are the most comfy pair I've owned thus far. I was hesitant with ordering this pair, but I am surprisingly pleased. I would definitely recommend these to a friend, so if you're on the fence about this pair I highly urge you to give them a chance. Happy trails!
Had these sandals for two weeks now and I love them. Super comfortable and good fit. Not exactly sandal weather yet so I don't wear them everyday so not sure how they will hold up to constant wear. But they have started forming to my feet, and like I said they are super comfortable.
I was a bit worried at first. Thinking like when you lay on a soft bed and at first you're like this is amazing like laying on a pile of whipped cream. Shortly, your back starts to hurt and ache because it is too soft. That was my thought going into these. It was my experience with the North Face Base Camp flips... I was very wrong. I really like these. They look great and feel even better. Great cush or absorbing uneven bumps and just plain walking but still very supportive. I can wear these all day no problem. My feet miss them when I take them off. it's true
I love these things. I picked up a couple of pairs last summer and so far this year I just bought one more. These things are amazingly soft, yet supportive at the same time. The strap on them is very comfortable and doesn't rub you the wrong way. Don't get these wet though, they'll turn a funky color, so avoid water at all costs. All in all one of the best pairs of flip flops I've ever owned. VIVA LA SANUK!