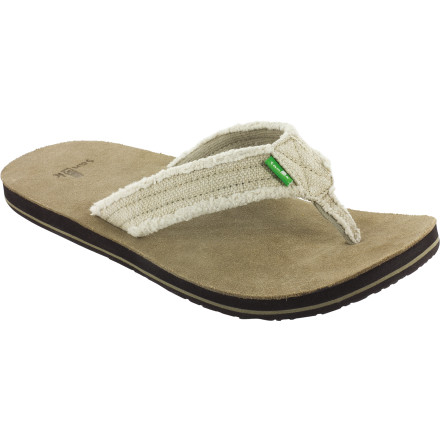 Description
Work is for suckers, and the Sanuk Fraid Not Sandals are totally sucker-free.
Closed-toe shoes in the summertime? There's only one answer to that question, and it's to slip your convictions comfortably under the distressed canvas straps of the Sanuk Men's Fraid Not Sandals. The contoured suede footbeds caress and support your feet after a long day of hanging out on the porch, sipping lemonade and soaking in the hazy heat. Comfortable neoprene lines the instep, in case you should have to motivate down to the corner store in search of some Old Bay seasoning.
Comfortable!
Familiarity:

I've used it several times

Fit:

True to size
Perfect for the beach,work and casual wear .Just became my fiance favorite pair of flip flops for all occasion .
Cozy and Awesome
Familiarity:

I've put it through the wringer

Fit:

True to size
So I packed up and headed west at the beginning of last winter. My plan was to stay head back east after a few months so I left all my sandals back home.



Well I stayed out west longer and needed some sandals. I bought these ones and they're better than any thing I own.



Comfort:

The sole is cushy and comfortable for standing in. I have a standing desk in the office and usually stand for 6 or so hours each day while wearing these. No complaints.



I've used these on mild approaches for some climbs and they've been fine too. They see much more abuse during those approaches but they're still comfy and do the trick.



Size is spot on and they fit great.



Jared D.

Gearhead

800.409.4502 ext 4055
Quite Comfy
Familiarity:

I've used it several times

Fit:

True to size
Very Comfortable. Early yet to see how long they'll last but they seem to be of good construction. Very happy thus far. Suede is awesome. Also very stoked at the environmentally friendly packaging. Woot.
Abused these for a full season and they have held up great. Not the most comfortable if you are walking long distances, but not many flip flops are. My Reef Fanning flip flops were much more comfortable. They form to your feet quickly.
Cozy
Familiarity:

I've put it through the wringer

Fit:

True to size
I have had these sandals for years and they are the best I ever had. They are no where near wearing out, but when they do I will be replacing them with another pair.
These sandals are awesome. Feel like full leather. Footbed is very soft. They only come in full sizes. I am normally 10.5-11.0 in shoes, thought i'd try a 10.0 in these, but they were too small, so 11.0 turned out to be perfect.
I liked these sandals at first. I'll be fair and say I wear flip-flops everyday and am pretty rough on them. I am 250 pounds so it takes a very good sandal to hold up. These lasted about a month and then all the cushion was gone. They are a nice looking pair of sandals but should probably not be a daily wearer.
I've been looking for "the sandals." These are the ones - so far.

It seems every year I'm in the market for a new pair and living in VT I don't get much more than 4 or 5 months use out of sandals. I'm constantly frustrated by thonged sandals falling appart, or being uncomfortable.

I bought these for a week vacation, and holy moly, I have no complaints. Incredibly comfortable, have survived abuse in St. Maarten, and I'm looking forward to summer now that I've had a taste of what my feet will feel.
Nobody, NOBODY, makes a more comfortable, durable flip flop than Sanuk's Fraid Not. Don't try and tell me otherwise 'cause I'll know you're lying through your lameass, blister-covered, inferior-flopped toes while wearing some other brand that you either work for or that is paying you to spew garbage. Go pedal that crap elsewhere Blister Boy.
I love flops, but there are a bunch of crap ones out there. The first pair I had were Sanuks and I loved the shit outta them until they died. After that, like a fool I bought Reefs, Quiksilvers, DCs, and they all sucked. "Never again!" I said.

Picked up these little gems and remembered what it feels like to be reunited with your BFF. They are soooooo comfy, the suede footbed keeps your pups cool and the thong part doesn't chafe my toe-crotch. Also they look a-frickin-mazing.

I usually wear a 10.5 in reg shoes, sized down to a 10 and they fit just a little small which is how I like sandals to fit. I don't like a crapload of extra sole flappin around, if you know what I mean. These are the best flops on the market, so if you're reading this review do the right thing and pick up the Fraid Nots.
what happens if this shoe gets wet?
what happens if this shoe gets wet?
The Sanuk Fraid Not sandal has a suede footbed so I wouldn't recommend trudging through the water in these. They are designed to be casual wear and not for technical purposes. That being said, wearing them to the beach should be fine and putting wet feet in should not do much harm.
, ☃bcs_badge_alumni_label☃
The suede will prob be a little slippery, and because its not a shoe designed specifically for water it will most likely take a while to dry out.
these sandals are great, so comfy and soft from the very first wear, the only downside of these sandals is with a leather footbed, too much moisture (ie - wet feet from surfing, wet grass, rain, etc.) causes the footbed to lose the velvet feel, but as long as you keep them dry, they maintain amazing comfort for quite a while, i love these flips and will continue to buy them for as long as they sell them...
These flip flops are super comfortable and stylish to boot. I'm a big sanuk fan and own 2 pairs of side walk surfers and I love these just as much. I cut off the big green tag on my pair because it was a little too bright and I felt like a walking bilboard for Sanuk. Other than the tag, the sandals are perfect. I haven't been too abusive on them but I'm not expecting much from a $30 pair of leather sandals...if you want durability buy some chacos!
is there any way i can order the multi...
is there any way i can order the multi colored one shown in the small picture? those are the ones i want but cant seem to find em anywhere?
Hey there Cameron. Backcountry.com occasionally will get items back in stock but if you dont want to wait you could always order them off Sanuk's site. http://www.sanuk.com/product/225140/SMS2117/_/FRAID_NOT
Unanswered Question
The picture of your khaki sandals looks...
The picture of your khaki sandals looks green. I have compared them to other sites and they look completely different in color even though they are advertised as khaki. Is this an error in the pictures or is that the actual color I would recieve ?
Lets not get to exited. After all its only a pair of flip flops. But they are comfortable and true to size + looks cool.
I sent them back to Sanuk, and they gave me a brand new pair - no problems whatsoever other than the minor shipping fee. Props to Sanuk.
They broke in well, fit well, and looked good, but about a month after I bought them a 7-year-old step on my sandal as I was walking and the strap completely ripped where it meets the base of the sandal. Now I'm without sandals. Also the first time I wore them happened to be in the rain, and the toe-strap gave me a nice blister right in between my toes, which prevented me from wearing any sandals for about a week.
I bought these for my husband and he says he loves them. They are very comfortable and durable.
Not a big fan of ordering foot wear online but worked out great. the flip flop is comfortable and looks cool, with the help of a gear expert the fit is perfect.