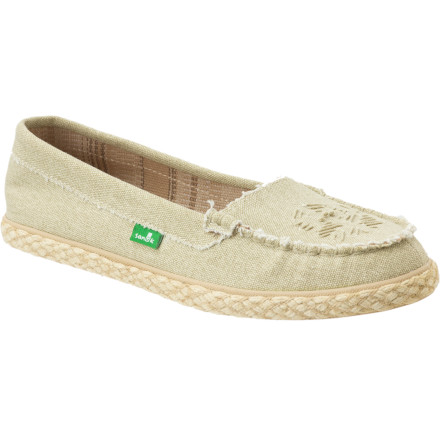 Detail Images
The Sanuk Women's Espathrill Shoe is as friendly to the environment and living creatures as your style. Totally vegan, vegetarian, and cute, the Espathrill Shoe's streamlined shape gently hugs your flipper and cushions every step as you gracefully cross paths with curious dudes on your way to meet the sun (on the sand). Yep, it feels like a slipper with the comfort of a sandal and the light support of a shoe ... so that makes the thrilling new style called slandoe. Totally made that up, but not the fact you're about to experience comfort like never before.
These are really awesomely cute shoes. They do run a little big. I usually wear a anywhere from an 8.5 to a 9.5 comfortably. I got these in a 9 but probably would've been fine with an 8. So, I would say buy a size down. This is coming from someone who usually buys a size up and has a little wider of a foot. These are a bit wider than the shuffle. No matter though, they seem to really adapt to your foot. The only reason I'm giving them 4 stars is because they don't seem like they will hold up very long, which is too bad considering they are otherwise great and not very cheap. I do recommend them.
Bought a pair for my wife and she ended up liking them so much I had to buy her a second pair as well as her mom a pair. Very comfortable! Easy to wear at work on your feet all day.
, ☃bcs_badge_alumni_label☃
Happy with my first Sanuk shoes!
These are my first Sanuk shoes and so far they are rocking.

I'd say they are pretty true to size, but honestly it would be great if I could size them down just half number and they would be perfect for me (unfortunately they are not available on half-sizes). However they feel to soft that I decided to keep them. And I am happy I did! I got the cream color and I have received many compliments.

Great for daily use, but they may not the best choice if you are planning of doing long hours walks.
I got these for shoulder seasons (fall and spring) and sticking love these. I'll end up wearing them all summer and around the house in the winter (or outside on not snowy days) I got the grey and it's the perfect color for matching pretty much anything. They are unbelievably comfortable right out of the box, in fact they may become my walking shoe for vacation. I have 3 pairs of sanuks that have never ever had a sore spot. They feel like they were made for you the second you get them. I love the moccasin feeling of the style. You HAVE to buy these, seriously, they rock. I'll be purchasing the cream color any day.