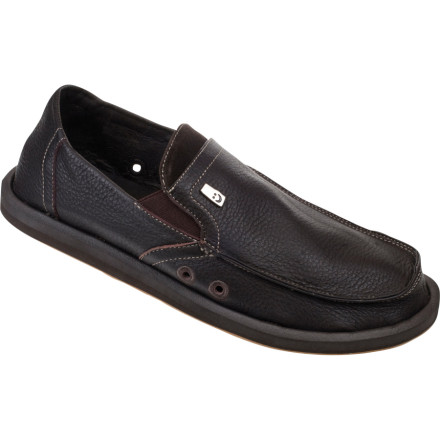 Detail Images

Videos
Schedule your next board meeting with your feet blissfully wrapped in the full-leather comfort of the sidewalk-surfing Sanuk Men's Board Room Shoes. No meetings to schedule? This canvas-lined shoe will gladly attend dinner with you and some ladies you met on the beach. Jean stitching dials in the handmade style, while antimicrobial additives fight the trench-foot smell of salty feet. Stash some greenbacks in the side vamp pocket so you're covered in case your card maxes out after the first bottle of tequila.
Like wearing pillows on your feet.
I don't like the look of them as much as I thought I would, but that is definitely overshadowed by the fact that I feel like i'm wearing pillows on my feet. I love walking around in these things because of how they feel.
Sanuk Board Room Shoe - Men's
Super comfy but...
Gender:

Male

Familiarity:

I've used it several times
Let me first start off by saying I love Sanuks. I typically wear a pair until they have holes in the bottom. Sadly these started falling apart after less then a few months. I'm hoping I just got a bum pair, because I love the concept.....
Great shoe for the office for a trail runner who loves low shoes
Bought a pair of these to wear at work and love them. Zero drop heel to toe and a great look...wore them all last year, even in the New England winter and they worked well, I'll be getting another pair for this year.
Steve Pero
Wasatch Speedgoat Mountain Racing Team
I normally wear a size 10 or 10.5 depending on the manufacturer. Gave the 10 a shot but they are way too tight. I would definitely buy a size up when purchasing these, otherwise they are a good looking shoe.
my husband wears a size 10 and 1/2 shoe....
my husband wears a size 10 and 1/2 shoe. would a size 12 sank board room shoe fit him?
Get an 11.I'm a 10 and 1/2 as well, and I wear an 11 in these.
Very comfy but not for everyone!
Comfortable soft pliable shoe very appropriate for around the house for those of us who prefer to leave the outside debris where it belongs... This shoe is conceptually great - it just doesn't "breathe" enough for me. I definitely would recommend as long as you don't have foot perspiration issues.
Works says I can only wear leather dress shoes... boo. Oh wait, nevermind I have these Sanuks. Happy feet... check!

-- With the leather, these run a half size smaller than typical Sanuks for me.
Received these in the mail today and right out of the box one of the shoes had the sole separated from the fabric in both the toe and on the side. Tried the other shoe on and instant comfort. Returning them and gonna give them one more try before I cast final judgement on Sanuk. Am hopeful for some BA comfortable, stylin, sandle/shoes.
I got these as a Christmas present and the sole has separated along half of my shoe by April. It's winter here in Italy so these haven't seen much use either. Comfy but a disappointment for sure.
Missed the boat, kinda.....
I'm a big Sanuk fan. I have a few pair of Sanuk flip-flops, and this is my 4th pair of "sidewalk surfers." I have given anything I've ever had in Sanuk 5 stars, except these. I do lilke my board rooms, but was disappointed in the shape of these. You can see from looking at the top and bottom photos. These don't have the same 'boxy' toe as all of there other sandals. These have more of a conventional narrow toe space of your normal shoe. Not nearly as much room as my Donny's. I still wear these to work every day and they are better than any other work shoe, but i wish they had the same footprint as all of there other sidewalk surfers. If you compare the footprint of these vs. the donny's, you'll see what I mean.
I was super skeptical on these shoes when they first arrived. The packaging method is a bit unique, as these come in an environmentally friendly bag, versus a traditional shoe box. Once they were opened up, and put on,( they arrive in a flattened state) my husband loved these, way comfortable! Like wearing a pair of slippers only much better looking
Flip flop feel with dress apeal...
Love em because they feel like flip flops on your feet but give that "I mean business" appearance (e.g. I wore mine to a wedding). Super light weight, comfortably soft, and an excellent choice if you are traveling. Unlike real dress shoes, the leather on these is very soft, so stuffing them into your bag will not ruin them. The outer edge of mine starting ripping after only 3 wears...nothing that a little super glue can't handle but still you would think for the price this wouldn't be an issue. Hence the 4 stars.
The shoe looks good and i very comfortable and I love walking barefoot in them.
However, the sole delaminated after just a few days of use.
It started with just a little in the heel, and when the day was over it was just connected under the toes.

I also have the Donny shoes and am very satisfied with them. Have used them a lot and have had no problems.
Hope this is just the exeption.
Do you know when you will get black ones...
Do you know when you will get black ones in, in size 10
Best Answer
backcountry doesn't answer questions -you have to email them directly or use live chat. they are very responsive. the answers you get here are from customers.
The sandal that looks like a shoe
To the casual eye, this is a standard loafer. The good quality leather and excellent workmanship are obvious.

However, to the feet that are in these "shoes," they are not standard loafers. They are lightweight, and the soles have significant flex. The insoles are also padded, so these really don't feel like the standard heavy, stiff, clunky loafers. They are very comfortable, yet stylish enough that those around you won't know that you are wearing a sandal and not a real shoe. They don't have much arch support, but they aren't supposed to (it's a lot like walking barefoot).

The sizing is fairly true-to-size. They are not especially narrow, and the leather is soft enough that it eventually stretches out a little.