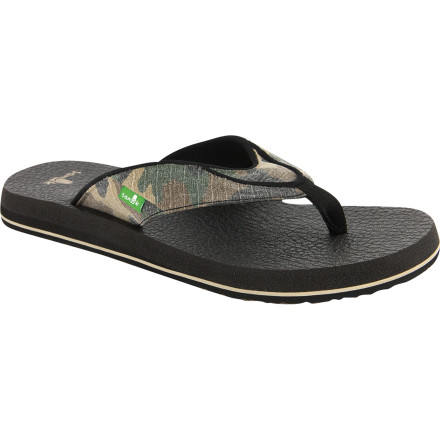 Videos

Community Images
Description
Two cozies in the hand is almost as good as two on the feet.
The Sanuk Beer Cozy Sandal is made out of beer cozies. Not exactly space age, but we're backing it, and how could we not? Afterall, we are huge advocates of barbecution, chillin', and summer. It's all comfortable, durable, and smile-evoking.
Vegan friendly construction—what you choose to barbecue is up to you, though
Beer Cozy Durability
Familiarity:

I've used it several times

Fit:

True to size
I like the cush in these but unfortunately the sandals have not held up very well. The footbed began splitting where the straps exit the footbed within two weeks but after all it is made with a beer cozy material which is not the most durable material on the planet. I have only worn these flip flops around town and to the pool. They never made it to the lake.



When the flip flops got wet they seemed to stay wet for a long period of time. Water would squeeze out, when walking, even after letting them dry overnight.



On the flip side, at least the foot strap is comfortable and has held up much better than the rest of the sandal.
still comfy
Familiarity:

I've put it through the wringer

Fit:

True to size
I've had my Beer Cozys for 2 years and have worn them every day (except winter). They're still super comfortable and the best part is that the heel cup hasn't totally compressed after the years.
Some say that when they get super wet they can get all soapy and foamy, which is true. But its just water getting caught in the foam footed and getting "squished" out and causes bubbles. Once the sandal is dry, the problem goes away.
I've worn them at the beach, they've gotten salty and sandy and they've been through high humidity & they're still going strong.
I used to wear Reefs exclusively, but I would wear through the heel cup after a few months. (Like all the way through to the point where there'd be a hole).
Standard Sanuk
Familiarity:

I've used it several times

Fit:

True to size
Sanuk makes comfy footwear. These are great for the everyday things I do. I haven't taken them camping or anywhere requiring a lot of physical activity and they've held up just fine.
Not ocean approved
Familiarity:

I've put it through the wringer

Fit:

True to size
I have to agree with the other reviews that these are some of the most comfortable flops on the market. They are amazing around the house or just lounging. However sadly these sandals went from being my favorite sandals to my least favorite sandals after they fell apart only 1 week after purchasing them. I wore them for 3 days in Costa Rica and both of the soles separated from the foot bed. I tried to super glue them back together and though this worked for almost a week eventually that failed as well. I only write this review so the avid surfer does not purchase these thinking they will hold up to the beach and the abuse that comes with high humidity and lots of water. If you are looking for an around town sandal that will make walking feel as though you are walking on clouds, this is your sandal. If you plan to hit the beach every chance you have look elsewhere.
Comfort
Familiarity:

I've put it through the wringer

Fit:

True to size
These are, by far, the most comfortable pair of flip flops I've worn. For just laying around and lounging in the summer, they are perfect. The beer cozy footbed is super soft. One thing I've noticed is that they do tend to absorb sweat / water a bit and are starting to stink. Not really much of a problem, just air them out at night and they seem good to go.
In love with these
Familiarity:

I've put it through the wringer

Fit:

True to size
Basically since the day these arrived at my house I have worn them every day. They are so comfortable and light i barely know i am wearing flip flops. I used to buy Reef sandals but I must declare that I won't be buying flipflops unless they are Sanuk. This brand rocks and they feel like yoga mats for my feet!
comfy cush
Familiarity:

I've put it through the wringer
Used to have a pair of Reefs but when they jumped from 20 to 50$ a pair, I picked up these on sale and fell in love. They are more comfortable and have lasted waaay longer (I used to go through a pair of reefs every few months because the "thong" would snap out of place). Love these sandals!
super light
Familiarity:

I've put it through the wringer

Fit:

True to size
I use these bad boys every day and they are like walking on clouds. They are not super durable, but I think I'll get 6 months of daily use out of them easily (perhaps a year). One application for these that I want to bring up is using them for backpacking (when you are all done hiking in your boots for the day). They are much lighter than other popular sandals like rainbows (and I think they are much more comfortable).
Sanuk Beer Cozy Sandals Rock!
Gender:

Male

Familiarity:

I've put it through the wringer
I've had these flip-flops for a couple years and they are the ones that get used! Despite tattered edges (see pic) they've held up well. The cozy foam foot bed is like butter - I've never had a blister / never had a problem wearing them all day. The only drawback, and a one star deduction, is that they soak up water like a sponge (open cell foam construction vs. closed cell?). This has not been a problem for me.
Sanuk Beer Cozy Sandal - Men's
If you're looking for the most comfy flip flop out there then look no further. These things are soft as heck and compress down for the ultimate comfort level. My brother only asks me for one thing for his birthday and these are it.
Unanswered Question
How wide do these sandals run? I want to...
How wide do these sandals run? I want to get them for my bf who has very wide feet if anyone has measurements or anything I could compare them to his current sandals/shoes. Thanks so much!
THESE ARE THE BEST MOST COMFORTABLE FLIP-FLOPS I'VE EVER HAD!
I have a older discontinued sandal to his model with the same sole material.
I even got mildly irritated when I found the shop I bought the originals at said Sanuk quit making them. I am at ease now knowing I can get another pair.
Sure, if you walk the Lake Michigan shoreline for an hour in the water, they saturate. Material is sponge-like, so why cry when a sponge soaks water up? Watch where you walk, and don't show your lack of common sense by leaving a bad rating based on one negative aspect (my million dollar lambo' sucks cause it doesn't have a boomin stereo).
These are the best in my opinion. I don't even like taking them off.
Plus I have some injuries in my feet and these help so much when I'm having issues.
Wrap Your Feet Up In Yoga Mats
Great, super comfortable thong sandals. The footbed is extremely soft, it feels like you're walking on Yoga mats. (Because they are made from Yoga mats)
Only reason I rate them as a 4 is because, like most Sanuks the sole wears out rather quickly.
they are comfortable, but when they get wet they turn into sponges, oozing water for hours. not very convenient for warm weather wear.