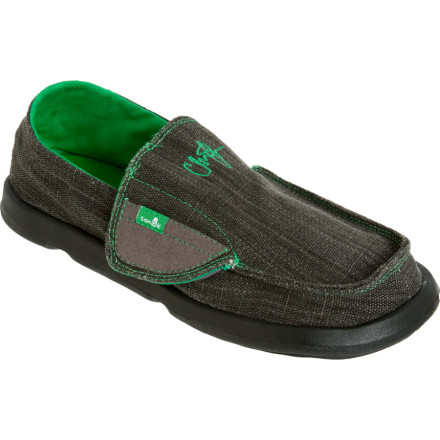 Detail Images
Whether you're leading the charge like Chris Sharma or hanging back to enjoy the views, the Sanuk Men's Base Camp Shoe gives you ultimate comfort and traction for approaches and hanging around camp. Hang this not-a-shoe from your climbing belt and thank Sanuk for adding an AEGIS anti-microbial liner treatment to prevent foot funk. Sanuk even teamed up with EVOLV to create a super sticky outsole for ultimate traction and control anywhere from trails to the sidewalk.
Unanswered Question
I am looking for an all around show that...
I am looking for an all around show that will do me well in my day to day school life my weekends hiking and my general goofing off, is this the right fit for me
Real comfortable, easy to slip your foot in and out plus it's has more support then your run of the mill sandal. Happy that I bought these and trust me your feet will thank you latter.
I got a pair of these for approach shoes (being a Sanuk devote). Compared to normal Sanuks, these are initially much stiffer. The soles are much thicker, and the loops on the back bugged me for a while. But as with all Sanuks, they broke in nicely. Now I can't imagine using anything else on most approaches, or just tromping around trails.
I'm usually a 9.5. Should I get the 10 or...
I'm usually a 9.5. Should I get the 10 or the 9? Does it sway one way or the other?
Danny,

With slip-on shoes, particularly shoes for around basecamp, I prefer a looser fit for easy donning, doffing, and layering on cold days. Just be careful scrambling and exploring, et all.

Happy trails!
How much do these things weigh?
How much do these things weigh?
Best Answer
They are pretty heavy, my size 11's are 18.2oz
Can't say I've used these in the mountains at base camp, or on the crags. So I can't testify to the stickiness of the rubber, or their suitability as an approach or descent shoe. But they are super comfortable, and they look great. Several people have complemented me on my footwear.(I got the more subdued "brown" color)

Sizing seems right on the money. I typically wear a 10 street shoe, and found the size 10 to be perfect. If you wear them without socks, they feel comfortably spacious. Slightly snugger with socks, but being able to adjust the velcro closure gives you more options than with most Sanuks.

I was concerned that if I wore these barefoot, they would get smelly fast, but so far so good. Amazingly so, actually. The footbed is silver-treated, and this really seems to work. Mine still smell like roses.

Comfortable, breathable, flexible, light, good-looking... what's not to like? Buy 'em.
I used these as camp shoes during a week-long backpacking trip in Yosemite, and they were awesome! After hiking 10+ mile days, getting out of my hiking boots and into my Sanuks was almost like taking off a pair of ski boots at the end of the day. These Sanuks are super comfortable, they've got great tread for scrambling over rocks, and they're super-light to boot.
This sandal is simply awesome for walking off of sidewalks/concrete. I bought it primarily for hiking and disc golf, and I love it. Great grip, great feel, great comfort. The velcro for tightness is a great feature. Finally, the sandal looks awesome. The texture and style just looks so sweet when you look down at your feet. I don't see how these couldn't make you happy.
If you like Sanuks and you climb...
Then this is a great shoe. Where I live (Squamish, BC) the multi pitch routes all have really great trail walk offs and easy trail approaches, so this is the dream shoe for Squamish multi pitch climbing. It weighs nothing so you hardly notice it as you climb, and with the velcro closure you can make them tight enough for the easy walk offs. Add a dot tread/sticky rubber sole, and you are styling!