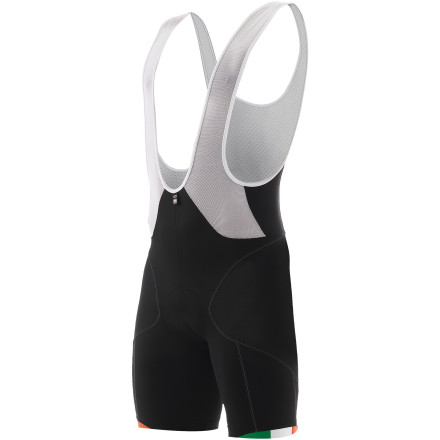 Santini's Max Honor Bib Shorts are a terrific value, but don't mistake the word 'value' for the usual euphemistic implication of having fewer features and a lower quality. Instead, the Max Honor bib shorts are constructed with a compressive Lycra fabric in a contouring, supportive cut that meets all of your training and racing requirements. Essentially, these are the consummate any-day, any-ride pair of bib shorts.
Santini's Max Honor bib shorts are constructed from Thunderbike, a Power Lycra fabric that's been treated with Coldblack technology in order to both support your muscles and to keep them cool. It provides ample return to support key muscle groups, which reduces the fatigue caused by road vibration and muscle oscillation. The Coldblack treatment reflects up to 80% of the sun's radiant energy -- setting it apart from non-treated, black-colored fabrics, which absorb as much as 90%. The makers of Coldblack technology claim that its benefits won't diminish over time and can't be washed out. Of course, while there're many factors involved in muscle fatigue, proper support and heat regulation are among the most important factors to consider if you want to finish your longest rides with anything left in the tank. The fiber strength and knit of Thunderbike also happen to give the shorts a heightened level of resistance to abrasion and durability.
In addition to its supportive characteristics, Santini chose Thunderbike for its highly breathable and fast-drying capabilities. This has been furthered through the Max Honor's incorporation of elasticized mesh braces in order to increase breathability in key areas. The main body of the shorts are Power Lycra and extend above the waistline, providing support to the lower abdominal and your sides. Meanwhile, the mesh braces drop low on the back while tracing your obliques in the front. This interplay of Lycra and elasticized mesh creates a useful balance of support and ventilation on hot days. Additionally, soft silicone leg grippers make for a solid vertical hold without the fussy binding and pinching that's all-too-common in leg cuffs.
Santini selected the anatomically designed MAX2 chamois for the Max Honor bib shorts. The insert's surface has been constructed with Coolmax microfiber, which covers a variable density foam. Essentially, the concept of a variable density insert is to place thicker foam where you need it, the ischial tuberosity, and to taper it where thick padding is counterproductive, the perineum. The padded surface is seamless and antibacterial in order to ensure that the chance of irritation remains minimal.
The Santini Max Honor Bib Shorts are available in seven sizes from X-Small to XXX-Large and in the color Black.