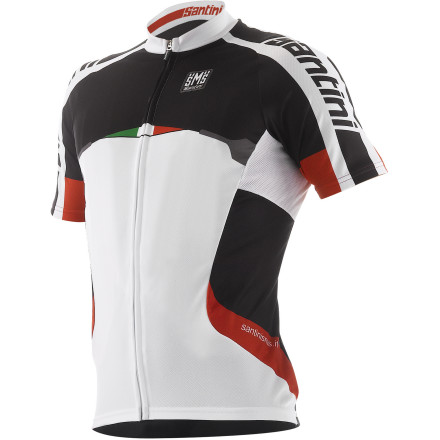 Quality fabrics and the attention to small details are what sets Santini's Cuore (Italian for heart) lineup apart from other cycling apparel. Contrasting fabric panels, fitted cuffs and collars, and tasteful logos all come together to make up Santini's new Honor Jersey.
For the construction of the Honor jersey, Santini selected its Microsense Energy material. This polyester material is extremely light and antibacterial, which translates to a jersey with fast moisture evaporation, a high rate of breathability, and odor-fighting properties. Additionally, Microsense Energy is also soft on your skin and prevents the chafe and friction caused by upper-body riding motions. And since Santini designers know that you get hotter and sweatier in certain places, they inserted a single tapered mesh panel along the upper back and two mesh inserts under the sleeves. These lightweight mesh inserts boost breathability and airflow and quickly wick moisture away from the skin.
The Honor jersey's fit is more traditional than the ultra-tight race-cut options. This means you move and breathe easily without ever feeling too constricted. A modern, low-profile collar provides just the right amount of neck coverage, complemented by thinly-banded sleeves that stay in place on your upper arm. The Jersey's elastic waist is treated with a silicone gripper at the bottom, keeping the gear that you've stowed in the three back pockets from shifting as you ride. A full-length hidden zipper and small external tag on the back of the collar finish off the Honor jersey from Santini.
The Santini Honor Jersey is available in seven sizes from X-Small to XXX-Large and in the colors Black, Red, and Royal.
What do you think about this product?
Have questions about this product?
All Santini clothing is designed and manufactured in Italy by Pietro Santini and family since 1965.



PROS: (1) Well thought-out design from experience. For example, the fit, the fabrics, the mesh back and mesh under the arms, silicon gripper at rear hem, etc. (2) High quality fabrics, and the QC and sewing is flawless. (3) Handmade in Italy. Pure luxury, yet modern and highly functional. (4) Looks great in both colors.



CONS: None. Nada. Zilch (as long as they fit).



BTW, a lot of UCI pro riders in Europe wear Santini -including the 2014 Belkin/Bianchi team and of course the winner of the Giro d'Italia! Look closely for the "sMs" logo (Santini Maglificio Sportivo) on the chest of the riders.



FIT: Size-up two sizes with this jersey unless you are really slim (then size-up +1). I'm 5'10 and 185lbs. The XXL fit me perfect. This specific Santini jersey features form fit, not a super-tight race fit.