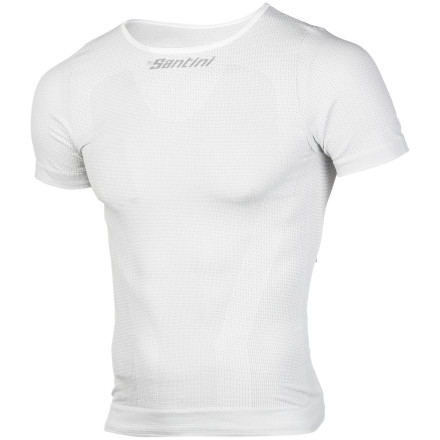 Detail Images
Description
Cool as carbon.
From the surface, Santini's Car4 looks like your standard short sleeve base layer. But when you discover the fabric and details that go into it, you see that it's much more than your average mesh base layer.
Santini chose to use Resistex Carbon fabric for the Car4's construction for several reasons. First, it's highly wicking, breathable, and antibacterial, which keeps your body temperature regulated as moisture is transferred from your skin through the fabric's differentiated micro hole structure. This means that you stay dry and fresh, regardless of how much sweat your body produces. The material consists of carbon threads that absorb and dissipate electric charges accumulated by the external environment, and, additionally, the 5% carbon fabric keeps your body shielded from absorbing harmful ultraviolet rays.
The Car4's seamless tubular knit torso construction provides stitch-free comfort, and wide shoulders give you ample room to position your bib straps. And because the Resistex Carbon is light and highly elastic, you never experience the underarm pinching commonly associated with short sleeve base layers. Finishing touches include an extra wide waist hem to keep the base layer in place, and Santini's SMS logo knitted into the upper back.
The Santini Car4 Base Layer is available in the color White and in the sizes X-Small/small, Medium/large, and X-Large/xx-large.
An essential part of your kit
This is the real deal. High-quality cycling clothing designed and manufactured in Italy since 1965 by Pietro Santini and family. Ridden by many in the Pro peloton -including last years winner of the Giro d'Italia (Vincenzo Nibali).

Application: Light weight base-layer for Fall/Spring use (and cool Summer mornings).

PROS: Works great. Does not show through. Very comfortable stretch fit due to Italian sock machine manufacture. "Resistex" carbon fabric (also made in Italy) is anti-microbial, anti-static and UV-protective. And this base layer fits easily over your head (unlike some Castelli base layers).

CONS: none.

FIT: I'm 5'10" and 180lbs. The XL/XXL fits nicely. The fabric is stretch fit. The XL/XXL would fit most riders 180-220 lbs.

Santini cycle clothing is actually made in Italy with obvious pride and tremendous attention to detail and quality.