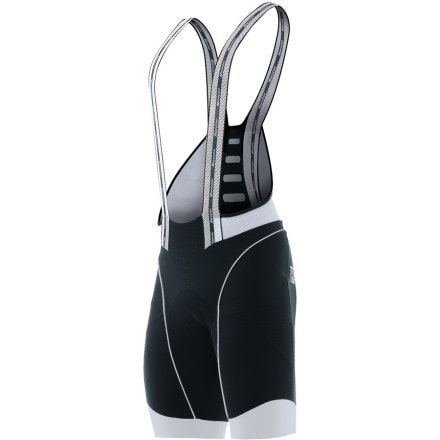 Description
Be cool.
Even die-hard bib shorts devotees need a little less material up top when the mercury rises. And not surprisingly, the maestros at Santini have crafted the BCool Bib Shorts with this very situation in mind. These are definitely one pair of bib shorts that you'll want to have on hand for the hottest periods of your riding season.
Santini constructed the Bcool bib shorts from the Lycra Newport material -- a fabric with enhanced shape retention and a UPF 50 rating. This fabric was selected for its superior breathability and rapid moisture management. Furthering this design principle, Santini placed carbon fiber fabric inserts throughout the bib shorts in order to enhance thermo-regulation at key locations. According to Santini testing, athletes wearing carbon fabric experienced temperature variation three-times lower than with wearing fabrics made only of polyester. By sheltering you from temperature spikes, carbon fabric inserts allow you to save a few precious heart beats per minute, thus reducing your oxygen need. To put it more simply, you're a machine, and this fabric increases your efficiency. 'Efficiency' in this sense means increasing your body's ability to turn metabolic energy into mechanical energy over longer periods of time. It also equates to having some gas left in the tank for long climbs in the last 20 miles of a mid-Summer century.
The BCool bib shorts provide the same compressive support found in other Santini shorts with a 78% polyester/22% elastane blend, however, what sets them apart are the braces themselves. About the width of a typical pair of suspenders, the elasticized-mesh braces bisect the pectoral muscles before securely nestling between the depression of your trapezius muscles and clavicle. Around back, they're met at the mid-lower back by a mesh insert that draws them together slightly in order to accentuate their stay-put grip at the shoulder. The leg cuffs consist of thin, elasticized Lycra that lays flat against the skin and resists slipping under hard efforts.
Santini put its new five-layer MIG3 chamois into the BCool. Layer one is a soft antibacterial microfiber with a raised channel that creates a pressure relieving channel for the perineal area. Layers two and four consist of variable density foam, which sandwich the third layer, a central core of anti-shock silicone gel. These layers rest atop a final layer of microfiber which extends to provide comfort against the saddle. Each different layer is selected, not only for its ability to do its particular job, but to be flexible and breathable as well -- as opposed to the chamois that force a single material to perform many tasks. The result is an insert that protects against road vibration without creating a hot, un-ventilated zone between yourself and the saddle.
The Santini BCool Bib Shorts are available in seven sizes from X-Small to XXX-Large and in the colors Black/white, Black/red and Black/yellow.
Share your thoughts
What do you think of the
Santini
BCool Bib Shorts
? Share a...