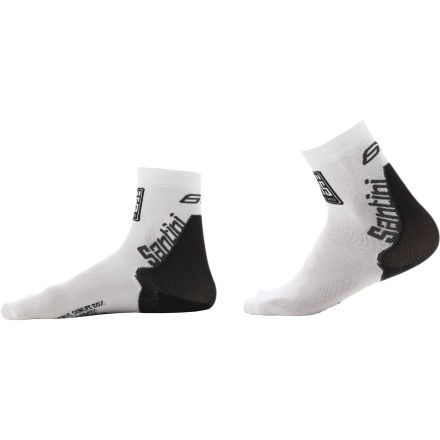 Description
Extra-light for extra-hot days.
Santini's new 6Five Socks were designed to round out your full-on Italian kit, but you'll still benefit from their innovative materials and supportive fit regardless of what you're wearing up top. Engineered as extra-light summer socks, the 6Fives keep you fresh and dry through the even the hottest summer riding weather.
You've got many options in the world of fast-wicking road socks, but the 6Fives provide the added benefit of Meryl Skinlife antibacterial fibers. Before Meryl Skinlife, the production of antibacterial fabrics was restricted to superficially treating fabrics with an antibacterial compound. This resulted in products with satisfying initial effectiveness, but which lost a portion of their odor-eliminating capabilities with every wash. Instead of this unpleasant scenario, Meryl Skinlife adds significant life span to socks by blending bacteriostatic silver particles at the fiber level. This means that when the socks are washed, dirt and sweat go down the drain, but the technology that you paid for remains intact.
Meryl Skinlife doesn't simply eliminate bacteria, it actually keeps it in proper balance. A little known fact is that there's a 'perfect' amount of bacteria that's needed in order to keep your skin healthy. So, if you raise bacteria levels much higher than what your skin contains naturally, a predictable, an offensive odor develops. Eliminate all bacteria, say with a bactericide treated fabric, and some feet will experience skin problems when beneficial bacteria are killed. Contrary to this, Meryl Skinlife maintains a natural level of bacteria on rides lasting several hours or more.
In addition to the benefits provided by Meryl Skinlife, the compressive cuff and mid-foot strap of the 6Five give you the perfect amount of support and coverage for all of your warm weather rides this season.
The Santini 6Five Socks are available in the sizes X-Small/Small, Medium/Large, and X-Large/XX-Large and in the colors Black, Cyan, and Red.