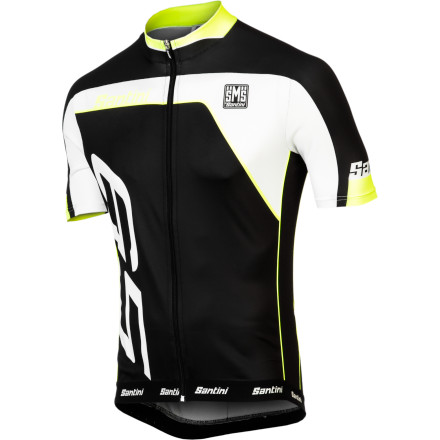 Detail Images
Santini's new 6Five Jersey was designed to provide you with a lightweight, breathable, and comfortable jersey for warm weather rides. Many attempt to create jerseys with all of these attributes in mind, however, they usually fall short in one area while compensating for another. Santini, however, goes about its design process a little differently, targeting specific regions of the jersey with materials that achieve these necessary characteristics. After all, the Italian company is known for apparel that's constructed with quality fabrics and attention to the small details. Just look at the leader's jersey in any peloton and chances are that you'll spot the small 'SMS' logo on the upper chest.
For the construction of the 6Five jersey, Santini selected its Microsense Energy fabric. This polyester material is extremely light and antibacterial, translating to a jersey with fast moisture evaporation, a high rate of breathability, and odor-fighting properties. Additionally, Microsense Energy is also soft on your skin and prevents the chafe and friction caused by upper-body riding motions. And since Santini designers know that you get hotter in certain places, they inserted a mesh panels along the sides, further enhancing the jersey's ventilation. These lightweight mesh inserts boost breathability and airflow and quickly wick away moisture. The jersey's shoulders and sleeves received Santini's highly-elastic Acrtic fabric, giving you a smooth stretch that doesn't pinch or restrict movement.
Santini built the 6Five jersey with a fit that's more traditional than the ultra-tight race-cut options that its known for. This allows you to breathe easily and retain a full range of motion without ever feeling too constricted. A modern, low-profile collar provides just the right amount of neck coverage, complemented by thinly-banded sleeves that stay in place on your upper arm. The jersey's elastic waist is treated with a full-wrap silicon gripper at the bottom, keeping everything in place as you ride. A full-length hidden zipper and three large storage pockets along the back finish off the construction
The Santini 6Five Jersey is available in seven sizes from X-Small to XXX-Large and in the colors Black, Cyan, and Red.