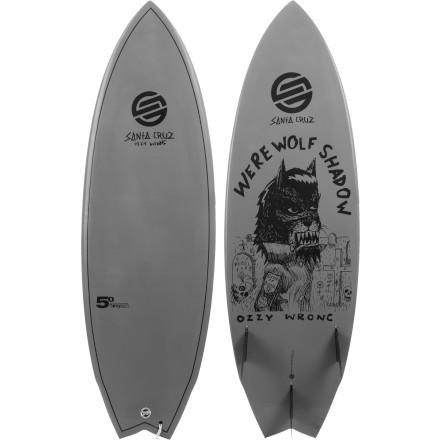 Detail Images
Australian pro-surfer Ozzie Wright surfs like a bat out of hell so it's no wonder he uses the Santa Cruz Ozzie Wright Pro Model Werewolf Shadow Surfboard to punt giant airs and to showcase his skate influenced surf style. This contemporary wide-body wing swallow tail board is designed to get you going Mach 2 right from the get go. Its wide bodied design makes the Werewolf easy to ride, provides smooth, stable landings, and gets you ready to take on any ramp you throw in its way. The Werewolf also features a Cruise Missile Concave design for increased rail curve and lift.

For improved durability, snappiness, and lightweight performance, the Werewolf features PowerLyte sandwich construction. Santa Cruz uses a lightweight, recyclable, hydrophobic, and shapeable EPS foam core and layers it with Flyweight Rhino glass (a four-ounce layer of pre-saturated epoxyskin fiberglass) and Super Flex Hull Armor (flexible high-density composite materials) to create a protective torsion box around your board. In phase two of the layering process, a layer of Scud Enamel (pre-saturated epoxyskin fiberglass) is added and to a vibration-dampening skin to absorb vibrations and reduce board chatter while you surf. As a result, the Werewolf is 30% lighter and more flexible than other EPS foam core boards on the market today.

The Werewolf features a Futures 2+1 fin setup and comes standard with a set of Curtis Hesselgrave designed fins that are made of high quality fiberglass for optimum performance. All of Santa Cruz's Powerlyte boards also come equipped with an SC Knot Board Bag for convenience and protection during transport and storage.
Shaper Chris Gallagher
Artist Ozzie Wright
Waist to head-high surf
Skate-influenced surfing
Cruise missile concave (single concave with deepest point at 12-inches from tail)
Low rocker
Wing swallow tail
PowerLyte construction
Futures 2+1 fin setup
Suggested Rider Weight 5ft: (beginner) 110lbs and under; (intermediate) 110-130lbs; (advanced) 125-140lbs
Suggested Rider Weight 6ft 4in: (beginner) 195lbs and under; (intermediate) 195-2l0bs; (advanced) 210-250lbs
Includes: SC Knot Board Bag