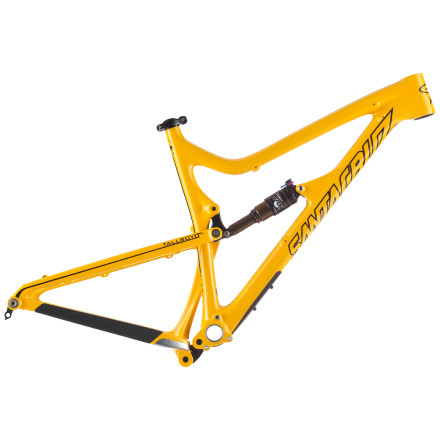 Detail Images
The Santa Cruz Tallboy LT Carbon is what you get when you take the lauded Tallboy Carbon and give it some serious trail-taming aptitude. Santa Cruz invites you to consider it a Blur LT for the 29er crowd. What do we think? It's an adrenaline-fueled, two-wheeled, monster truck of a bike, and that makes it just as much fun as you're imagining. And, as we have come to expect from Santa Cruz's carbon fiber offerings, it tips the scales at a weight that has us inspecting it for missing pieces.
The Tallboy LT Carbon's combination of low weight and strength wouldn't be possible without Santa Cruz's proprietary carbon processes. To save weight, the front triangle of the Tallboy LT Carbon is constructed at once rather than having its component parts produced separately, and then bonded or wrapped. Additionally, carbon fibers are continuous around tube junctions; this technique creates a frame that distributes loads and absorbs impact energy better.
Looking at the geometry, the Tallboy LT Carbon is longer and taller than the original Tallboy-but to keep that in perspective, the original Tallboy's short chainstays and ultra-compact head tube make it one of the most nimble full-suspension 29ers out there. The Tallboy LT Carbon maintains similar dimensions and adds 35mm of rear travel (135mm total) while accommodating a 130-150mm front fork. The head tube angle has been slackened a bit, to a more stable 69.5 degrees. Throw in the inherent rolling advantages of 29 inch wheels and you have a bike that conquers the sketchiest descents with aplomb.
The VPP rear suspension on the Tallboy LT Carbon utilizes patented counter-rotating shock links that allow for a variable feel throughout the suspension travel. When sag is set correctly, the Tallboy LT Carbon is extremely responsive to small- and medium-sized bumps. On larger hits that push it deeper into its travel, it becomes more stubborn, a necessity to avoid harsh bottom-out. It's also a crisp, efficient pedaler, even in the small chainring. Another big plus of VPP suspension is its durability; Santa Cruz guarantees the pivot bearings for life. The suspension is sprung by a light and custom-tuned Fox Float RP23 with a slick Kashima coating. Its three-position ProPedal lever lets you select an appropriate amount of platform damping for the terrain you're riding. Select more damping for tame singletrack, or leave it wide-open for plushness over hairy sections.
With the Tallboy LT Carbon, Santa Cruz didn't simply tweak the geometry of the original Tallboy and call it a day. This frame has received some insightful upgrades. Recognizing that the Tallboy LT Carbon will see heavy-duty, bone-rattling action, ISCG05 tabs were added to the bottom bracket shell to accommodate a chainguide. Additionally, the lower suspension link is asymmetrical to ensure chainguide clearance. In case you aren't running a chainguide, there's a metal insert on the chainstay where a dropped chain would otherwise wreak havoc on the carbon fiber. The grease ports on the lower suspension link fit are recessed to keep them out of harm's way. Because you're bound to kick up some trail projectiles, the lower part of the down tube is wrapped in a leather protector. A similar protector covers the chainstay to protect from chain-slap.
The Santa Cruz Tallboy LT Carbon has a 1-1/8 to 1-1/2 inch tapered head tube, which requires a mixed tapered headset. Like all of Santa Cruz's bikes, it has a user-friendly threaded bottom bracket shell. The rear dropout accepts a 142 x 12mm thru-axle, making the Tallboy LT Carbon the first Santa Cruz bike to use this new standard. A DT Swiss thru-axle comes with the bike. IS brake mounts make adding your favorite brakes as easy as possible. You'll need to pair the frame with a 30.9mm seatpost and a 34.9mm bottom-swing, top-pull front derailleur. The frame comes with a standard replaceable rear derailleur hanger, but a Shimano direct-mount rear hanger is available. The Tallboy LT Carbon comes in sizes Medium through X-Large and in two color options: Matte carbon/orange and Gloss yellow/black.