Detail Images
The Santa Cruz Nomad has been the defining all-mountain bike since its release years ago. As a flagship model for Santa Cruz (and our best selling mountain bike model to date), it's a wonder they even considered a redesign. But that's what Santa Cruz does time and time again. No sitting on their hands here, folks -- if they know there's a better way, they're gonna find it, and they're gonna do it. And nothing signals the change (and confidence) in materials philosophy at Santa Cruz more than the release of the Santa Cruz Nomad Carbon.
With the Nomad Carbon, Santa Cruz achieves their strongest, stiffest bike to date -- yes, stronger than the V10 and stiffer than the Blur LT Carbon -- and does so while shaving 3/4 pound from its chassis. Broken down in simple terms, you can have your 160mm of adept all-mountain travel in a package as trim as many cross-country frames. The lightness of this new Nomad makes itself felt when you flick it through the sinuous corners of your favorite singletrack. And when you spy a good-looking trailside hip jump, you'll be able to whip it effortlessly in mid-air to line up your landing.
Santa Cruz employs a one-piece construction technique to create the front triangle. This allowed their designers the freedom to incorporate the Nomad's signature swoopy design and nontraditional shaping of the tubes. One look at the head tube junction and you'll see that it was worth the effort. At this particular spot, the three tubes are almost at once squared and rounded. And the arcing scallop that defines the angle between the top and down tubes shows just how patient they were with the shape. After all, why settle for tough as hell, if you can have tough and beautiful in the same package.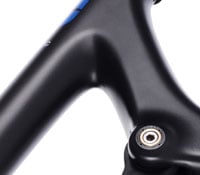 Possibly the best aspect of the one-piece construction is that all of the junctions have continuous fibers that run around and through the joints, then out into the long tubes. The homogenous nature of this technique makes for increased load distribution and for better impact absorption. The stresses of normal and even abnormal riding are spread across a greater area of the frame. Let's call this stronger and tougher, shall we? But don't let its lightness fool you into thinking it's just for coffee shop rides. The Nomad Carbon is meant to shred. Uphill. Downhill. Around the hill. And you won't find any doo-dads riveted and glued onto the Nomad Carbon either. All of the suspension pivot mounts, cable/hose guides, ISCG tabs, and the full carbon dropouts are molded into the structure from the onset. All of these details create special challenges during design, tooling, and construction, but again, when you lay your hands and eyes on a Santa Cruz carbon frame, you'll know for sure that it was worth it.
The Nomad Carbon uses the same VPP rear suspension as its aluminum sibling. Its carbon fiber upper link and alloy lower link rotate in opposite directions to shape the arc of the migrating virtual pivot point so that it geometrically balances rider weight shift, chain pull force, and bump forces throughout the travel. The result is a bike that pedals without unwanted suspension compression, yet will react to trail input, even as you grind up a hill. And when you descend on it, you'll ride in a suspended pocket, with plenty of positive and negative travel that will ensure that you can have ample traction and control over bumps and through ruts and holes. And remember, traction equals confidence and control and that, in turn, means safety and speed. You can have it all with the Nomad Carbon.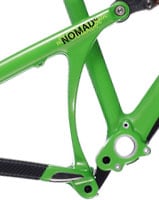 The carbon fiber rear swingarm is attached to the main triangle via the two links. The oversize 15mm pivots use aluminum axles with locking collets, and sealed cartridge bearings make for a bike that has great lateral stiffness, without the prospect of creaking or loose joints. The lower link has easily-serviceable grease ports for quick maintenance (grease gun and grease included), ensuring your suspension will stay smooth and responsive just like new. Leaving no detail overlooked, the Nomad Carbon features titanium pivot and shock hardware to shave every last gram.
The 67 degree head angle strikes a perfect balance between slow speed steerability on technical trails and high speed stability on loose descents. The Nomad Carbon will accommodate 1.5" steerer tubes and headsets for supreme front end stiffness. And while the geometry is based on a 160mm front fork, feel free to install a 180mm single crown fork. The Nomad Carbon will be even more inspiring on really nasty terrain. ISCG 05 tabs make for easy chainguide or HammerSchmidt installation, and it has an ISO standard rear brake mount and accepts rotors up to 203mm.
The Santa Cruz Nomad Carbon is available in Black/gold, Gloss Green/lime, Matte Black/blue, and White/black. It comes equipped with a large volume Fox RP23 rear air shock. If you would prefer, you can get it with a Fox DHX RC4 Coil (+$216). It requires a 30.9mm seatpost, and 34.9mm top swing/top pull front derailleur. The bottom bracket shell is 73mm wide, and it uses a standard 135mm rear hub. It comes with a woven downtube protector that is reported to be needed for cosmetic security only as the downtube is made of carbon and kevlar, and is thick enough to wave off serious abuse on its own, and it has guides for a remote seatpost cable. A replaceable derailleur hanger will protect the carbon dropout from crash damage. It has a two year warranty against manufacturing defects, while the bearings are guaranteed for life.
US Santa Cruz dealers are prohibited from shipping Santa Cruz bicycles outside of the United States.
Please Note: Due to cable routing and space considerations, current SRAM front derailleurs will not work with the Nomad Carbon. For 2 x 10 drivetrains, we suggest using a Shimano XTR Double Front Derailleur FD-M985. For 3 x 10 drivetrains, we suggest the XTR Triple Front Derailleur FD-M980.
Share your thoughts
What do you think of the
Santa Cruz Bicycles
Nomad Carbon
? Share a...
Unanswered Question
Posted on
Hello - can you please tell me what rear...
Hello - can you please tell me what rear shock this Frame comes with?

Does it have the 135x12 or 142x12 rear axle?

http://www.hucknroll.com/santa-cruz-bicycles-nomad-carbon-2012