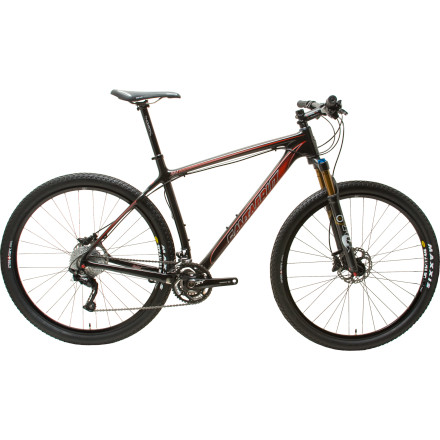 Detail Images

Community Images
Santa Cruz's latest foray into the 29er game comes with a caveat: get used to climbing podium steps. The Highball carbon fiber hardtail turns any XC course into a high-speed playground. The proprietary carbon layup maximizes strength while shaving weight, so even though it feels like it might be fragile, it's decidedly not. The blingy-but-reliable parts kit will keep you on the trail and out of the shop season after season.
Fox Float 29 FIT fork soaks up all the bumps in your path
Shimano XT group is light, reliable, and tough
DT Swiss 350 hubs laced to Mavic hoops provide wheels for your new wagon
Shimano's all-new IceTech rotors dissipate heat quickly to resist brake fade
Ten-speed cassette with 36-tooth granny gear ensures you always have the right ratio for the trail


Stiff, fast, XC bike
Gender:

Male

Familiarity:

I've used it once or twice and have initial impressions
This was the first 29er I rode. The Highball is super light and fast. The fact that it is a 29er helps it keep rolling through the terrain. The frame is easily the stiffest I've ever ridden so there is great response, but this can make for a punishing ride through technical terrain. This makes for an incredible XC Race rig.
Santa Cruz 29er Yessssss!
I got the Matte Black size XL, I am 6'3" and have a 33" inseam, this bike fits like a glove. To be able to buy a bike of the rack and not think about upgrading has been fantastic. The Highball is stiff and fast, it also is an amazing climber. My first carbon hardtail and I am Very pleased.
Really worried about carbon frames and...
Really worried about carbon frames and rocks hitting the down tube. What's your experience with these types of issues , or have you had any and I need to calm down? Second question, the 2 year warranty also scares me. Would it be a crash replace after the 2 years? What would that cost be?
Best Answer
Before you take a CF frame bike out you should always cover any areas that will be subject to rock strikes with frame protective tape like crankskins. I have a Specialized S-Works FSR trail bike and have taken many rock strikes but because of my use of crankskins frame protective tape my bike still looks new. The biggest area of concern is the BB section so make sure to protect it well.
Chris, I have been training and racing exclusively on Carbon Road, Mountain, and Cyclo-Cross frames several years now, and I will never look back. These newer framesets (past 5 yrs) are being engineered to be put to their task without worry regarding compromising the frame for riding in the dirt. I have had several rocks come up and "smack" the downtube while descending quickly. I obviously grimaced with the hollow sound of rock and carbon coming together at high velocity only to find all was good. Most frames now have a clear adhesive on the downtube to prevent rock dings in the paint from occurring. The nature of mtb is riding in varied terrain with sometimes crazy conditions, the bikes are designed to withstand these extreme events. It is rare that you see a bike break these days. And, when they do, the manufacturer typically stands behind their product. So, If you want the best handling, lightest wgt, and dampening that a carbon ride excels at, don't hesitate. Carbon rides like nothing else out there on the trail, it excels at dampening the roughness of the trail yet remains compliant and stiff so that when you pedal the power is translated to the wheel. Pull the trigger, carbon is here to stay.
Dude. Chill :)

I have beat the piss out of my SC blur, my buddies have all ridden carbon Tallboys etc for years. We ride in the east, and take them to Fruita twice a year. You might get a chip in the paint, but that's about it. The one thing that is tough on carbon (and aluminim) is repetitive abrasion (like if your heal hits the chainstay. That you need to wrap, otherwise go for it!