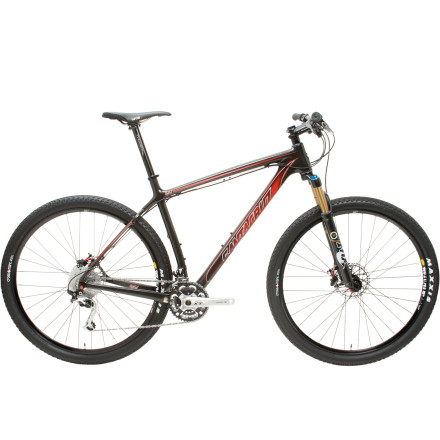 Detail Images
Throw a leg over the Santa Cruz Highball, and get to winnin'. The Highball features Santa Cruz's proprietary continuous carbon fiber layup, which results in thinner tubes, tougher carbon, and lighter weight than traditional carbon construction. And, since you can't ride a frame without parts, Santa Cruz outfitted the Highball with its blingy SPX XC build kit, which leaves very little room for upgrade lust.
Shimano XT Dyna-Sys drivetrain offers 30 different gearing combos so you always have the perfect ratio

Avid Elixir CR brakes provide confident stopping power in a lightweight package

Fox Shox F29 RLC fork soaks up the bumps and prevents your forearms from spontaneously combusting

Super-tough and ultra-lightweight Easton and Thomson components round out the cockpit

DT Swiss 350 hubs laced to Mavic TN719 rims make for a bombproof, race-ready wheelset

What do you think about this product?
Have questions about this product?
Elevate your senses & Rip Single-track
This is a new build and one of the best 29er hardtails I have ever spent my days riding trail on.
Blows away the Superfly and is "point and shoot" like the Stumpjumper.

Built up with SRAM 2x10 XO and XX (crankset), Fox RLC 29 Float fork, and FSA stem/bars, No Tubes wheels, Continental Race King tires, Ergon Grips, Selle Italia SLR saddle, Crank Bros Egg Beater Ti pedals, and the bike weighs in at 20.5 lbs.

Size: I am 5'11" but have a 33" inseam and long arms, I am on the (L) frameset with a 110 stem. Perfect.

Descending:The bike is very well balanced and very stable on the knarliest hairball chowdered trail you can find. Steep fast loose = No Worries

Climbing: like a goat. Again, well balanced and seems to gravitate up the trail. Running No Tubes wheelset with low pressure (24-26 psi) it flies uphill. Light is Right.

I have spent a year on a Superfly, and 1/2 a season on a Stumpjumper S-Works. This bike runs circles around both of these bikes. Very pleased with its performance. :hand-ten Rockin thumbs-up:

The Highball is not as slack and sluggish as the Superfly so it tracks better, climbs better, is more reactive making it a real point and shoot bike. The Superfly was slow and a very soft ride. That being said the Highball is not quarki like the Felt it is really stable and smooth, the bike really flows down the trail. I like the fact that I don't have to horse it around much, just think and it reacts. The tail is stiffer than the Superfly, more like the Stumpjumper S-Works so it accelerates quickly which I enjoy. I have several 5 hour rides and two 100 mile NUE races on this bike with no complaints and no abusive frame feedback to my body.

This bike completely rocks and will elevate your riding and fun factor every day you are in the saddle.

Ride ON!