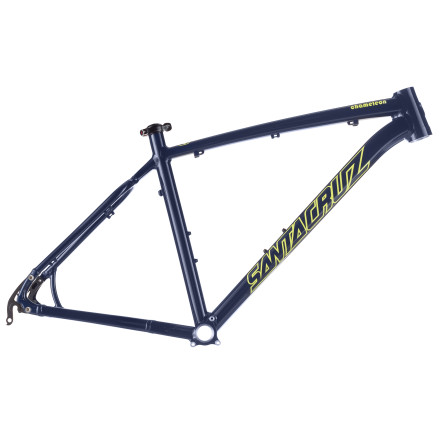 Detail Images

Community Images
In nearly a decade of existence, the Santa Cruz Chameleon Mountain Bike Frame has seen little change -- mostly just updates that reflect current construction techniques, like hydroformed tubing. For a bike to go this long is indicative that Santa Cruz got it right the first time around. It also makes the Chameleon a perfect for those on a budget, or those who like a mountain bike packed with versatility.
The keys to the Chameleon's longevity are adaptability and appeal to multiple disciplines. Whether you're a long established mountain biker, or you're new to the trail and looking for a place to start, the Chameleon will satisfy. While every other hardtail on the market is intended for XC or dirt jump use only, the Chameleon is designed for a much broader audience. How can a hardtail do all this? The short answer is great design from the people at Santa Cruz. The long answer is in the details.
The Chameleon's unique frame geometry can work with forks that have as little as 100mm of travel or as much as 150mm, with 120-130mm being ideal. At the 100mm end, you have a steep seat angle and a lower bottom bracket height. The change in stance gives a forward-leaning, aggressive cross-country geometry. Put a 150mm fork in and the bike gets taller and more laid-back, adding high-speed stability and steep-terrain confidence. The beauty of the Chameleon is it's not limited to XC riding, and when set up with a taller fork, it makes an excellent first mountain bike because of its forgiving nature and simple operation. Run a travel-adjust fork and you're riding a true do-it-all machine.
Another distinguishing aspect of the Chameleon is its tubeset. The massive tubes in the rear triangle are made from 6066 aluminum and provide stiffness for great power transfer. The large diameter is stiffer and has the added benefit of allowing for ultra-thin tubing walls that reduce weight. The heavily gusseted front end also means gobs of strength. The Chameleon will encourage you to constantly expand your riding style and limits to include stunts and jumps without flinching – not something we recommend on a dedicated XC rig.
The frame accepts tires up to 2.5", enabling the extra traction needed for loose and sloppy forest exploration. And if you're looking for stopping power, a 180mm rotor will fit in the rear without any clearance issues.
When hanging parts on the Chameleon, the bike takes on the qualities of the parts, not vice-versa. This frame can run the gamut, from an efficient single speed to a freeride brute. The parts kit and your imagination will determine its characteristics. The Chameleon can satisfy the most dyed-in-the-wool mountain junkie, or offer a novice the platform to develop and expand off-road skills.
The Santa Cruz Chameleon Mountain Bike Frame is powder coated in your choice of Tennis Yellow or Ultramarine Blue. It has a Mixed Tapered (ZS44/EC49) head tube, and a 30.9mm ID seat tube. The bottom bracket shell is 73mm wide, and it uses a 34.9mm dual-pull front derailleur. The rear derailleur hanger is replaceable and has the ever-convenient bottle opener. There are water bottle braze-ons on both the top and underside of the down tube. It has a two year warranty against manufacturing defects.
Share your thoughts
What do you think of the
Santa Cruz Bicycles
Chameleon Mountain Bike Frame
? Share a...
Unbeatable!
Familiarity:

I've put it through the wringer
If you want a hardtail, then this is the only bike you should consider. This can do it all: Trail, XC, Jumps, even downhill. Add some FAT tires (I run WTB MOTO 2.3 inch and there's still more room for fatter tires) and you can run like the fatties!
Seriously, with careful choices, the XL frame can be built up to weigh just over 26 pounds. on a 26er and still be indestructable.

It's got a tapered headset, replaceable rear hangers and internal cable-routing for a seat drop-post if that's your thing so it won't be obsolete any time soon!

Don't be sceered! Just buy this frame and never look back!!!
Can this run a stealth dropper post?
The cable routing for this frame is external so it will not accommodate a stealth dropper post. Any external cable routed dropper post should work on this frame. You could throw the Rockshox Reverb dropper on this frame.
My seat tube has a little rubber plug down towards the bottom. Whats that for? I got the clearance model frame as a back up bike.
What model year is this frame? Are the geometry #'s available?
Hey Andrew,
This frame is the 2014 model. The geometry specs are as follows:
Top Tube Length: S-22.2" M-23.0" L-24.0" XL-25.0"
Seat Tube Length: S-16.0" M-17.0" L-19.0" XL-20.5"
Head Tube Angle: 68 degrees all frame sizes
Seat Tube Angle: 72 degrees all frame sizes
BB Height: 12.4" all frame sizes
Wheelbase: S-42.0" M-42.8" L-43.8" XL-44.9"
Head Tube Length: S-3.9" M-4.3" L-4.7" XL-5.5"
Chainstay Length: 16.5" all frame sizes
Standover height: S-28.0" M-29.1" L-30.3" XL31.8"
Reach: S-14.9 M15.6" L-16.5" XL-17.2"
Stack: S-22.4" M-22.8" L-23.1" XL23.9"

Feel free to contact our bike experts by calling 1-888-276-7130 or by chatting online with an expert on Competitive Cyclist.com

Can I run V Breaks still on this frame?? I have a new triple XT Group and was hoping to throw this on this frame? Thoughts?

Cheers
AB
AB, This is a disc only frame. You could use the triple XT group on there, but not the Canti brakes.
Is this for a 27.5 wheel?
I read that you can run 27.5 wheels
The 2015 model of this frame will run the 650b or 27.5 wheel. This 2014 model frame runs a 26er.
Best 26" Hardtail Frame on the Market
Familiarity:

I've put it through the wringer
To echo the sentiments of many riders, this bike does, actually, live up to its name. Had one of these built up with a 120mm fork and used it for some pretty irresponsible gravity-type riding, jumping, dropping, etc., and it was always perfectly comfortable and controllable. Then, a few months into the summer, swapped out the fork for one with 100mm of travel, along with a lighter wheelset and longer stem/narrower bars, and suddenly it was a climb-crushing XC machine. As per many of Santa Cruz's models, it is also uncanny in its stability on descents, regardless of how it's built up. Simply a fantastic all-around frameset.
It's my go-to bike for cross-country
Familiarity:

I've put it through the wringer
I put together a chameleon from spare parts and a gang-green frame. It is smooth and quiet and very light. I don't get bottom bracket creaking like other aluminum frames I've had. I run V-brakes and appreciate the bosses. Mt frame is pre-eccentric BB, and I ride one size up...I'm 6'1 and have the large.
Fun bike that does it all
The Chameleon lives up to its name. Depending on personal preference and build, this bike can lean toward dirt jumper or trail rider, or somewhere in between. If you are looking to have one bike to wear a lot of different hats, then this is a great choice. I only wish it was offered in steel for a more forgiving ride.