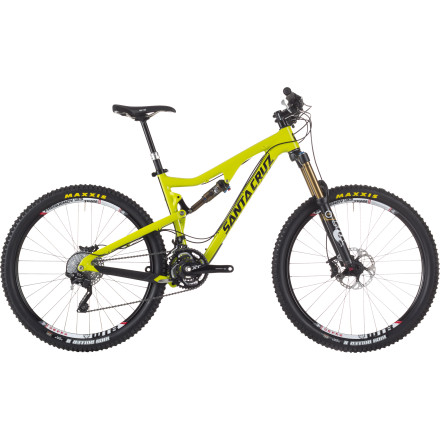 Detail Images
If the Carbon Bronson was a Blur LT or Nomad sitting on bigger biscuits, then we'd have seen a 27.5-inch Santa Cruz half a decade ago. In true Santa Cruz fashion, however, it designed a fresh chassis in order to highlight this wheel sizes' strength, while concurrently minimizing the weakness. And with the mid-level SPX AM Complete package, this model transcends the budget-focused R AM with a full XT dress and components from DT Swiss and Easton to complete the picture.
Seeing as you're reading about a 27.5-inch wheeled bike, you're undoubtedly aware of its merits over the smaller and larger options. And if you still find this whole 'multiple-wheel-size' trend to be ruffling some feathers, we invite you to turn off the dial-up modem, shutdown your trusty 486 computer, and hop on a mint-vint Proflex for an epic mountain biking adventure. On the other hand, if you're able to embrace a wheel size that permits better proportions for the majority of riders, and better suspension packaging for manufacturers, then we're sure that you see how the Bronson Carbon represents the natural progression of mountain bike development.
The Bronson's carbon structure is similar to Santa Cruz products that have paved the way for composite mountain bikes. It's a one-piece, continuous fiber lay-up, as opposed to assembling joints, which doesn't require bonding, wrapping, or rivets. And because this process allows continuous interlocking fibers to wrap between tubes, the resulting structure distributes loads and absorbs impact energy better than its counterparts, while also eliminating any excess material. As you might imagine, this is a costly process, because each frame size requires dedicated tooling.
However, this allows Santa Cruz to control the outside shape, the inside shape, and to compact the fibers during the layup for the individual requirements to each frame size. It's also important to point out, as stated before, that this isn't a carbon Blur LT with clown shoes on, nor is it a carbon Nomad that's received a bolt-on, 27.5-quick fix. Instead, the Bronson features a completely new chassis, and a quick review of its geometry is proof of this.
A 13.6-inch bottom bracket height sits between the Blur LT and Tallboy LT, while a 67 degree head tube angle complements its six-inches of wheel travel. Together, these attributes make it crystal clear that Santa Cruz destined this bike to please riders who use the whole trail. Adding to that lively nature are the Bronson's 17.3-inch long chainstays, which keep its rear tire tucked under you while still rolling with the authority of its 29er brethren -- minus the inherent clumsiness.
So, when you add up all of those numbers, and toss VPP suspension into the picture, it comes as no surprise that this is the chosen bike by the Syndicate for the 2013 Enduro World Series. And speaking of VPP, if you're unfamiliar with its merits we're going to jump right into that.
The VPP rear-suspension on the Bronson utilizes patented, counter-rotating shock links to allow for a variable feel throughout the suspension travel. When sag is set correctly, the Bronson is extremely responsive to small- and medium-sized bumps. For larger hits that push it deeper into its travel, it becomes more stubborn, a necessity to avoid harsh bottom-out. It's also a crisp, efficient pedaler, even in the small chainring. Another big plus of VPP suspension is its durability. In fact, Santa Cruz guarantees the pivot bearings for life.
Rear motion is handled by a lightweight and custom-tuned Fox Float CTD Adjust with Kashima coating. Its three-position Climb, Trail, and Descend lever lets you select an appropriate amount of platform damping for the terrain that you're riding. And at the front end, the Bronson complements this shock with a 150mm travel Factory Series Fox 34 Float CTD Adjust with the durable Kashima coating as well.
The fork is equipped with a 15mm through axle, and the frame has a 142 x 12mm axle at the rear. The wheels are comprised of DT Swiss 350 hubs that have been laced to WTB ST i23 TCS tubeless rims. Casing the wheels are Maxxis High Roller 2 EXO Tubeless Tires. And to power the wheels is a Shimano XT doublecrankset with 26/38t gearing, an XT 11-36 tooth cassette, and a 10-speed HG-74 chain.
For gear selection, there's a XT Shadow+ rear derailleur and a XT front derailleur that're controlled by, you guessed it, Shimano XT shifters. These shifters share handlebar real estate with powerful XT brakes, which have been spec'd with a 180mm front and a 160mm rear IceTech rotors. The handlebar is a 710mm wide Easton Haven, which is supported by a Truvativ AKA stem.
Santa Cruz rightfully spec's a RockShox Reverb dropper post that has a WTB Volt Team perched atop of it. And for future upgrades, the Bronson does come equipped with ISCG05 tabs.
The Santa Cruz Bronson Carbon SPX AM Complete Bike is available in four sizes from Small to X-Large and in the colors Matte Carbon/orange/blue and Gloss Yellow/black/blue.
Share your thoughts
What do you think of the
Santa Cruz Bicycles
Bronson Carbon SPX AM Complete Bike
? Share a...
Posted on
Bronson SPX
Familiarity:

I've used it several times
This bike was the first 27.5 that I was able to ride, to say I was excited would have been an understatement. After riding it, I wasn't quite sure I still had that same excitement. Before you think I didn't enjoy it, I did, the thing I found was that it wasn't that much different from what I was use to and the bike didn't get any rise in emotion from me. At first I was confused, but then determined that it's just that this bike is a good move from the longer travel 26" bikes I have been used to. The larger wheels didn't feel like I was steamrolling down the trail and still felt nimble. Everything was super composed when getting into rough sections or coming into a corner with too much speed. While I think I set my expectations high, for something over and above, the Bronson did exactly what I wanted. The larger wheels did track better through choppy bits, but like I mentioned it wasn't some euphoric experience like I had anticipated.
In terms of suspension, Santa Cruz has their VPP dialed and works really well. Shock pressure can really change the bikes handling characteristics though and was welcomed. I could set up the suspension softer for more small bump compliance or a bit stiffer (~20% sag) for a bike that seemed to be a bit snappier and stay higher in its travel. I preferred the latter. In terms of suspension travel, I found the Bronson difficult to use all 150mm travel to my liking. Coming from a 160mm Ibis Mojo HD, I have the feeling of endless travel which really helped when riding shuttles or lift assisted riding, and the Bronson didn't seem to give me the confidence in this type of riding. In my opinion, the Bronson seemed to fit more into the aggressive trail category of riding compared to all-mountain that I expected.
Posted on
Santa Crux Bronson Carbon with SPX build
Familiarity:

I've put it through the wringer
This bike has been amazing. While it was spendy, and people tend to give anything they spend that amount of money glowing reviews, this bike deserves it. While not a climbing goat, pun intended, if you are worried about your time getting up this was not the right bike for you in the first place. However, if you want to ride your bike everywhere, and are concerned with how big your smile is after the ride, especially the descents, this may be the bike for you. I am 6?4? and the XL fits great, comfortable to climb, yet nimble on the descents. The 27.5 wheels do feel the ideal blend, great rolling over behavior, but super quick and agile on the descents, technical or flowy with features. I ride it mostly in Park City, and would be more than happy with this bike anyplace in town, long XC rides to bike parks(moderate)