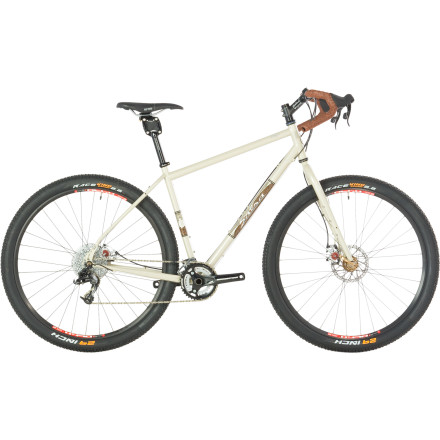 Detail Images
Hit the open road -- pavement optional—aboard the revamped Salsa Fargo 2. A suspension-corrected front end allows you to bolt on some squish if that's your style or run it as it comes for mellower fire roads and ultra-distance days on paved roads. Drop bars give you more hand position options than risers, so you won't be battling the dreaded numbness for the last 20 miles of your ride. Designed as the ultimate adventure-touring rig, the Fargo features a full complement of braze-ons, for everything from fenders to racks to bottle cages, and the fork legs each have a mount for Salsa's Anything Cage -- an over-sized, multifunctional platform for anything from sleeping bags to fuel bottles.
Love the bike! Buy it from your LBS if you can.

I've been fixing mine part for part since April. The bar tape was shifting around after the ride - wrapped way too loose. Front derailleur cable came loose first week - cable clamp installed improperly and the bolt stripped. Today, it's the bottom bracket and crank coming loose after less than 500 road miles.

Whoever built it up must have been stoned or straight-up didn't give a shit!

Buy the Fargo! Just buy it somewhere else!
Unanswered Question
Do you know when you'll have the small...
Do you know when you'll have the small size Fargo 2 available?
Thanks for the delivery to Australia - everything worked well thanks.

A couple of thoughts on the bike - the tires are very easy to puncture - I have had more punctures on these tires in a couple of rides than I have had over the rest of my life!! Suggest some tougher tires if you are riding where there may be thorns.

The bike itself does everything they say it does - very much an off-road bike set up for an off-road tour. The Mundabidi trail here in Western Australia is a great application for this bike (with tougher tires).

I'd suggest, contary to some reviews I have read on the internet, that this bike is too slow and heavy for a regular commute (assuming you want to get to and from work in minimum time), even with some faster tiers. (I tried Conti Touring Plus but for now I am back to my old trek racer as a commute.
Do you have the Salsa Fargo 2 XL in Stock?...
Do you have the Salsa Fargo 2 XL in Stock? If I ordered today, when would it ship?
As of 04/27/12 we have 2 Xls in stock.