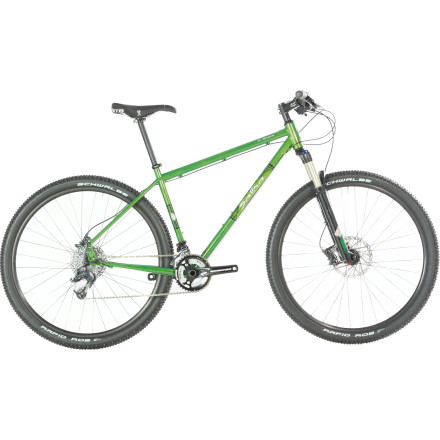 Detail Images
You'd be hard pressed to find a more versatile and functional bike for off-road riding than a hardtail 29er. Make it from steel, and you have a bike that will last very near forever, tackle almost any terrain you can find, and won't dynamite your wallet on the way. The Salsa El Mariachi 3 is just such a bike. Salsa's Kung Fu Cro-Moly tubing is triple-butted to reduce weight without sacrificing strength at the joints, so you never have to worry about cracking the frame at a weak point. Salsa's innovative Alternator dropouts also allow quick-and-easy singlespeed conversions—whether they're planned, or just a way to get you home after a massive mid-ride mechanical. The Alternators utilize a swing-style design, and are kept in place with the aid of tension bolts, so you don't have to worry about getting both sides right with just bolt -- torque. This swinging style also means that you can tune the ride characteristics of your El Mariachi easily -- keep it in tight for short effective chainstays and quick handling, or move it out to lengthen the chainstays and add stability. El Mariachi, like all Salsa bikes, lends itself to the lengthy and epic, and is an ideal candidate for multi-day backcountry bikepacking. This is not to say, of course, that you can't race it -- El Mariachi eats up short-track XC races just as well as it handles hundred-mile days through the woods.
SRAM 2x10 drivetrain maximizes usable gear ratios while reducing weight and complexity

Rock Shox Rekon TK Gold 29er fork features 100 millimeters of squish to take the edge off on long rides
Avid Elixir 1 brakes with a 180-millimeter front rotor and a 160-millimeter rear offer good modulation and stopping power
27x36 low gear will get you up and over anything that's worth riding over
Wide Salsa Pro Moto Flat handlebars give you better control in the twisties and plenty of leverage of tractor climbs
Schwalbe Rapid Rob tires have plenty of low-profile knobs for low rolling resistance, but larger shoulder knobs for good grip in turns
I picked up this bike in springtime to return to a sport I've neglected for about 10 years. I always rode hardtails and started out looking for something in a 26in. I'm glad I made the move to 29er. I prefer technical trails, but I'm tall and the 29er fits much better than any of my old rides. This thing handles techy trails with ease that makes me feel like I never left the sport.

As far as componentry everything works like a charm. My only complaint is that the brakes are a bit loud sometimes, and the shock shipped without any air in it so I had to buy a shock pump. I put it together myself without any issues (the wheels are trued before the bike leaves Salsa) and it went together very easily.
I bought this for my wife to use XC riding. She is more into downhill and freeriding but wanted something to ride on the trails and something she could climb efficiently with. Because she is normally on a bike with a much more slack head angle it was hard for her to get used to being so far over the front wheel. After she got used to it she really liked the bike. It came setup with X5 and X7 which shift really slow so we upgraded to X9. Other then the derailleurs and shifters we left the bike stock. It a fun bike and a great value for the money. Anyone looking to get a 29er but doesn't want to pay an arm and a leg look no further.
The ride is softer than you'd think for a hardtail thanks to the steel frame and 29" wheels. Still getting used to sitting up a little higher than a "normal" bike but it still feels quite nimble through winding sections. Love the frame and fork, may upgrade components here and there but it's a solid build and a great value.
What's the point of the bottle cage bolts...
What's the point of the bottle cage bolts on the seatube since the front derailleur clamp is in between the bolts? I don't think you can mount a cage here. Or is this not an issue?



Thanks,

Steve
Works fine. Might have to put in a spacer for some cages. This isn't Salsa's first bike. My Pistola is like that and my El Mar would be if it had a front Der.