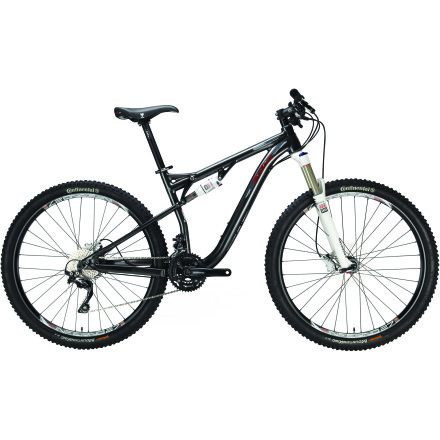 Detail Images
As 29ers gain acceptance, we're seeing them move from a cross-country favorite to a trail bike essential. Modern geometries and new industry standards are encouraging a long-travel movement, and bikes like Salsa's 120mm travel Horsethief 3 are paving the way.
The combination of smart component packaging with a technology rich frame enable this Horsethief 3 to offer a trail experience usually reserved for bikes costing twice as much. Key to this is a mix of hydroformed and shaped tubing that is custom spec'd with aggressive riding in mind for strength and durability.
But that doesn't mean this 'thief is a porker -- the heat-treated 6061-T6 aluminum results in a sub-seven pound frame, and that, combined with Salsa's progressive geometry, offers a lively and rewarding ride. The frame fittings are all forged for incredible strength, and burly chainstays with an oversized main pivot result in an extremely stiff rear end.
This translates to reduced wear on both the bearings and the rear shock. But, most importantly, it results in direct rear wheel tracking for excellent bike composure over rough sections and a reassuring, planted feel during high-speed cornering. Another standout feature of the Horseteif's suspension design is Salsa's one-piece rear triangle.
Instead of bearings, Salsa uses deflection (about five millimeters) of the seatstays to allow smooth suspension action. By eliminating the pivot at the rear of the stays, the Horsethief's triangle becomes stiffer and lighter than traditional designs. The seatstays are shaped and sized appropriately to safely handle this small amount of deflection far beyond life of the frame.
At the top of the seatstay is a shared pivot link design that reduces the number moving components and hardware even further. The bearings are located here, and while they're oversized for strength, they're still of a standard size, and use regular tools for installation/removal -- meaning they can be serviced by any qualified technician.
The rear axle uses a Maxle-compatible 12 x 142mm spacing that features hub-catches for simple and quick wheel installation. This increases torsional stiffness of the rear end and the combination of a pivot-less rear triangle with a direct mount front derailleur allowed Salsa's engineers to keep the Horsethief's chainstays nice and short. At 460mm in length, you can expect this long-travel 29er to be a quick-turning glutton of high-speed switchbacks.
The Horsethief is designed for all-day riding in rugged terrain, and with those short stays, slacker angles, low stance, and a long toptube, the aggressive chassis will float rock gardens, claw over jagged ascents, and inspire confidence when pointed down. To complete the package, Salsa specs a custom-tuned RockShox Monarch R rear shock and a 130mm-travel Sektor.
There's a performance-oriented mix of Shimano SLX, including the shifters and derailleurs, with a Deore crankset to provide fast and reliable shifts day in and day out. The Horsethief 3 Complete rides on 32 hole Formula hubs laced to Sun Inferno rims. Continental Mountain King II 2.4in tires have large and aggressive knobs to favor traction in the tough conditions this frame is designed for.
Salsa Pro Moto 3 components wrap up the build, covering the handlebar, seatpost, and stem. The Salsa Horsetheif 3 Complete Bike comes in sizes Small through XL and one color; Charcoal.