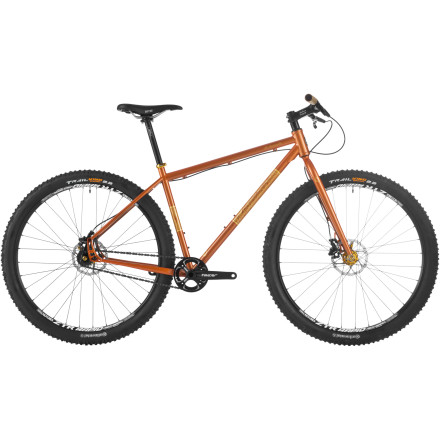 Detail Images
There are lots of reasons to ride a singlespeed. Some people ride them for the reliability. Others like the light weight. Some like the feeling of learning to ride again, like when they were kids. The Salsa El Mariachi Limited Edition Single Speed Complete Bike is great for all these reasons.
You'd be hard pressed to find a more versatile and functional bike for off-road riding than a hardtail 29er. Make it from steel, and you have a bike that will probably last forever, tackle almost any terrain you can find, and won't dynamite your wallet on the way. The Salsa El Mariachi is just such a bike. Salsa's Kung Fu Cro-Moly tubing is triple-butted to reduce weight without sacrificing strength at the joints, so you never have to worry about cracking the frame at a weak point. Salsa's innovative Alternator dropouts also allow quick-and-easy chain tensioning. The Alternators utilize a swing-style design, and are kept in place with the aid of tension bolts, so you don't have to worry about getting both sides right with just bolt torque. This swinging style also means that you can tune the ride characteristics of your El Mariachi easily -- keep it in tight for short effective chainstays and quick handling, or move it out to lengthen the chainstays and add stability. El Mariachi, like all Salsa bikes, lends itself to the lengthy and epic, and is an ideal candidate for multi-day backcountry bikepacking. This is not to say, of course, that you can't race it -- El Mariachi eats up short-track XC races just as well as it handles hundred-mile days through the woods.
A fully rigid 29er frame may be the ultimate in pedaling efficiency. It can be a little punishing on the descent, but not nearly as harsh as a rigid 26. Those big wheels go over just about anything. You won't have to worry about fork flex or leaky seals, either. Avid Elixir Five Hydraulic Discs handle the stopping duties with a 180mm rotor up front and a 160mm out back. Salsa also outfitted El Mariachi SS with Stan's NoTubes rims, so you can run your tire pressure lower than you can with tubes to add cushion and grip. The rest of the build is mostly Salsa's proprietary kit, which consists of tough, lightweight, aluminum components. If you normally wait for something to break before you upgrade, you'll be waiting a long time.
The Salsa El Mariachi Limited Edition Single Speed Complete Bike (just say El Mar SS because it sounds cool) comes in XS, S, M, L, and XL. It's available in Golden Child.
What do you think about this product?
Have questions about this product?
Typo on front travel: Solid fork not...
Typo on front travel: Solid fork not 100mm
Hey Doug,



Thanks for pointing that out. We'll get that fixed right away.