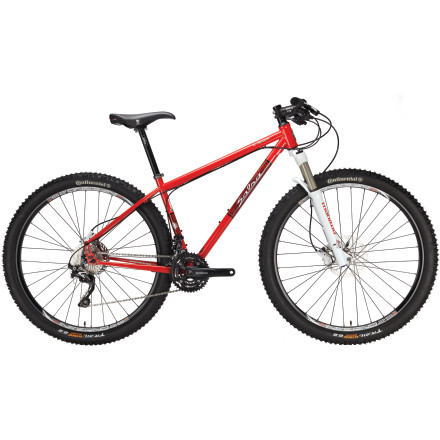 It takes some manufacturers a few tries to get a frame just right. Some never do. When the folks at Salsa introduced the El Mariachi a few years ago, they nailed it the first time with a geometry that's right at home in an XC race but won't murder your back on a multi-day backcountry epic. The real beauty of El Mariachi is its ability to fill so many roles.

You'd be hard pressed to find a more versatile and functional bike for off-road riding than a hardtail 29er. Make it from steel, and you have a bike that will last very near forever, tackle almost any terrain you can find, and won't dynamite your wallet on the way. The Salsa El Mariachi 3 is just such a bike. Salsa's Kung Fu Cro-Moly tubing is triple-butted to reduce weight without sacrificing strength at the joints, so you'll never have to worry about cracking the frame at a weak point. Salsa's innovative Alternator dropouts also allow quick-and-easy single-speed conversions–whether they're planned, or just a way to get you home after a massive mid-ride mechanical. The Alternators utilize a swing-style design, and are kept in place with the aid of tension bolts, so you don't have to worry about getting both sides right with just bolt-torque. This swinging style also means that you can tune the ride characteristics of your El Mariachi easily–keep it in tight for short effective chainstays and quick handling, or move it out to lengthen the chainstays and add stability. The El Mariachi, like all Salsa bikes, lends itself to the lengthy and epic, and is an ideal candidate for multi-day backcountry bikepacking. This is not to say, of course, that you can't race it–the El Mariachi eats up short-track XC races just as well as it handles hundred-mile days through the woods.
El Mariachi 3 comes with a Manitou tower Expert Fork. The Tower is a 100mm XC fork that weighs just over four pounds. It's air- and rebound-adjustable so you can dial in the feel that you want. The air adjust also allows you to stiffen the fork in the event that you attach panniers and load the front end up with gear for touring. The wheelset is a custom setup with durable Sun Inferno 25 rims laced to Salsa-branded Formula hubs with DT Swiss Champion spokes. Built for bombproof durability, the wheels are more than strong enough to handle a full touring setup. Salsa also spec'd El Mariachi 3 with high-volume Continental Trail King 2.2 tires. We've spent quite a bit of time on these tires and have become big fans. The tall sidewalls give the bike a plush feel which is especially rewarding on a hardtail like El Mariachi, and the huge side lugs let you charge into turns at ridiculous speeds.

Salsa outfitted El Mariachi 3 with a build kit that will stand up to years of abuse without requiring a second mortgage on the house. Many of the components–the stem, seatpost, grips, and handlebar are made by Salsa from tough, time-tested aluminum, which offers the highest strength-to-weight-to-cost ratio of just about any material. Drivetrain duties are handled by a Shimano Deore/SLX mix. Avid Elixir 1 Hydraulic Disc Brakes keep everything as sane as you want it to be. Again, these components are relatively lightweight and extremely dependable without astronomical expense.
The Salsa El Mariachi 3 comes in XS, S, M, L, and XL. It is available in Deep Red/white.

What do you think about this product?
Have questions about this product?
do you still have a few of these available...
do you still have a few of these available for sale?
Just in the Red, Large size. As I'm writing this, there are four left.
Unanswered Question
I want to know the weight of Salsa El...
I want to know the weight of Salsa El Mariachi 3 Complete Bike. Also, I want to know where this bike is manufactured from.