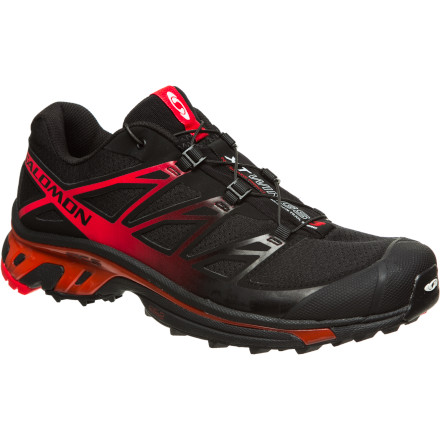 Detail Images

Videos
Salomon's XT Wings 3 Trail Running Shoe is back, and it's better than ever. Now featuring technology from the S-Lab racing version, the upper on this trail runner features seamless construction and lighter, lower-profile support overlays. The cushier midsole features the Agile Chassis System that offers a balance of shock absorption and pronation-limiting stability, while underneath, a new, more aggressive outsole lets you tackle technical terrain with confidence.
Quick-drying, breathable mesh upper with strategically placed textile panels helps prevent overheating on warm days
Welded Sensifit harness wraps the foot in a precise and secure fit
Ortholite sockliner combines a proprietary foam with an EVA heel cup for superior cushioning
Quicklace system offers easy on-off convenience and a more even, comfortable fit
Stretch garage on top of tongue tidily stows the lace system, while tongue cover keeps out debris
Agile Chassis midsole combines extra-rebound cushioning layer with 3D+ Advanced Chassis that assists forefoot propulsion to power you through your stride and delivers joint-saving stability
Toe bumper protects your toes from trail hazards
Aggressive Contagrip sole offers secure traction on rough trails
Awesome trail running shoes
Gender:

Female

Familiarity:

I've put it through the wringer

Fit:

True to size
Just ordered another pair. This will be my second Wings 3, prior to that two pairs of Wings 2 and one of Wings (eeee, it has been awhile). They just keep getting better. Great for my running and Nordic Running (add ski poles to your running and go 4x4, legs and arms engaged).

In general, I dumped everything else for Salomon long time ago.

Among Salomon products Wings 3 have been the best by far. I have tried Speedcross, and I am back to The Wings! Many reasons for that:

1. excellent traction for Arizona or Southern California trails- grippy on steep, rocky hard pack covered with layer naturally decomposed granite, that stuff makes it slippery, and you may go into a skid or slide just like too much throttle on a dirt bike.

2. strong and thick soles to last against that 'sandpaper' granite and stop cholla cactus clusters from getting through.

3. yet very light and articulated

4. great stability, no slant or pronation that causes ankle twist

5. strong top material to resist the same bloody cactus clusters

6. breathable, no annoying 'waterproofing' that make your feet boil.

7. great toe guards.



One thin that I don't like in all Salomons: speed laces do not last, have to be replaced much sooner than shoes, and do not hold well (too 'slippery'). Have to stop every now and then to tighten the laces.

I wish there were high ankle versions of Wings 3, for keeping rocks, cactus clusters, thorns, sand etc. from entering the shoes.

Gaiters help but they would not last very long in AZ desert.

As a suggestion: for taller ladies with narrow, long feet with skinny pointy toes and small arches try to use mens version. Ladies models seem to feel too wide, too much volume in the arch and below ankle area, designed for stubby, stocky feet with short straight-across toes. I buy mens size and half smaller than my normal ladies size (for example 7.5 mens for 9 ladies), yet you may try your own conversion.
Excellent shoe.
Familiarity:

I've put it through the wringer

Fit:

True to size
I really like the xt-wings 3. It has been a long time since I've found a running shoe that is comfortable, light and has kept me injury free. I am fairly light, and initially thought the cushioning was too firm, but I love them now. My only complaint is that I wish they were a bit more durable.
Wore 'em every day, need another pair!
Familiarity:

I've put it through the wringer

Fit:

True to size
What a great shoe, right out of the box. Became my go to everyday shoe for everything from light hiking to trail and road/gravel surface runs. Very durable, and the lacing system is just the best. Fit true to size. One caveat - make SURE you tuck the lace loop into the fob - if you step on the laces while running you'll go a$$ over teakettle in no time.
Excellent all around
Familiarity:

I've put it through the wringer

Fit:

True to size
I have worn many different types of Salomon shoes but these have the best support and fit of all. Having similar traction to the Speedcross (which wear out very fast due to the soft compound of the sole) I have found that these will last longer and still provide the same traction. I work out every night at D1 Nashville in their Boot Camp class, so I put them through the test and I am very hard on them. They did not need any break-in period, was able to work out in them the same day with no problems. Excellent snug fit, support and great traction. You will not be dissapointed.
Excellent shoe
Familiarity:

I've used it several times

Fit:

True to size
I couldn't be happier with this pair of Salomons. As a trail running shoe, it works great and really boosted my desire to run novice/moderate trails in the Front Range. As a hiking shoe, these things rock. You'll never want to put on a real pair of hikers again. As a bonus, they look good and have great support in all areas of the foot.
Best running shoe I've owned in my life.
Familiarity:

I've put it through the wringer

Fit:

True to size
The only thing that I would change is the laces are a little too long and it feels like your shoe is untied sometimes when the pull strings hit the side of your shoe . But not that big of a deal
Great Kicks
Familiarity:

I've put it through the wringer

Fit:

True to size
Had a pair of XT Wings 2s and have worn them smooth, so I got the XT Wings 3s to replace them. I love how lightweight they are and how stable they are on ascents and descents. The mesh drains water well so your feet don't stay wet for very long when you splash through rivers and creeks- even up here in the Pac NW. I usually replace the insoles in all my athletic shoes due to a dropped arch in my right foot that usually gives me problems, but the Ortholite Insole on my XTWings2 and these give me all the support and control I need - an added bonus in my book. No shoe is going to be perfect in all conditions, but these are a great all around trail runner.
Unanswered Question
Are the xt wings 3 shoe for neutral runners?...
Are the xt wings 3 shoe for neutral runners? i see on the inside of the shoe/arch has that cushioning.
Amazing shoes!
Familiarity:

I've used it several times

Fit:

True to size
The XT Wings 3 are the best shoes I've had on my feet. I also love the XA Pro 3D Ultra (not the GTX version) and am on my third pair of those.



I have discovered that I need pronation control because of constant shin splints. The XT Wings 3 have been the very best, in my case. I find that I also love to just wear them around the house, as they are so comfy and supportive.



I had written to Salomon about how much I love the XA Pro 3D Ultra but was looking for a lighter weight version. They recommended the XT Wings 3. I am very happy to have gone with their recommendation.



And to add.... These shoes are very well built, giving me the impression that they will last for quite a while.
Light, comfortable, decent grip
Familiarity:

I've used it several times

Fit:

True to size
I wore these shoes for the first time this weekend on a short 2 mile hike. On the plus side they are very lightweight, have great cushioning and are comfortable shoes. Of course I love the Quicklace system and how quickly they lace up and how solidly they stay tied.

The one downside I had with these shoes was the grip on the bottom. I have been wearing the Speedcross 3 trail running shoes and have grown accustomed the the killer grip on the bottoms. My hike took me through mud and over snow, and I nearly fell on my face a few times with the XT Wings.

Great shoes for summer/dry hiking conditions but for slick trails I plan on sticking to the Speedcross 3 and their burly traction.
Salomon XT Wings 3 Trail Running Shoe
Unanswered Question
What is the difference between this and...
What is the difference between this and the XA Pro 3D Ultra 2?
Love em
Gender:

Male

Familiarity:

I've put it through the wringer
I'm on my second pair of these now, given how much I loved my first pair. They are comfy,solid. I love the speed lacing system- never had any issues.

Very fun shoe
Do they have high arch support?
Do they have high arch support?
Yes, the XT Wings 3 have great, comfortable arch support, which is good for people like me who need that extra amount. It's not an extremely high arch but more so than some of the other Salomon models, IMO. They feel fantastic.
Not recommended for heavy duty wear
Gender:

Male

Familiarity:

I've put it through the wringer
Cushion is good and those shoes held up to a lot of abuse such as running and hiking for the first two months. Then the mesh started to wear away and tear at the toe. Now returning for lack of durability.
so here's the deal. I can't really classify...
so here's the deal. I can't really classify myself as a real runner - on pavement I've done only 5 half marathons. On trail, only 2 halfs. My normal running routine is a couple times a week, some where between 3-9 miles. The rest of the time I am doing powerlifting and/or HIIT training. While I know all shoes are made for one specific sport, I am kind of looking for a shoe that will work in all three arenas: some trail running, some pavement, and some HIIT training. Any recommendations
These shoes' tread will wear quickly if you run on pavement with them.
Super light!
Gender:

Male

Familiarity:

I've used it once or twice and have initial impressions
These are so light it's ridiculous, they are comfortable and perfect for cross training.
Awesome for backpacking
Gender:

Male

Familiarity:

I've put it through the wringer
Amazing shoes, used them for the first 460 miles of the AT (Springer to Damascus) and have zero complaints other than I wore them out!