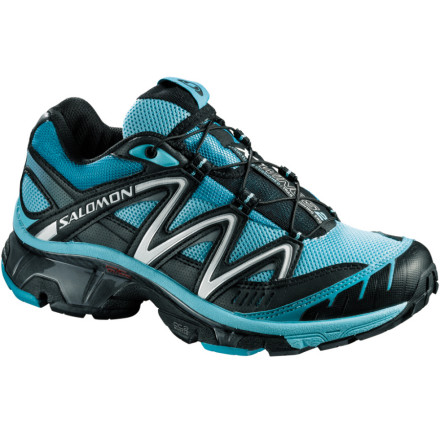 Detail Images
Wondering what it feels like to fly? Put on the Salomon XT Wings 2 Women's Shoe and find out. With the lightweight OrthoLite-cushioned Wings on your feet, your'll practically float on the trail. The molded EVA footbed, shaped specifically for a woman's foot, provides optimum fit and support, while the Quicklace lacing system means no tripping on untied laces. A Contagrip sole grips with every step, while the breathable mesh upper dries quickly to let you dash through puddles and mud.
My husband surprised me with these shoes for my birthday. They're super comfortable and I love the padding and also the lacing system.
Love love love them so far. Just took them out for a hike, scramble and run and they are amazing. I am recovering from an acl reconstruction and I overpronate, but these shoes are very stable. They also have lots of padding for shock absorbtion which I like. I am normally a 7.5, but I did have to go down to a 7.
First pair - LIKE LIKE LIKE
Just got these and have wore them all day. VERY comfortable! I have problem feet that are always aching, but not in these.
I normally wear an 8.5 in NIKE and KEEN and these 8.5's feel fine although i do wonder if I could have gone with an 8. There is some room at the end of the toes, but they dont flop, so id say they are a good fit. The laces snug them on just right and i love the width, not cramped at all. Another thing i like is the stability. I doubt you could ever turn an ankle in these and the sole grips on every surface especially when its slick. I got these in the Light Gray/lizard green and they are a very good looking shoe to wear everyday with jeans too. Adios Nike, no more aching feet because of you, I have a new best friend named Soloman!
Also want to say I LOVE Backcountry.com for bringing us these wonderful shoes and products!
Looking to get some trail run shoe. The...
Looking to get some trail run shoe. The Salomon XT Wings 2 was recommended to me. I am a road runner and run in Asics Gel Kayano 17 in 7.5 shoe. Would this shoe be a good fit for me and how is it in terms of mileage. I like to run minimum 10 miles on trail.
Best Answer
I think this would be a great shoe for you. Personally, the XT Wings 2 is my favorite shoe ever. It is alot like the Kayano in that it has the dual-density pronation control. It would be great for 10+ miles because of the excellent cushion as well as the AC Skeleton which is a rigid stability plate that runs throughout the shoe. Keeps the shoe feeling good mile after mile. Salomons sometimes run a bit small. Either a 7.5 or an 8 would work for you depending on how you like your shoes to fit. Hope this helps your decision!
My foot is a little on the wide side, and these were to narrow to be comfortable, so I sent them back.
I love these shoes! They are a great fit, light weight (for trail running shoes), and provide great support for my previously fractured foot. I highly recommend them.
Ideal running shoe for those with narrow heels/wide forefeet
I am between an 8.5 and a 9, but I ordered a 9 in the XT Wings because I had some odd hot spots around the instep when I tried on the Salomon Mission shoes. The 9 is perhaps a tad bit large, but the fit around the heel and instep is so remarkable it doesn't matter. My heel is completely locked down and my instep is pretty well locked down, but the circulation to my toes is not affected at all. The fit in the forefoot is quite roomy, perhaps a tad bit too much so, but it just means that my foot is not touching anywhere, so I get a nice, natural feel. Cushioning is just right, not too squishy but enough to give me a little protection.
I picked these puppies up for 60 bucks on SAC, and accidentally ordered 2 pairs. I'm glad I did. These are supportive, hold the trail exceedingly well, fit perfectly with my feet, were true to size, and have lasted me 2 years of hard use. They became my gym shoes, my cross training shoes, and they took me up a daily 1 mile mountain when I worked at a summer camp in the Adirondacks. Which brings me to their 1 flaw: the bottom two grommets.

My version is a few years old, and though the lacing system is rock-solid, quick, and will hold tight after miles of hard use, the friction is too much for the non-reinforced bottom (closest to the toe) grommets. I'm including this review on a newer version because I see they haven't fixed the problem yet. The grommets wore through when there was plenty of shoe left to use, the tread wasn't worn out, and the overall construction was holding up beautifully. I still wore them because I tied some knots so the laces wouldn't pass through the plastic-reinforced grommets, but I could never tighten them down as well afterwards.

All in all, however, I would highly recommend these shoes for those in the market.
Comfy and light, but thin for rock running
Great, super light, comfortable shoes that fit me in my usual size 10 (I always buy a 1/2 size larger for running). I bought these to replace my old Salomons that I wore for running on a very rocky, dusty trail every day. My feet were hurting after my first run, and I think it's because they are so light, that they are borderline too thin for this type of running. And the dirt goes right through the shoes, so my feet and toe nails are dirty (LOL) even though I wear running socks. No big deal...They are still super comfy, but I may go ahead and buy another pair of thicker soled Salomon trail shoes for my rock running...I LOVE Salomon!
These are nice Trail Shoes. The weight of them is good a bit heavy but tht is where all the stable soul tread is at. For me I love the no lace system once you adjust them they stay put until you release the cinch. Very nice instep support I have narrow heel and high instep and they work for me. I use them as a gym/ running shoe and for some mild off trail dog walking extreme. I also have last years model and seemed to like the older model better in the fit, sometimes I wish they wouldn't change designs so rapidly why fix if not broke. Good shoe try them.
love these, I take an 8.5US, usually I'm a 9US
Your can really feel the wings guide your foot to land correctly and the fit is great. Lacing system is quick and easy. I have flat feet and these are more than supportive enough.
Does this shoe run true to size. I wear...
Does this shoe run true to size. I wear an 8 regular shoes but a 9 in my running shoe, Asics.
I normally wear a 10 or a 10.5 in most shoes, and these fit me best in a 10.5. They do run pretty true to size. I might recommend an 8.5
I tried Salomon shoes on at REI. I am normally a 7, but in this shoe I was a 6.5 with my hiking socks on.
I run in a Saucony Guide (mild stability)...
I run in a Saucony Guide (mild stability) shoe and am looking for a good trail running shoe. What would you recommend ?
You will find this to be a decent shoe for your needs.
Salomon makes awesome trail shoes. These tend to run large, though. I bought a previous gortex pair in my normal size 8 street size and they are a bit big on my foot. No big deal since I wear heavy winter socks with them. Bought this newer pair for spring.summer, fall wear and sized down to 7.5. They fit perfectly. Very comfortable, love the quick lacing system, and offer great support for my feet. Highly recommend.
I had been on the hunt for a pair of trail running shoes that would fully support my foot/ankle. I suffer from plantar fasciitis and achilles tendinitis and could not find a shoe to provide the right support.

I bought this shoe because of the other reviews I read about people with the same problem. The Salomons are a total miracle. The lacing system is genius, giving the feeling of pulling the shoe up around your foot. My foot became craddled in the shoe. Incredible I tell you.

I typically hike/run very steep, rocky terrain so stability was hugely important to me. The lacing system keeps my foot from sliding forward on the downhill. The best part is the cushioning. I knew the minute I put the shoes on they were like no other. I would highly recommend these shoes to anyone.
So good I bought a second pair...
These shoes got me through 3 years of working at an aquarium. They kept my feet dry despite countless seawater splashes and spills. They also held up well tidepooling, with enough grip even on algae covered rocks. I always wore these when I knew I would have a full day on my feet. They are light and breathable and do a much better job than their older counterpart at keeping out the super fine-grained sand while on the trail. I also have weak ankles and haven't rolled one once in these shoes. I adore the turquoise Atol/Bay Blue/Black color (yes, they are as bright as in the picture). One thing to note is that the black on the front of the toe is painted on. You can see where the sole comes up the toe slightly, but the rest of the black at the front of the shoe is painted. This means that with some tough loving the black scuffs down to the bright blue underneath. Not a problem for me, but it might annoy some people. I like them so much I bought a second pair.
I *love* these shoes. I knew when I put them on that they'd be great....you know how you can just *tell*? I have flat, wide, faciaitis prone, big feet and I'm a big girl who likes to jog trails. I have to run on gravel to get to my favorite trails and had been using some Saucony shoes that were very rigid on the sole to protect my feet from the gravel. These shoes are *much* more flexible (which I love) yet I don't feel every little piece of gravel on my feet. I love how lightweight they are. I love the lacing system (nice and even all along my foot) and they drain and dry out quickly after wading in the river. I hope they make these shoes for many years, because now I'm spoiled!!
Is this the 2011 version of the 2010...
Is this the 2011 version of the 2010 version? I heard the 2011 version is lighter.
These are in fact the 2011 version of the shoe.
runner technology with trail stability
I have purchased these again and again (I have been through 4 pairs bought from different suppliers). I cannot recommend them highly enough. I am very hard on my shoes. Not only do I seem to wear them out by being heavy footed I am usually on rough outdoor environments that are muddy, rocky and undulating and require my shoes to grip while I turn, balance, jump or slide. These shoes come with me. In fact I wore out the laces first on my last pair, 'cos I like to wear them tight. For me, they have the spongy support of air techonology found in runners and the skeletal core of off-track shoes. This means that when I run over a rock I don't aggravate my plantar fasciitis and I don't experience over pronation.
These shoes are awesome. They are very comfortable and I have a wide foot with a high arch. I haven't done much running in them yet as there's still a lot of snow up here in Park City, but for daily use they've been great. I have yet to experience any blisters or irritations... besides, they're *blue*! :)