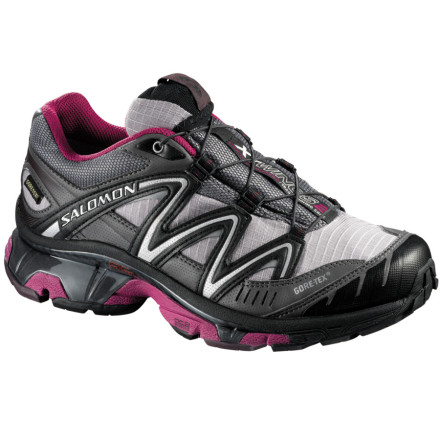 Detail Images

Community Images
Optimized fit for women reduces foot slippage and increases comfort
GORE-TEX membrane provides waterproof protection that breathes
Contragrip outsole gives this shoe optimum grip on various kinds of terrain
Agile Chassis System reduces shoe weight and increases stability
What is the offset or heel to toe drop and...
What is the offset or heel to toe drop and what is the distance off the ground for the heel and the toe? Also, what does it weigh? I'd really like to know this for all Salomon trail shoes.
Hey DSaucy,

The offset is 10.5 (22.5/12)

Weight of a women's size 7 is 340grams

Hope this helps,
Nick
High performance running shoe that transitions well in varied terrain. I have worn these as approach shoes trekking into basecamps in the Himalaya and the Andes, as well as for both long and short trail runs and peak bagging in the mountains around my home in Telluride, CO. Excellent grip, stability, and an extremely comfortable fit. For a shoe does all of the above and more, it's a great weight..and it is durable and long lasting. I am an 8.5 in street shoes and this fit me true to size.
i tried on a pair or the regular xt wings in a local store and i went a half size up, they fit and felt great! i really wanted the gtx version though. they special ordered them for me and i tried them on yesterday, size nine. they definitely feel looser in the ankle and heel area. i am not sure if i should size back down to my 8 1/2 or down to an 8. i also noticed these don't have the shank in them that the regular xt wings have, i think i will be ordering the regular xt wings instead.
I like the XA Pro's better.
I agree with other posters. I totally have mixed feelings about these. First off, I have to sound like a girl and say I LOVE the color. :) Besides that, the traction is great, as I have been running on snow/ice and haven't fallen yet (with 2 chocolate labs, which makes it way more challenging...). However, the fit is way different that the salomon's I've owned. I've had 2 pairs of XA Pro 3D Ultra GTX's, and I deperately needed a replacement and the XT Wings were the only pair I could find locally. These slip a lot in the heel, almost to a point where I should have sized down. The "laces" seem extremely long. The arch support is better, but feels misplaced. I guess these are just too expensive to not feel 100% about. I will most likely be returning them, and just ordered the XA's from backcountry.
great shoe -get the right sz
Runs 1/2 to 1 sz big - I normally wear a 7.5wmns but had to drop one sz to 6.5. Had the same issue with their snow clogs yrs ago.
Well, I have really mixed feelings about these shoes. This is my fourth pair of salomon's but my first pair of wings. They have a secure fit and the stability of the sole is great. However, the wings are deeper in the heel box than my other salomons, so they fit much closer to my ankle. I am not sure this is a good thing. They are requiring a much longer break in period than the others models. My chief complaint is that other Salomons are more padded around the ankle and protect your ankle from the laces. The Wings are not padded the same way so the upper lace rubs just below my ankle. I am really trying to like these shoes, but I am just not sure.......
I have taken this shoe all over the place. Anywhere from the gym to overnight backpacking. It has always performed so well, and with a quick spin in the washer still looks like new. I think that this might be the most useful/used shoe in my closet, which for a girl is really saying something. Fit is true to size (normally I would go up a half size in a running shoe) but there is no need as long as your foot is somewhere around average.
salomon XT Wings up high above Telluride, CO- Ballard Peak
Excellent performance in peak bagging, scree, ridge traverses.