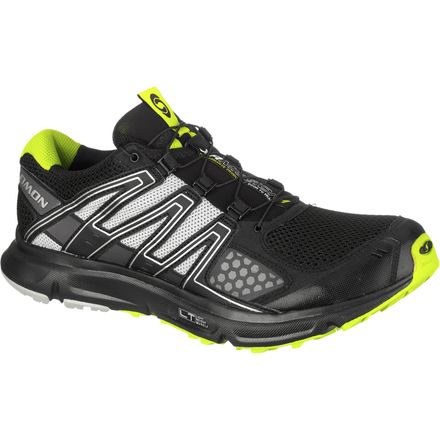 Detail Images

Videos

Community Images
Description
Plenty of support over a lightweight frame.
For those about to pound out a challenging short- to middle-distance training run, The Salomon Men's XR Mission Trail Running Shoe is begging to come along for the ride. Featuring a stretchy, highly breathable mesh upper and Salomon's unique Quicklace system, this trainer delivers a custom-like fit from mile one to infinity. A set semi-rigid OS Tendon bars set into the length of the sole encourage efficient and powerful foot roll, while multi-density sole materials maximize traction on just about any surface that you encounter.
Sensiflex construction creates a secure lateral hold on your foot inside the shoe while also stretching to adapt to the width of your forefoot
Contagrip LT uses lightweight sole materials to offer superior forefoot grip and traction
Contagrip HA uses more abrasion-resistant sole material to offer increased support and durability
Two semi-rigid bars run from the mid-foot to forefoot to create the OS Tendon structure, which improves heel-to-toe roll through your foot strike
Ortholite sockliner combines moisture-wicking fabric with an EVA heel cup to provide support, control, and keep your feet cool
Quicklace lacing provides even, one-pull tightening down the length of your shoe and won't loosen or come undone mid-stride
Bitchin shoe!
Familiarity:

I've put it through the wringer

Fit:

Runs small
Admittedly I am and have been a Salomon fan, from malamute snowboard boots to trail runners. These are maybe my favorite of their low tops. I've been beating the hell out of a pair of the Clima-shield version for almost 2 years now and their still hangin in there (trail running, hiking, obstacle course stuff and working out). They are very comfortable and supportive with good cushioning. Surprisingly light for a shoe with that much support. One of my favorite things about this shoe is the the real wide sole, it provides excellent lateral stability, especially for an aging skateboarder with jacked up ankles. I will say that the sole came unglued a tiny bit in a couple areas but it didnt cause me any problems or worsen with time.

Salomon just sent me a free pair of these to replace the x-screams I bought, which I might add are the only Salomons I've ever not liked. Looking forward to putting the new ones to use.

Oh and my suggestion would be to order a half size bigger than what you normally wear in Salomons. The XR Missions are the only pair of Salomons I have to do this with for whatever reason
On my 2nd pair
Familiarity:

I've put it through the wringer

Fit:

True to size
Excellent shoe. Great support and traction. Nice and light. This is my 2nd pair and I'll continue wearing them (the first pair still going strong as gym shoes). I love the wide sole. I find that Salmons run a tiny bit tighter than most companies. I'll keep purchasing these as long as I can
Confortable
Familiarity:

I've used it several times

Fit:

True to size
I really liked this shoes. I've used them several times for running and hiking and they are pretty confortable.
Great fit, slightly heavy
Familiarity:

I've put it through the wringer

Fit:

True to size
Shoe is very durable. Solid toe box to keep you from nailing your feet against rocks, etc. The lace-less system works and looks great. Size-wise, I got a 10.5, which is the same size I wear in Nikes. So I'd say they're pretty true to fit with other athletic shoes. Only downside is the larger heel-toe drop, I'd probably go with closer to a 4 or 5mm, but that's just me.
Best shoe I have ever owned
Gender:

Male

Familiarity:

I've put it through the wringer
A solid platform provides excellent support for running on any terrain. The width around the ball of the feet allows a natural toe spread, but the arch narrows beautifully for plenty of support all the way through the heel. The strong mesh fabric is durable but breathes extremely well. I have used these also for free ride mountain biking, and I am ordering another pair just for that. I absolutely love the lacing system! Quick on, quick off, quick dry. I can't say enough about these shoes.
Mission's Great, but run small v. Salomo
Familiarity:

I've put it through the wringer

Fit:

Runs small
I love Salomon & have owned countless pairs & styles. Comfort is amazing. The XR Mission I received (2013 mod) ran 1/2 size smaller than other models such as Ultra II 3D, X Ultra, X Ultra WP, XT Wings, etc.



Also, the gore-tex models are better for winter/fall/cold because the laminate keeps heat in a bit. If you're in the heat, not ideal, go for standard not "GTX" or "WP" waterproof models
Great fit and built well for the job
Familiarity:

I've put it through the wringer

Fit:

True to size
I found these to fit well and run true to size. There's a little more room in the toe box than with some other shoes which works great for me. I don't run long distances, but these shoes are excellent for the mix of trails and paved surfaces on some of my favorite running loops. The quicklace system is easy to work with and holds its adjustment securely. There are likely better trail specific shoes out there, but for a shoe that doubles well on the road too, the XR Mission does the job well for me.
I LIKE THEM
Familiarity:

I've put it through the wringer

Fit:

Runs large
These were one of the first trail running shoes I've purchased, and I'm glad I went with these, especially with the lack of research I did on other shoes. They run a little bit bigger than your normal size, so I would size a half size down if you're looking into these shoes. It also has a little arch to it at the mid-shoe and a bit narrower in that area as well.



I've used these in almost all conditions one could possible use them in, and my opinion on the contra-grip is they're ok. Nothing superb about them, but they seem to function as it should. Very comfy, even out of the box, the sole takes a little bit of breaking in, but other than that no major complaints about these guys.
Does this shoe have a wide toe box?
Does this shoe have a wide toe box?
Not as wide as many minimalist trail shoes you will find these days, but it is wider than traditional trail shoes. Salomon also utilizes their Sensiflex construction to provide a comfortable fit for multiple forefoot widths.
In the men's sizing what would be a women's...
In the men's sizing what would be a women's size....?
My usual standard is to go down 1.5 size in men's to find the appropriate women's size. However, in this case Salomon recommends going down only one size in their men's line to find the women's. Hence if you are a women's 8, you would want to order a men's 7.
Best Answer
Molly,



Normally, my size 9 women's feet feel best in a size 8 men's. Usually, this translates to a bit wider of a shoe, which feels good for me. I do find, though, Salomon runs very narrow.


Mediocre quality but good fitting shoe
Familiarity:

I've put it through the wringer

Fit:

True to size
I'd like to say that I really, really want to like these shoes...I keep trying to convince myself...but they fall short. First off they are a great fit (I wear an 11 and they are true to size), especially if you have feet that run a little narrow. The insoles are a little on the junk side and I need to replace mine...if you wear them all day and stand a lot on your feet--they can start to hurt. I have had them for 4 months and wear them as my everyday shoe and they are fine but nothing special. The main bad aspect is the sole! Vibram would be a better bet, but Salomon's "contragrip" is terrible...their moniker is a poor choice because they grip very little and slip easily and the sole seems to be made out of inferior rubber because in just a few months of normal wear the tread glue is gone and the sole is peeling apart at multiple points (I have had to re-glue them). What ever happened to actually using stitches on shoes to hold stuff together!!! Glue only holds up to so much wear and tear.



Pros:

great ventilation

look awesome (black/light onyx/organic green)

nice fit and decent comfort

price



Cons:

contragrip slips and wears quickly

tread design is poor and glue fails on sole

a little too narrow at mid-shoe

lacing system slips (looks cool and is a good idea, but you may as well leave your laces loose because they won't stay tight and if they do the eyelets wear easily)
Fits well
Familiarity:

I've used it once or twice and have initial impressions

Fit:

True to size
It seems that Solomon put thought into the fit of this shoe. It fits very well. Though narrow through the middle, which is unnoticeable. I've put on a lot of shoes and the sole seems not to match the bottom of my foot, but the Mission Trail Running Shoe really fits well and is comfortable. There are some glue overruns on the sole of the shoe.
My Son Loves this shoe!!!
Familiarity:

I've used it once or twice and have initial impressions

Fit:

True to size
Purchased for my 13yr. old son who has flat feet. He removed the footbed to install his custom 3/4 inserts. He loves them! He also noted that the toe box is roomy and liked the extra room.
Decent cheap trail shoes
Familiarity:

I've put it through the wringer

Fit:

True to size
When you're only spending $75 on a pair of trail shoes, some sacrifices must be made. Grip is not as good in the forefoot, probably due to the contragrip material, and the lugs are not very large if you can even call them that. But sizing is pretty good, shoes comfortable, with some extra bounce. They make an awesome gym shoe.
So far... So good!
Familiarity:

I've put it through the wringer
Bought a pair of these because I found a deal and I have friends that rave about Salomon. Decided to give them a try and was really worried that I made an achy breaky big mistakey! Arch pain in them all day worn casual and I thought I was going to return them. Decided to give them a couple days and they are one of my favorite shoes now. Not sure what issue was worked out, but there was a really hot spot in my arch. Now one of my go to shoes.



Several Months later I now own 3 pairs and love them. I did size up on the last pair 1/2 a size and have enjoyed a little more room. I love that my feet feel good in them ALL day. No aches or pains even when I have been on them for 8+ hours in the day. The support is amazing!
New runner...
Familiarity:

I've used it several times

Fit:

True to size
I've just started running on a consistent basis, and wanted a durable shoe for on and off road. I was intitally worried that the shoes would run narrow based on some reviews, but they fit my somewhat wide feet very well. The heel and and arch are snug, but very comfortable, while the fore foot and toe box area roomier than I had come to expect from running shoes. It doesn't feel like my foot is loose in the shoe...one reviewer said the shoe gives your toes room to "splay" and that sounds right to me. Heel to toe roll feels great and the cushioning is fantastic for a heel striker. It's not the lightest shoe I've ever seen, but it is lighter than I thought it would be. The lacing system is wonderful. I really can't find anything to gripe about. I wish I could, because I think that makes for a more helpful review...but whatcha gonna do? I'm down 25 lbs since I started running two months ago...so they work great for me.
Toe box was ginormous.
Familiarity:

I've used it once or twice and have initial impressions
I love Solomon products and swear by my SpeedCross 3's, but these were not for me. The fit was perfect from front to back, but the toe box was way too tall and did not feel secure. I tried cinching them down, but after one run I thought the speed lace system was going to cut into my arch. Interestingly enough the width seemed fine in the forefoot section, but the heel was a bit narrow. I'm sending them back, though I would still recommend them so long as they fit. They look great and are pretty lightweight.
I have had several pairs of Techamphibian and loved them. I bought this shoe based on my love of those. Too bad, as almost everyone warned the shoe is too narrow and I can barely walk to end of the street without needing to take them off. I will not go through hassle of return but shoe is pretty bad. I bought them for Tough Mudder and decided to wear old asics instead. I think I may replace insole with asics to see if that helps. A lot of need feature, but if your feet hurt within the first mile that gets 1-star. Sorry Solomon. Love the laces though.
Salomon XR Mission Trail Running Shoe